I recently went to Mom's house to help out while my stepdad was in the hospital for a couple of weeks. Hanging in her bathroom was a navy blue vinyl windbreaker, size 2XL, which Mom had "borrowed" from my stepdad years ago. He had a couple of them, so he didn't mind Mom wearing one of them. Every morning and every afternoon the two of them would walk around the block, holding hands to steady themselves, wearing their identical navy windbreakers. As Mom's Alzheimer's progressed, laundry didn't get done and their windbreakers became stained and worn -- a little smelly, too.
Finally, I decided Mom needed a new windbreaker, a size M to better fit her 135-pound frame. I bought one, took it to her house on my next visit, and while she was napping, I threw her old one in the trash bin. When she awoke, she tried on the new jacket and seemed to like it. But the snap closures were too hard for her frail fingers and she had a hard time putting it on because it wasn't as loose and easy to slip into as the old 2XL had been.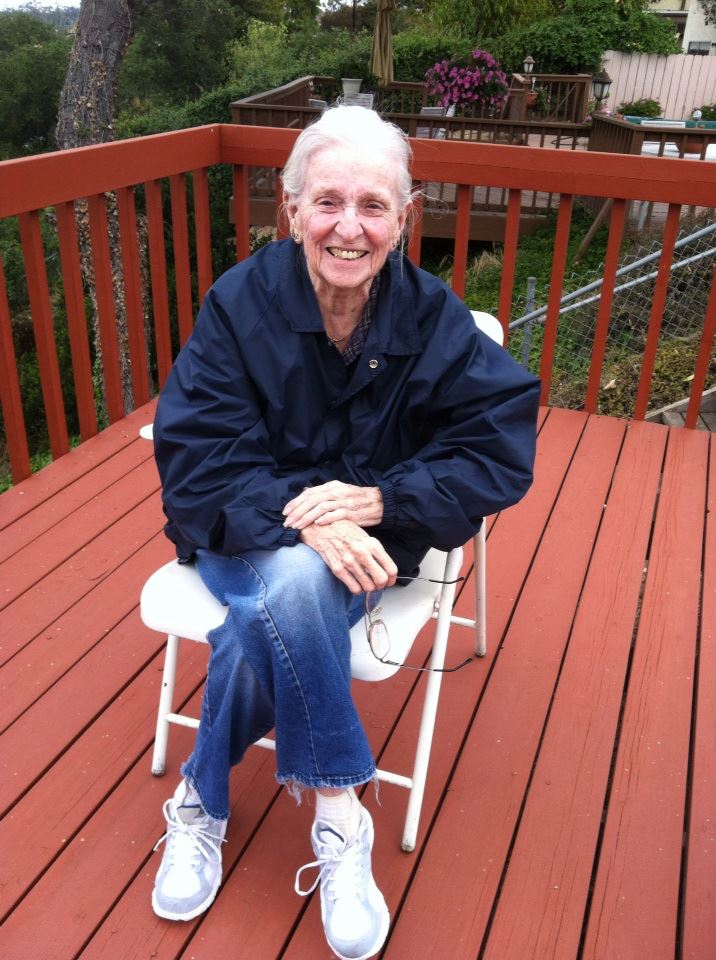 A couple weeks later, I discovered her new jacket folded neatly on the foot of her bed and a stained, worn 2XL was hanging on the hook where her old one had always hung.
"She couldn't have rescued it from the trash," I thought. "The trash men came the very next morning and emptied the bins. Where could this identical old jacket have come from?"
I looked in stepdad's closet and found that his old jacket was gone from its hook. Mom had apparently appropriated it and claimed it for her own. I stared at the stained, soiled thing and pondered whether to toss it.
But then I remembered my friend Anita and her little, white, fluffy dog Tito.
Years ago Anita bought a small stuffed toy monkey for Tito. He loved it. He played with it constantly -- tossing it around, chewing on it, carrying it with him everywhere, and demanding Anita throw it so he could fetch. After several years of heavy-duty play, the little monkey began to fall apart -- until nothing was left but a tangle of fabric infused with dog saliva and dirt. Totally gross.
Anita bought several more dog toys, including a new monkey, but Tito would have none them. He loved his slimy old monkey -- that's all he wanted to play with. Anita humored him -- throwing the thing across the room again and again, so Tito could chase, fetch, and bring it back for her -- to repeat all over again. The mangled monkey became known as "Slimy."
Whenever I'd visit, Tito would run to greet me and I'd say, "Where's your Slimy? Bring me Slimy!" He'd dash down the hall to fetch his beloved toy. We would play fetch until I got bored, then Tito would insist I play some more. My hand was soon covered in dog spittle... the price of having fun with an adorable dog, and somehow not so gross after all.
And now, as I stood in my mother's bedroom staring at the purloined windbreaker, the situation became clear. Mom loves this old, stained, worn-out jacket -- three sizes too big and falling apart. "Slimy," I think to myself, "This jacket is my mother's Slimy." And suddenly it didn't seem so ugly anymore.
For more by BJ Gallagher, click here.
For more on Alzheimer's disease, click here.