The holy grail of finding an inexpensive, truthful price for an airline tickets was woefully illustrated in a Wall Street Journal piece last week that found 8 different prices on 14 different websites for a simple trip from Phoenix to Philadelphia.
As most flyers already know, it's very difficult to find accurate fares on the web because of the difference in how airlines and websites present their pricing. The fares ranged from $284 to $341, but the cheapest fares had mandatory fees which were not immediately disclosed.
Meanwhile the ongoing back and forth struggle between airlines and the DOT continues.
Two weeks ago, the DOT rejected the latest attempt by the airlines for a one-year extension beyond January 26 to delay enforcement of rules mandating the advertising of real prices, including all mandatory taxes and fees.
Last week the DOT deferred until 2013 pro consumer regulations that were originally earmarked for August 27, 2012.
"This is a mess," said Art Sackler, Executive Director for Open Allies for Airfare Transparency.

"It means another year of confusion, complexity and no meaningful way to compare across airlines and find the best deal."
For years, the Attorneys General of 45 states, consumer advocates, corporations and ordinary customers have bitterly complained that the advertised prices for airline tickets are misleading and stuffed with tricks and traps.
For example, that $99 advertised flight to the West Coast is not possible to buy. You have to add on $45 in fees and you have to buy a round-trip ticket that will ultimately cost close to $300.
$59 Ticket to London Really Ends Up Costing $727
When airlines advertise a base fare ticket from New York to London at $59 during the winter season, you can't buy a ticket at that price. The fine print will tell you that you have to buy a round trip ticket and then you have to add mandatory fuel surcharges and taxes. In this case, a flight booked for January 10 on Delta had a base fare of $118 round trip, not including the taxes and fuel surcharges of $609.60. Case in point, that flight will really cost you $727.60. And for the record, $412 of the $609.60 is fuel surcharges, the rest are US, British and customs taxes.
The outrage is not that the airlines are doing anything illegal, but that all this deceptive advertising has been perfectly legal for years.
Since the Obama administration took over, the DOT has been hearing the consumer drums and has tried to put an end to this bait and switch silliness.
The new rules state that advertised prices have to be real and include all mandatory fees. The first deadline was August 23, 2011; the second deadline, January 24 of this year, was quickly changed to January 26. In the latest filing, the airlines wanted to extend this date for yet another full year.
Airline executives would all be in jail if they had to adhere to most state laws against false advertising. Attorneys General from 45 states have tried to hold the airlines accountable for deceptive advertising, but they have been stymied by the big-foot federal laws which hold that the airlines are exempt from state regulations under the interstate commerce clause.
"This Industry Should Be Held To a Standard of Truthful Advertising"
According to Iowa Attorney General Tom Miller, the 45 Attorneys General wrote to the House and Senate leaders: "Regardless of the reasons for the airlines' failure to deliver their advertised services, this industry should be held to a standard of truthful advertising and honest business dealings with its customers."
Many airline and travel agency executives are embarrassed by the deceptive airline prices they advertise, but they feel that they cannot compete unless they follow the standard industry practices.
"I hate having to answer the phone and explain to customers that their airline tickets will be several hundred dollars more than advertised," said Martin Hunley, a senior agent at Cooktravel.net. "One guy just wouldn't believe me when I told him there were $1,000 in taxes to got to London. He hung up on me. But that's the way the business is. If phony advertising were banned, nobody would be happier than I."
For 25 years, the Feds allowed the airlines to cram thousands of dollars of extra charges and disclaimers in the fine print, while the airlines continued to advertise misleadingly low prices. Airlines don't want flyers to comparison shop. They want their real prices to be opaque and unknowable to the average flyer.
If the Department of Transportation gets its way, after Jan. 26, it will begin to enforce a rule that requires all advertised ticket prices to include mandatory government taxes and fees.
But many of the issues are still tied up in the U.S. Court of Appeals for the District of Columbia because of suits by a number of airlines hoping to delay the new regulations. The ruling last week gave the DOT wiggle room to delay enforcement but the airlines are howling that the new proposed regulations will violate their free speech rights, as if advertising fake prices to their customers is constitutionally protected.
The DOT wrote: "By this order, we are denying the petition of the Air Transport Association ... to delay the effectiveness of 14 CFR 399.85(c) and 399.87 for the reasons discussed below but also announcing that the Office of the Assistant General Counsel for Aviation Enforcement and Proceedings has decided, for a short period of time, to apply its enforcement discretion in monitoring compliance with these provisions."
Airlines Spent More than $10 Million in Lobbying
The airlines' lobbying group, Airlines for America, has spent more than $10 million on lobbying since the start of the Obama administration, according to the Center for Responsive Politics. This is double or triple the amount spent in most of the Bush years. A special interest's lobbying activity will go up or down over time, depending on how much attention the federal government is giving their issues. The fact that the lobbying monies soared just as the Democrates were about to take power is good news for consumers.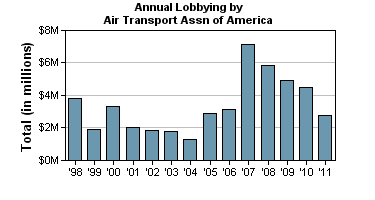 Sean Kennedy, a senior White House legislative aide, left the Obama Administration six months ago to become chief lobbyist for Washington's leading airline industry group. Kennedy was the White House's key point of contact with the Senate Commerce Committee, which oversees key aviation issues.
Under Obama administration ethics guidelines, Kennedy is forbidden from lobbying the executive branch on issues that he handled while in government for two years; however, those restrictions do not apply to Congress.
But do the new rules go far enough? Sen. Robert Menendez, in a letter signed by 10 Senators, wrote to DOT head Ray LaHood, about mandatory and optional fees:
In determining the actual, final price of a ticket, airlines' ancillary fees can have a major impact on the overall cost of air travel. ... Different fees on services such as baggage can readily lead to completely different positions for the carriers when determining the total cost of a flight for each customer. Without disclosure of all costs, consumers may think they are getting the best price when in reality they are not.
Another issue is the subject of "optional" versus "mandatory" fees and the way the airlines advertise them and disclose them.
Spirit Airlines has perfected the art of the scam of extra and "optional" fees to a high degree. They advertise $9 fares, but they pile on extra fees for carry-on baggage, checked baggage, advance seat assignment and a $17 charge each way for tickets booked online.
Spirit claims with a straight face that you don't have to pay if you go to the airport and buy tickets there, but who does that?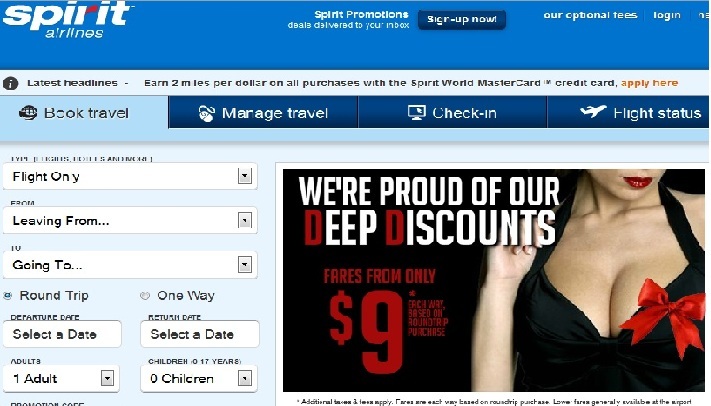 Senator Chuck Schumer was once so troubled by a $45 carry-on baggage fee when flying Spirit Airlines last year that he tried to secure a promise from five U.S. airlines to forsake the same charges. Senators are not supposed to be treated this way!

Mostly Schumer was ignored. JetBlue and Southwest remain the only two U.S. airlines which do not charge a fee for the first checked bag. Spirit earned $50 million per year by charging for carry-on bags.
In fact, Airlines for America, which represents over 19 airlines, argued in a federal filing that the disclosure of each optional fee would cost a major carrier over $1 million dollars in accounting programming costs. The group does not specify how many carriers in their filing, but considering the number of items which require reporting (16) and the number of major airlines involved (15), the airlines collectively claim they would incur costs of approximately $240 million. (See my previous post for more on this.)

The DOT said the changes should cost about $150,000 total for all of the airlines.

Unfortunately, consumers have commented that even the new regulations will not likely put an end to this price finagling. Instead, it will cause the airlines to think of even more subtle ways to raise prices and service fees in a way not obvious to consumers.
The Business Travel Coalition (BTC) is heavily criticizing the DOT's possible delay to 2013, stating that "consumers will now regrettably be forced to continue to pay premium prices -- billions of dollars in fees -- for optional services because of the inability to efficiently compare the total cost of air travel (base airfares and fees) on an apples-to-apples basis across multiple airlines ... a national disgrace."
The new regulations set to kick in this January are a big halfway victory for consumers. The DOT's strong denial of the delay sends a powerful pro-consumer message to the airlines that passengers should have full transparency in all forms of pricing.
But now the airlines are hoping to push many of the additional regulations to 2013 when the administration might change and the DOT Secretary LaHood might leave.
Contact Blake Fleetwood at jfleetwood@aol.com. Julie Barsamian of CookTravel.net contributed to this piece.