Katie Brown, Blogger at 5th & Hollyhock by BloomNation
It's safe to say that sunny Los Angeles will be less autumnal than other parts of the country this Thanksgiving. However, this doesn't stop millions of Angelenos from embracing the season in their holiday decor. One of the easiest ways to incorporate fall into a Los Angeles Thanksgiving is with a centerpiece of fresh flowers.
It's almost impossible to think of Thanksgiving without a centerpiece adorning the dinner table. A seasonal centerpiece adds beauty, color, and texture to a tablescape. Just as Los Angeles is known for its endless options of amazing shopping and restaurants, the city is home to some of the best local florists in the country.
Below are 10 of the best Thanksgiving centerpieces in Los Angeles. This group of designs have been handcrafted by top Los Angeles florists and are as diverse as the city itself. Whether you're hosting the gathering or looking for a gift to bring along, a centerpiece is always appreciated.
1. Seed Floral Couture -- West Hollywood, CA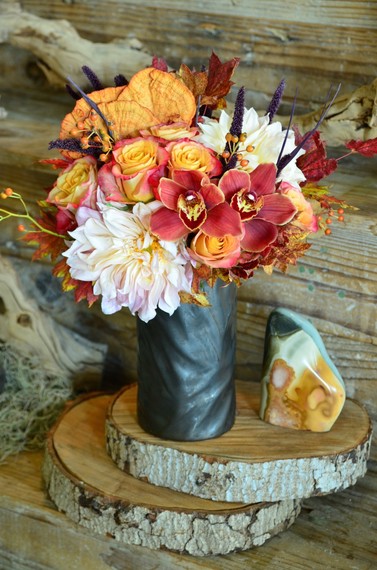 Image by Seed Floral Couture
If you're looking for a taller design, this centerpiece from Seed Floral Couture will garner compliments left and right. Warm tones are contrasted by the inclusion of light pink dahlias, creating an arrangement that is rustic and feminine all at once.
2. Joan's Flower Shop -- Chatsworth, CA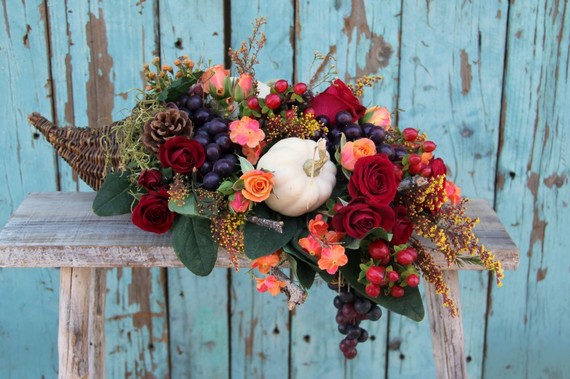 Image by Joan's Flower Shop
Joan's Flower Shop updates the traditional Thanksgiving cornucopia with the inclusion of red roses and a white pumpkin. This design is for the traditional household that wants to spice things up this year.
3. Bent Willow Florist -- North Hollywood, CA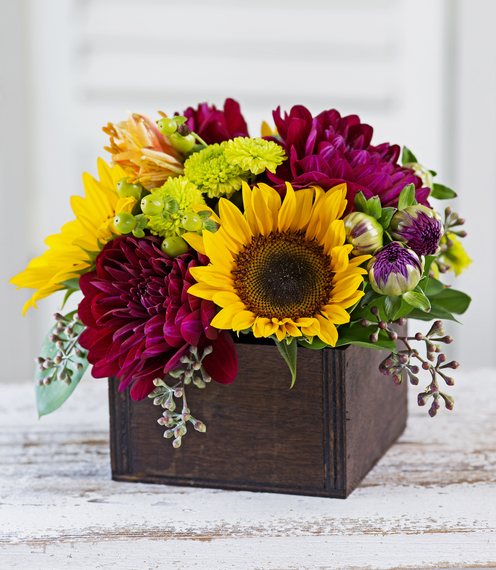 Image by Bent Willow Florist
This box of vibrant blooms makes for a wonderful hostess gift to send before the gathering. It's bright, charming, and sure to make guests smile.
4. Sada's Flowers - Culver City, CA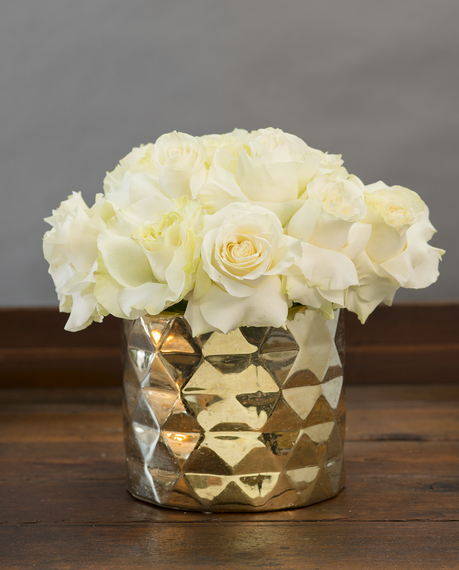 Image by Sada's Flowers
For people who like to stray from traditional colors when decorating for the holidays, this contemporary bouquet of white roses is perfect. The gold vase adds a festive touch and can be used for years after the get-together.
5. The Flowerman - Pasadena, CA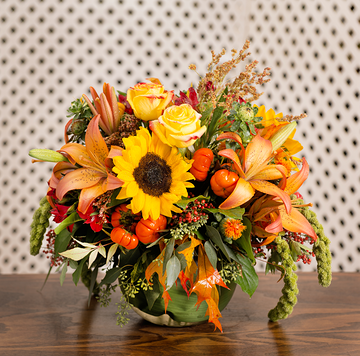 Image by The Flowerman
This bouquet from The Flowerman embodies the quintessential Thanksgiving centerpiece. With an abundance of seasonal elements, it's a lovely addition to a classic tablescape.
6. Glendora Florist - Glendora, CA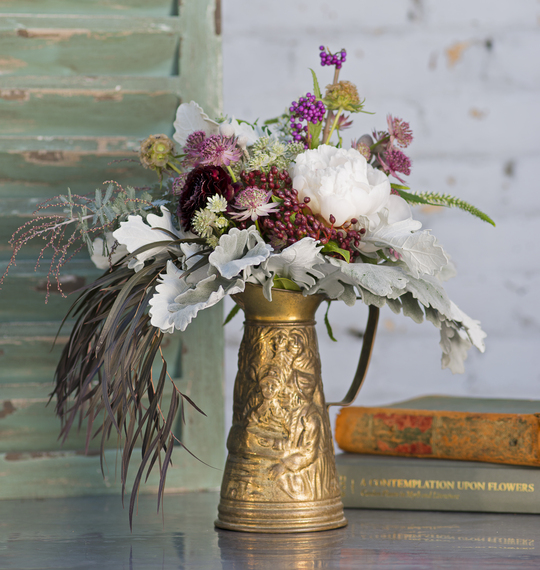 Image by Glendora Florist
Glendora Florist does vintage eclectic justice with this bouquet. The arrangement is entirely dreamy with flowers cascading out of an engraved, gold pitcher.

7. Jacob Maarse Florists - Pasadena, CA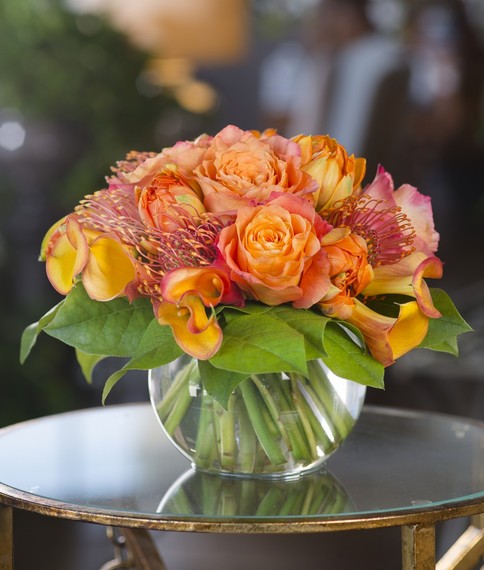 Image by Jacob Maarse Florists
If monochromatic minimalism is what you're looking for, then look no further. This arrangement from Jacob Maarse Florists makes a sweet addition to any Thanksgiving gathering.
8. LA Premier -- West Hollywood, CA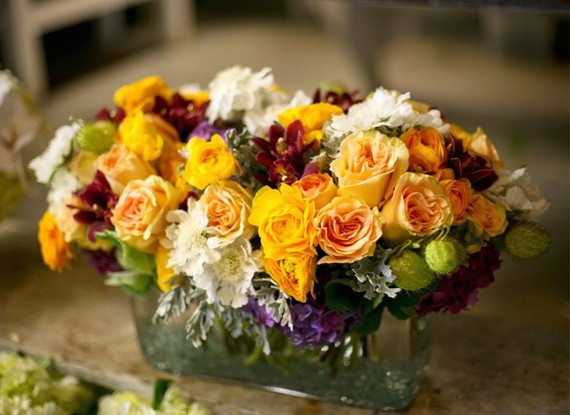 Image by LA Premier
LA Premier is known for their glamorous arrangements, so it's no surprise that their Thanksgiving bouquets are absolute showstoppers. There will ooh's and aah's over these flowers all night.
9. Growing Wild -- Manhattan Beach, CA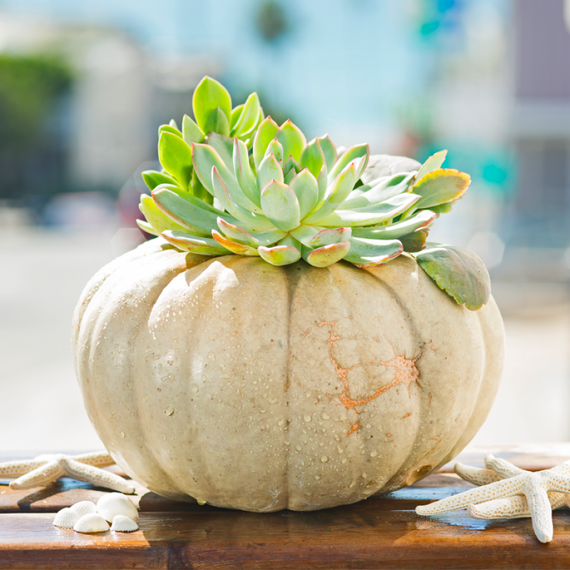 Image by Growing Wild
Staying on-trend this Thanksgiving is simple when there's succulents involved. This centerpiece from Growing Wild is unique with succulents filling a hollowed-out white pumpkin.
10. L.A. Botanicals - Los Angeles, CA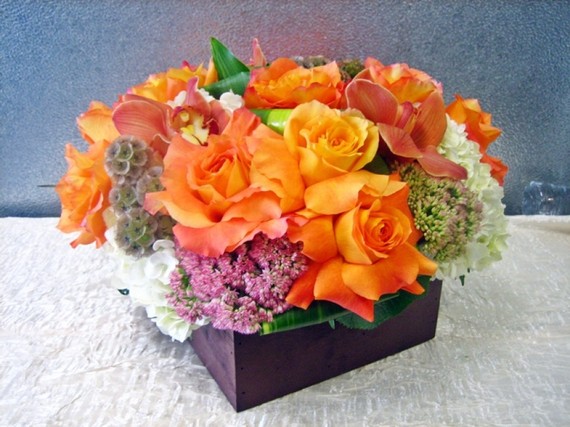 Image by L.A. Botanicals
Modern tablescapes will shine with the addition of a sleek and festive arrangement like this one from L.A. Botanicals.