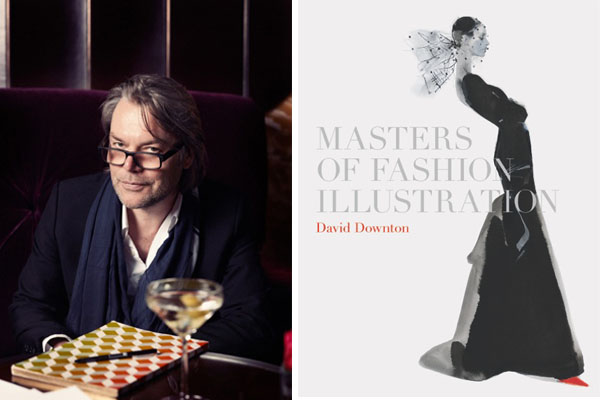 When it comes to fashion illustrations and celebrity portraits, is there anyone more famous or more sought after than David Downton right now?
Downton's work has appeared on the pages of Vogue, Harper's Bazaar and Vanity Fair. He's done sittings with the likes Cate Blanchett, Dita Von Teese and Carmen Dell'Orefice. He's done commercial work for Chanel, Tiffany & Co., and Harrods. He's also written a book, Masters of Fashion Illustration.
Below, the British artist talks about breakfast in bed, Mad Men, and being mistaken for a delusional egomaniac.
When I wake up... I ring for breakfast. That is, when I'm enjoying my "gig of the century" as Artist in Residence at Claridge's hotel in London. If I'm at home, I get up and wonder why I'm the only member of my family capable of picking a damp towel off the floor.
Before I go to bed... I replay Mad Men episodes in my head. It's an addiction.
A well-dressed man... gets upgraded.
Women should always... accept a compliment.
Men should never... hold out for one.
The best thing that's been said about me... doesn't come close to describing my wit, wisdom, talent or dynamite looks.
The biggest misconception about me... is that I am delusional and an egomaniac.
If I weren't doing what I'm doing today... I'd be hell to live with.
My legacy... has been spent.
A great idea... should always be acted upon. Unless it's late and you're in a bar surrounded by strangers. In which case, call a cab.
Botox is... less effective than Photoshop.
My mother... is finally proud of me. I am an Honorary Doctor at two universities and a visiting professor at a third.
The soundtrack of my life... is BBC Radio 4. It's my education. I know a little about a lot.
The future... is right around the corner.
Happiness... needs to be lived, as well as remembered and anticipated. Now is what counts.
There's a time and place for... more or less everything.
There is too much... of more or less everything.
In the end... It's going to end?
All photos courtesy of David Downton.
Follow me on Twitter: @bluecarreon
Read more from me on Style Intel