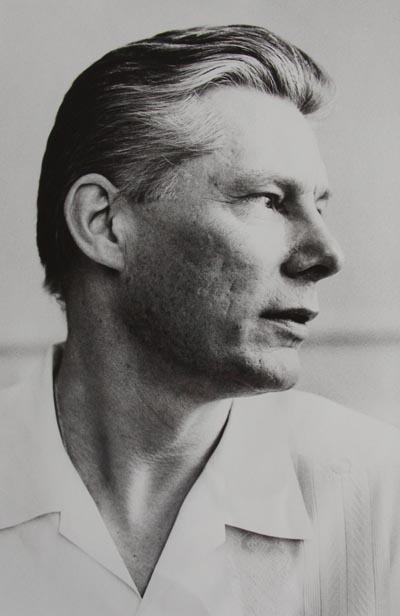 By suspending himself from the ceiling to create his stunning artworks, the artist James Nares puts new meaning to the term action painting. In a position that could rival the stunts in a Mission Impossible movie, Nares executes those fluid, continuous brushstrokes with vigor and elegance. His canvases grace many stylish homes because their glorious colors instantly add depth and focal interest to a room. Needless to say, I am a big fan. I actually own a couple of his pieces and even one of the limited edition bags he produced with Coach this month.
Below, James Nares describes in vivid detail what a well-dressed woman is like and what Botox can do to your face.
When I wake up... I smile.
Before I go to bed... I open the window... and smile.
A well-dressed man/woman... is like a good meal -- it looks good, feels good and by golly, it does you good.
Women should always... be kind.
Men should never... be unkind.
The best thing that's been said about me... is that I "shoot one helluva game of three cushion billiards." I said that about myself.
The biggest misconception about me... is that I'm not aggressive. Anyone who thinks that has never been a passenger in my car.
If I weren't doing what I'm doing today... I wouldn't be here. Wouldn't want to be.
My legacy... will surely be decided by someone other than myself.
A great idea... may turn out not to be so great after all. When I was a kid I thought it would be really cool to paint our neighbors' rhododendrons with bright red household enamel. I couldn't understand why they were so upset.
Botox is... a good way to make yourself look like you've been punched in the face.
My mother... should be on television. It would be the kind of show you couldn't not watch.
The soundtrack of my life... would be dominated by the music of Jimi Hendrix, John Coltrane, Thurston Moore and Alan Vega.
The future... is to a fish, what a woman is to a bicycle (don't ask).
Happiness... is happening all around us.
There's a time and place for... just about everything except Botox.
There is too much... ignorance and hatred in this world.
In the end... is a new beginning -- either that or a big black hole.
Photo of James Nares by Ralph Gibson courtesy of James Nares and Durham Press
Follow me on Twitter: @bluecarreon
Read more from me on Style Intel