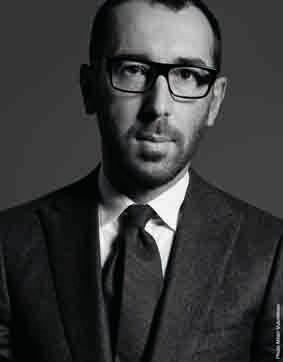 Since being appointed as the artistic director of Berluti, Alessandro Sartori has brought ready-to-wear elegance to the house formerly known only for handsome and luxurious shoes and briefcases. In fact to call his clothing collections ready-to-wear is rather a disservice to his craft because his clothes are rich and impeccably made with top notch bespoke craftsmanship.
Below, Alessandro Sartori talks about tailoring, tuxedos and that feeling of making something new.
When I wake up
I watch outside -- wherever I am -- but I need to watch outside.
Before I go to bed
I listen to a few songs of my favorite soundtrack.
A well-dressed man
Should wear a dark fitted navy three-piece bespoke suit with Berluti Leonard Boots in Saint Emilion color, a white shirt and a blue solid tie.
Women should always
Make things with elegance.
Men should never
Wear the wrong shoes.
The best thing that's been said about me
A few years ago one day after a show, a journalist wrote that I was the best new tailor around! That meant a lot to me.
The biggest misconception about me
A few years ago one day after a show, another journalist wrote that were there a lot of beautiful men with nude chests in my show but the show was actually all about men with shirts and ties!
If I weren't doing what I'm doing today
I would have tried to have my own little tailor's atelier.
My legacy
I am still working on it.
A great idea
Is to spend time making intelligent things.
Botox is
I do not get it.
My mother
is my muse.
The soundtrack of my life
Heaven from Talking Heads.
The future
A lot of new creative ideas to put in practice.
Happiness
Is to make interesting new things for the first time. Do you remember when you did something interesting and completely new for the first time? I love the emotion of that feeling.
There's a time and place for
Wearing the best tuxedo ever.
There is too much
Bad styling around.
In the end
It is not about the brand you wear, it is about the style you have.
All photos with permission from Berluti.
Follow me on Twitter and Instagram: @bluecarreon
Read more from me on Style Intel
Looks from Berluti Fall 2013