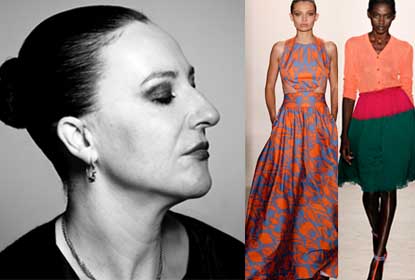 French-born designer Sophie Theallet has made New York her home and in the process she has become an integral part of the American fashion landscape ever since she launched her label in 2007. She won the grand prize of the CFDA/Vogue Fashion Fund award which catapulted her to international success. She has since dressed A-list celebrities and the biggest coup of all, first lady Michelle Obama. Her feminine dresses and her stunning use of color are in sync with FLOTUS' own personal style.
Before carving a name for herself, Sophie worked for two of the greatest French designers working today -- Jean Paul Gaultier and Azzedine Alaia. The lessons she learned from these design masters coupled her own unique point of view has made her a force to be reckoned with in the fashion arena.
Below, Sophie talks about happiness, mediocrity and keeping couture alive:
When I wake up... I need a coffee.
Before I go to bed... I have a glass of wine.
A well-dressed man/woman... is confident and free-minded.
Women should always... be dangerous.
Men should never... wear a hairpiece.
The best thing that's been said about me... is that I don't leave anyone indifferent.

The biggest misconception about me... I have no idea.
If I weren't doing what I'm doing today... I would be painting ceramic plates.
My legacy... is to keep couture tradition alive.
A great idea... I am always waiting for it.
Botox is... helpful when it's well done.
My mother... is a force of nature.
The soundtrack of my life... rock and roll.
Happiness... is overrated.
There's a time and place for... fashion.
There is too much... mediocrity.
In the end... all worries were in vain.
Photos courtesy of Sophie Theallet