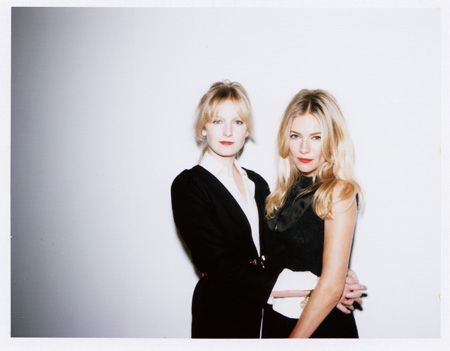 Savannah Miller, one half of the design duo behind the cool-girl label Twenty8Twelve (the other half being her actress sister Sienna Miller) talks about not being the good girl everyone thought she was, the possibility of midwifery as an alternate career and why she's not ruling out Botox just yet.
When I wake up...I check my emails in bed. Terrible habit and I can't shake it.
Before I go to bed... I check my babies are tucked in to their beds.
A well-dressed man/woman... reflects their personality through the clothes they put on their backs.
Women should always... dress for themselves.
Men should never... tell a woman she looks fat.
The best thing that's been said about me... my daughter called me an angel when I made her birthday cake. That was pretty special (shes only 3!).

The biggest misconception about me... is that I am really well behaved. I just never get caught. It drove my friends at school mad.
If I weren't doing what I'm doing today... I might be a midwife but I think that can wait until I'm old and grey. I love what I do and can't imagine not doing it.
My legacy... I really hope to leave a great business legacy behind that my kids can be proud of.
A great idea... is one that we all recycle all the time.
Botox is... weird but get back to me in a few years about that one.
My mother... is my hero.
The soundtrack of my life... would have to be Toots and the Maytals, sweet and dandy. It was playing to me in my crib as a baby and it's still playing now.
The future... is very bright. I believe that if you want something in life you have to go out and get it. With sheer hard work and determination it is attainable.
Happiness... is being content with your lot and stopping to appreciate all the good things.

There's a time and place for... taking time to listen.
There is too much... traffic!
In the end... all that matters is that you have lived your life with love and integrity. All we really leave behind is the way we made other people feel.

Photo courtesy of Twenty8Twelve