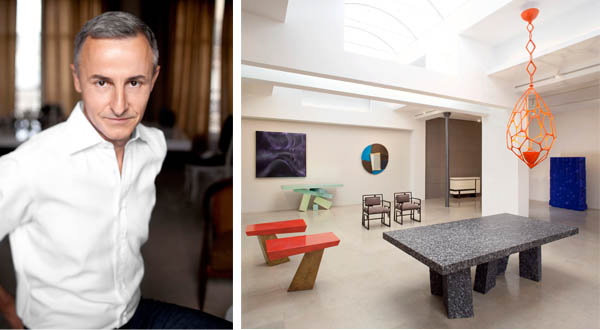 Herve Van Der Straeten is not your average furniture designer. Unlike many whose designs are produced in big quantities in factories in the Far East, Herve mostly designs unique one-off pieces or in very small quantities which he manufactures himself. In his workshop in Paris, Herve wields materials like metal and glass into furniture pieces that could very well be works of art. His shapes defy convention and his material mix is completely modern. He's also designing jewelry which are, like his furniture pieces, statement-making.
Below Herve talks about his passions, his unwavering loyalty and his definition of happiness.
When I wake up... I don't want to waste time and rush out.

Before I go to bed... I always want to have done something fun or interesting.

A well-dressed man/woman... is rare.

Women should always... follow their mood.
Men should never... follow their mood.

The best thing that's been said about me... I am a faithful person.

The biggest misconception about me... some people see me as very dry serious guy, they can call anytime, I will fix it.
If I weren't doing what I'm doing today... there would be many things I would enjoy, like being an architect, an actor, a cook...
My legacy... will be my furniture pieces, they are meant to last; in terms of design and quality.
A great idea... comes in a second and last forever.
Botox is... i don't have much opinion about it, I will try, and get back to you!
My mother... is fun, lively and spiritual.
The soundtrack of my life... could be anything from Bach.

The future... is challenging, and I like it.

Happiness... is like a garden, if you take care of it, it will be blooming.
There's a time and place for... having a rest with the one you love.

There is too much... greediness.
In the end... nature will have the last word.
All photos with permission from Herve Van Der Straeten.
Follow me on Twitter and Instagram: @bluecarreon

Read more from me on Style Intel