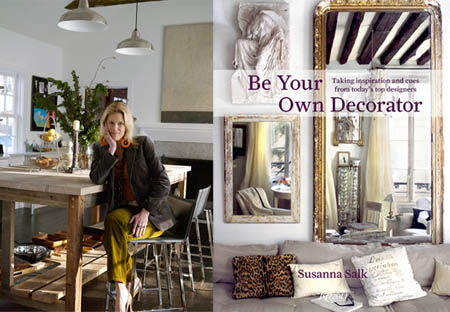 In her latest book, Be Your Own Decorator: Taking Inspiration and Cues From Today's Top Designers, Susanna Salk assembles a stunning collection of beautifully decorated and well-curated interiors with the aim to make the daunting task of decorating a home less intimidating. Instead of giving the readers how-to instructions, Salk provides images and inspirations, and nuggets of decorating wisdom so that the readers can create rooms that marries their own taste with the aesthetics of the country's top decorators.
Below, the writer and lifestyle guru talks about being well-dressed and what a disaster this world would be if there were no women.
When I wake up... I read the New York Times, Huffington Post and any online site that delivers juicy gossip. I also check Twitter, Facebook and Pinterest -- a lot of gardens to sow!
Before I go to bed... I always take a bath and then get into my sumptuous bathrobe. Just like my grandmother used to do.
A well-dressed man/woman... gets the three "S" right: scent, shades and shoes.
Women should always... remember that without them, the world simply wouldn't function right.
Men should never... wear overalls.
The best thing that's been said about me... I'm a great mother. And that I'm funny.
If I weren't doing what I'm doing today... I'd be involved in movies.
My legacy... are my incredible two boys.
A great idea... free, accessible birth control.
Botox is... as necessary as you allow it to be.
My mother... adores my father.
The soundtrack of my life... The Piano.
The future... is hopefully bright, busy and healthy.
Happiness... is traveling to exotic places with my family.
There's a time and place for... lobster.
There is too much... reality TV.
In the end... you only remember what counted.
Photos of Susanna Salk and "Be Your Own Decorator" courtesy of Rizzoli.
Read more from me on Style Intel.