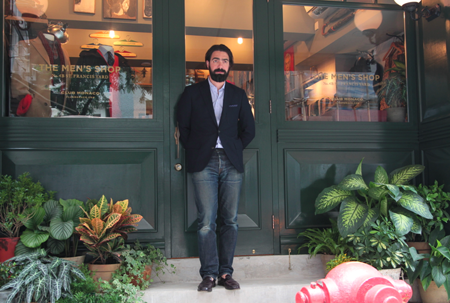 More and more men are now paying attention to what they wear. This is, in part, due to the many blogs devoted to street style. But credit is due to the designers who keep giving us clothes we're more than willing to part with our money for. Aaron Levine is one such designer. Since taking over the design reins for the men's division of Club Monaco, he made the label more than just a stop for wardrobe basics. He's made it a resource for updated classics, the kind that merits the eye of street style bloggers.
Club Monaco most recently opened its first-ever men's dedicated pop-up store worldwide in Hong Kong. Aaron was in Hong Kong for the official launch party.
Below, Aaron talks about making the most of your ideas, being more than just a fashion guy and listening to your gut.
When I wake up... I drink a giant glass of water. And lately, I've started running. I live in a quiet area with a lot of trees. It's very calm, and, although I'm out of shape, it's a nice challenge -- getting back into shape. It also helps with waking my brain up... it gets the juices flowing. Then, a hot shower.
Before I go to bed... I always make sure to sleep with a bandana tied around my eyes. I need it to be completely black. So, I tie it on... it's almost like sensory deprivation... situations start playing themselves out on the inside of my eyelids... game plans are hatched.
A well-dressed man... is confident and comfortable in his own skin.
Women should always... Women should probably not listen to the answers for this question.
Men should never... ignore their gut. I can think of so many circumstances in the past in which I ignored what my gut was telling me, to ill effect.
The best thing that's been said about me... is I'm an honest man and a good father. Also, that I grill a mean Italian sausage.
The biggest misconception about me... is that fashion is what I'm all about. I'm so lucky to have had so many broad experiences that allow me to do this for a living. I hope it's this character that I've gained that has given me perspective and allows me to do what I do.
If I weren't doing what I'm doing today... I'd be doing it tomorrow or the next day. I love what I do.
My legacy... is my two little girls, man. I have two daughters that I love immeasurably. I hope they speak well of me one day.
A great idea... can come from anywhere at any time. It's crucial that we allow ourselves to pick them up when they appear.
Botox is... to each their own.
My mother... is amazing. Smart, kind... she's an amazing person.
The soundtrack of my life... I'm always listening to music. I have headphones on wherever I go. What's playing changes with my mood or sometimes changes my mood.
The future... isn't guaranteed. Every day and experience is a gift.
Happiness... comes from the altering of your own perception. It's a personal thing.
There's a time and place for... for every thing. Living life and interacting with everyone you come into contact with is like the beautiful harmony of a Small Block Chevrolet V8. Every part must work together in unison for it to run smoothly and effectively.
There is too much... drama. Save it for your mama.
In the end... just do your own thing. Be courteous and respectful of other people. You don't know what kind of day they've had.
Photo of Aaron Levine in front of the Club Monaco men's shop in Hong Kong (above) and the interior (below) courtesy of Club Monaco.
Follow me on Twitter: @bluecarreon. Read more from me on Style Intel.