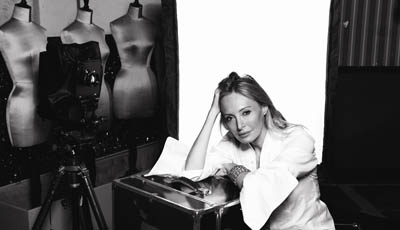 There's always plenty to love in the BCBG Max Azria and Herve Leger collections of Max and Lubov Azria. For spring 2012, there are the color-blocked and easy frocks that sway with the wind from BCBG Max Azria and the glamazon bandage dresses from Herve Leger. And what stylish woman doesn't own a Herve Leger bandage dress? Paired with sky-high Christian Louboutin stilettos, these bandage dresses have become the go-to date night outfits for a lot of women.
And though Max Azria is the name that has long been associated with the two labels, credit must be given to his wife, Lubov, as well, who serves as the chief creative officer of the BCBG Max Azria Group -- the woman who gives the collections their feminine touch.
Below, Lubov shares the best compliment she's ever received and talks about men and multi-tasking.
When I wake up... I think to myself, 'how can I make it better'?

Before I go to bed... I thank God.

A well-dressed man/woman... deserves applause.

Women should always... take care of themselves.

Men should never... try to multi-task.

The best thing that's been said about me... "Are your lips real?"

The biggest misconception about me... is that I speak French.

If I weren't doing what I'm doing today... I would be a dancer.

My legacy... is to make this world a better place.

A great idea... requires follow-through.

Botox is... overrated.

My mother... is my soul sister.

The soundtrack of my life... is "Get Up, Stand Up" by Bob Marley.

The future... belongs to those who believe in the beauty of their dreams.

Happiness... is a state of mind.

There's a time and place for... everything.

There is too much... energy wasted on negativity.

In the end... it will all be ok.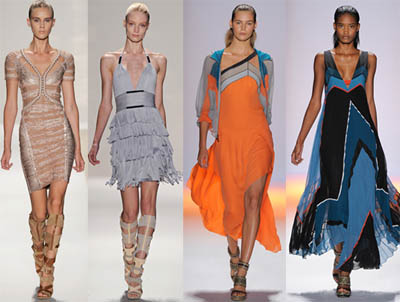 Looks from Herve Leger and BCBG Max Azria spring 2012 collections.
All photos courtesy of BCBG Max Azria Group