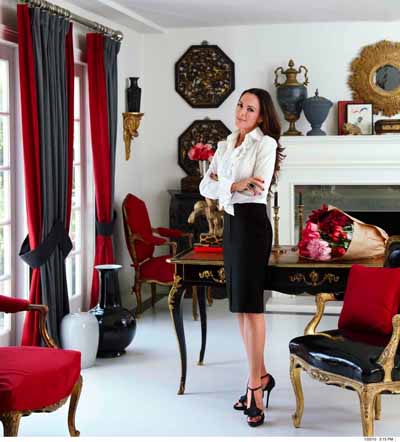 On the reality television show Million Dollar Decorators, Mary McDonald won viewers with her lush and stunning design projects as well as with her biting sense of humor. Since then, she's pretty much become a household name.
But long before the show went on air, Mary was already a much-sought-after decorator. Her design aesthetic is hard to pin down because she is able to flex her design muscles based on her client's wishes. But she does this without ever losing her own brand of style. It could be ultra glam on one project then masculine and tailored on the next. One thing is for certain, though: there is always an element of surprise -- something unexpected and unorthodox -- in her rooms. You can read about and view her design genius in her book Mary McDonald Interiors: The Allure of Style .
Below, Mary talks about great ideas and being naughty and shares the soundtrack of her life.
When I wake up... I run to the coffee maker.
Before I go to bed... I choose one lucky pug for the night.
A well-dressed man/woman... always owns a starched white shirt.
Women should always... smell nice.
Men should never... wear short-sleeve dress shirts, and spitting is not so great either.
The best thing that's been said about me... I am hilarious.
The biggest misconception about me... I am a bitch.
If I weren't doing what I'm doing today... I would be lying down.
My legacy... is the designs I leave behind.
A great idea... is only 10 percent of success.
Botox is... expensive.
My mother... was exactly like Melanie in Gone with the Wind in look and demeanor. I know, go figure.
The soundtrack of my life... is Bohemian Rhapsody by Queen.
The future... is full of endless possibilities.
Happiness... is my assistant Kenna.
There's a time and place for... naughty antics.
There is too much... trashy behavior out there.
In the end... the people who truly love you are all that matters.
Photo courtesy of Mary McDonald.
Read more from me on Style Intel