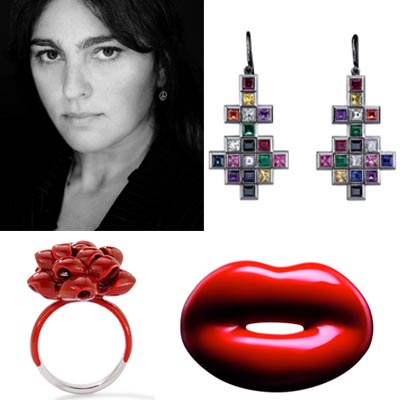 With the opening of her first-ever store in Hong Kong, Solange Azagury-Partridge, the jewelry designer known for her quirky, off-beat and precious designs, is set to conquer Asia. A former creative director of Boucheron, she left the French house in 2004 to concentrate on her own label. She instantly became the go-to jeweler of women who have such individual personal style like Kate Moss, Thandie Newton and Sarah Jessica Parker. One of Solange's best selling products is the Hot Lips enamel ring on sterling silver.
Below, Solange talks about breathing new life to Place Vendome, corrects the misconception that she's French, and says that's it's okay to be angry sometimes.
When I wake up... I need a coffee.
Before I go to bed... I read or watch TV with the family.
A well-dressed man/woman... always looks effortless. It's all about color combinations and proportions.
Women should always... remember they are women.

Men should never... call a woman "mate."
The best thing that's been said about me... is that I '...shook up the Place Vendome'.
The biggest misconception about me... is that I'm French. Perhaps because of my name. But I'm a Brit.
If I weren't doing what I'm doing today... I'd be designing something else.
My legacy... is my jewelry.
A great idea... seems obvious or familiar when you see it for the first time.
Botox is... poison.
My mother... is loving, generous and beautiful.
The soundtrack of my life... has a disco beat.
The future... is full of promise.
Happiness... is something to strive for.
There's a time and place for... anger.
There is too much... stuff. We all need less.
In the end... love is everything. Love who you are, who you're with and what you do.
Photo courtesy of Solange Azagury-Partridge