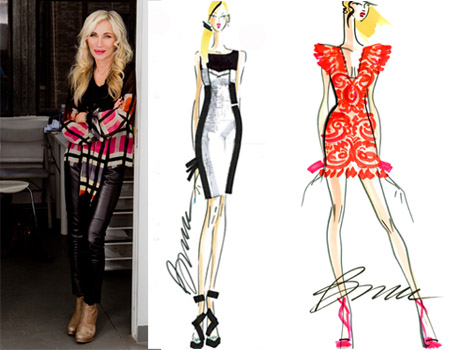 Before she launched her eponymous label, the fashion designer Yoana Baraschi honed her design chops at several houses including Cacharel, Mugler, Faconable and Betsey Johnson. It was while working at Betsey Johnson that she came to the decision to launch her own label having been inspired by Johnson's business and creative vision. Now, Baraschi's label, which she launched in 2002, is a thriving business that trades on contemporary dresses and separates. Her designs have been spotted on Halle Berry, Sienna Miller and Heidi Klum to name a few.
Below, the designer talks about taking risks, European fairytales and creating the perfect date night dress.
When I wake up... I smile to the world and get ready to embrace the day.
Before I go to bed... I kiss my babies good night.
A well-dressed woman... should always be a risk taker.
Women should always... have a bit of edge.
Men should never... be without a lady.
The best thing that's been said about me... is that I design the perfect date night dress.
The biggest misconception about me... that I'm not French.
If I weren't doing what I'm doing today... I would not exist. This is my passion.
My legacy... is to make women feel and look their best every day.
A great idea... needs vision and a team to project it.
Botox is... in the eye of the beholder.
My mother... embodied the elegance of a European fairytale ingénue.
The soundtrack of my life... hasn't started yet.
The future... beholds more than I could ever dream or wish. Each day is a new gift.
Happiness... is connecting to a stream of constant energy that we all can belong to.
There's a time and place for... everything.
There is too much... negativity wasted on things of little value.
In the end... there isn't one way to design. You can think outside the box, be playful and have a sense of humor while still creating something incredible.
Portrait of the designer and sketches of her fall 2012 collection courtesy of Yoana Baraschi.
Follow me on Twitter: @bluecarreon
Read more from me at Style Intel