Sitting on a mountaintop does have its advantages.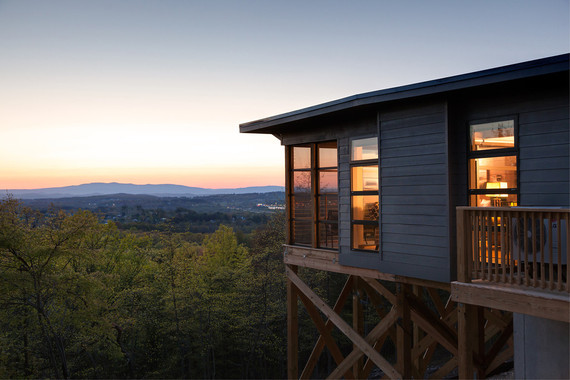 Imagine savoring a freshly-made, gourmet breakfast and a warm cup of coffee with the view of a majestic mountain range as company. Or, try picturing breakfast in bed at a cozy, rustic inn with snow-capped mountain peaks dancing in the distance. Sound like a getaway made just for you?
A retreat to a mountain hideaway can transport you from the rush of modern-day life, to a more tranquil space where time seemingly stands still. You can choose to take advantage of numerous outdoor activities such hiking and skiing, or decide to spend your getaway admiring the majestic mountains from the inn's spacious porch or your cozy guest room.
Either way, make a plan to head for the hills and spend a weekend admiring grand mountain vistas at one of these secluded inns.
Fire Mountain Inn, Highlands, NC
Located at the highest point on Fire Mountain (that would be 4,000 feet high), Fire Mountain Inn offers the ultimate in a digital detox. Can't resist the urge to check emails or your Facebook updates? You won't need to bother because the inn does not provide internet access. Also, the guest rooms, tree houses and luxury cabins are free of radios, alarm clocks and phones. What you will enjoy are breathtaking mountain views from all over the grounds and picture-perfect sunsets.
Lucille's Mountain Top Inn & Spa, Sautee Nacoochee, GA
If you like mountain views, then you will really be impressed with Lucille's Mountain Top Inn & Spa. Along with 10 spacious rooms awash in deep, rich tones, the inn boasts 360 degree views of the Blue Ridge Mountains of North Georgia and the Sautee Valley. The on-site, full-service spa is offers facials, massages, skin treatments and views of the glorious mountains through its windows.
Iris Inn Bed and Breakfast, Waynesboro, VA
Built in 1991, the Iris Inn is situated on a 12-acre mountain top in the Blue Ridge Mountains. The awe-inspiring vistas can be observed from numerous locations around the main inn, or from your breathtaking vantage point overlooking the Shenandoah Valley courtesy of the modern and luxurious private cabins. No less than 28 wineries are located within 30 minutes drive of the inn.
Bear Mountain Lodge Bed & Breakfast, Bethlehem, NH
If outdoor adventure is what you're seeking, the nine-room Bear Mountain Lodge Bed & Breakfast will oblige. This rustic log cabin retreat sits on 26 wooded acres of New Hampshire's White Mountains. Enjoy skiing, snowshoeing, snowmobiling or a sleigh ride before warming up by the wood soapstone stove in the Great Room.
Lookout Point Lakeside Inn, Hot Springs, AR
With the Ouachita Mountains as the backdrop and Lake Hamilton at its shores, Lookout Point Lakeside Inn provides a tranquil escape. Step outside onto your private deck to soak in the mountain views, before taking a walk along the labyrinth waterfront trail. In the morning, a gourmet breakfast can be delivered to your room, or served at a private table in the dining room.
Berry Springs Lodge, Sevierville, TN
Nestled at the foothills of the Great Smoky Mountains, the Berry Springs Lodge will put you in close proximity to the Great Smoky Mountains National Park and numerous outdoor activities, including hiking, skiing, winery trails and more. Their porch overlooking the valley and your room's private balcony are the ideal spots to enjoy some mountain viewing.
ECCE Bed & Breakfast, Barryville, NY
Because of ECCE (pronounced "et chay" which means "behold" in Latin) Bed & Breakfast's location on a bluff 300 feet above the Upper Delaware River, panoramic views of the Pennsylvania and New York mountain ranges will surround you. Step out onto one of their porches overlooking the river valley to admire this view along with the inn's 60 acres of woodland. If it's chilly, stay warm by the living room's wood-burning fireplace and take in the views from there.
--Mary White, Founder of BnBFinder.com
PHOTO GALLERY
B&Bs That Serve Up Picturesque Mountain Views