I have struggled with my weight for my entire life. I have always blamed it on yo-yo dieting, a lack of nutritional knowledge and a 20-year struggle with eating disorders, but it never occurred to me that my weight gains and losses had emotional roots.
A year ago I was homeless and sitting on a friend's couch when I submitted my story through a casting notice. One audition, multiple emails and three months later I found myself embarking on a three-month weight-loss journey on Oxygen's My Big Fat Revenge.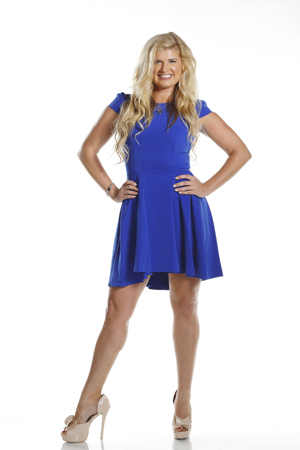 Armed with nothing more than a desire to heal myself of my emotionally negative and self-deprecating ways, I used every bit of my physical strength to work out six hours a day on a quest to save me from myself. During this journey we had to focus on the reasons that we became overweight to begin with. I absorbed as much information as possible from psychologists, nutritionists and motivational speakers. I wasn't sure how I was going to survive three months of workouts and living in close quarters with carb-depleted women, but I knew I needed to change, and I was ready to learn. After losing my mom to breast cancer in 2004, I'd spent the last eight and a half years searching for who I was before she died. For the first time since losing my mom, I had people believing in me as much as I believed in myself. This new-found support, combined with relearning how to love and show kindness in times of misery and, very importantly, gaining patience for everyone's different forms of expression, helped me arrive at self-love. In the end I was able to overcome my worst enemy: my mind.
In a twist that's unique for a weight-loss show, an impending "revenge" on a person who'd repeatedly tormented me for my size lingered in the air. I had never really stood my ground in any situation. As a comedienne I had always used humor to passive-aggressively confront issues. Laughter was a means of warding off unfavorable reactions to confrontation. But after going through my weight-loss journey and finding a new sense of self, I was able to stand up for myself against a fellow comedian who had criticized me for my weight and said that he wanted to make me feel so bad about myself that I'd go home and kill myself. It was an empowering experience to confront someone who'd repeatedly broken me down. Afterward I was overwhelmed with emotion, crying tears of joy at every opportunity. I realized that I no longer had to fake my happiness like I had in the past. I was no longer a slave to the demons in my mind. I was freed from a cloud of societal oppression. I had truly turned the corner and was seeing everything around me in a new light. Little did I know that this revelation was the first of many.
The most life-changing realization is looking at humans and seeing nothing but love. I no longer see color or gender when I meet someone. I see a soul. On my first night out in the "real world," I bumped into a man whom I had been dating before I left for the show. I couldn't put my finger on the exact reason, but I was no longer attracted to him. He hadn't changed, but something inside me had. Growing up in a Southern Baptist family and being taught every day that "men belong with women, women belong with men, and that's the way it is" had clearly impacted the way I viewed everyone I met. I simply had never looked at a woman and considered the possibility of a romantic relationship. A couple of weeks after I had finished filming the show, I was talking with a female friend of mine. She was telling me about her day, but I wasn't hearing a word she was saying because I was staring at her quizzically, trying to decipher what I was feeling. Then it hit me: I was sexually attracted to her. The revelation was startling and threw me completely off-guard. I left the conversation feeling lonely and confused. I didn't tell anyone what I was feeling, because I didn't even know where to begin. How does one explain that they've realized at 27 years old that they're attracted to the same sex? I'd had sporadic sexual experiences with women throughout my younger years, but I'd equated that behavior with a desire to solicit male attention or written it off as wild college nights. In freshman year of high school, I'd even changed schools three times, eventually ending up home-schooled, after a girl spread a rumor that I was a lesbian and classmates began threatening to kill me.
It took another couple of weeks after that fateful conversation with my female friend to rifle through my thoughts and come to the conclusion that I am attracted to people rather than to a specific gender, as I still find some males sexually desirable. Once I realized that I am gay, I couldn't have been more excited to tell the world. A month later I visited Florida and immediately began crying as I stepped off the plane. I planned to tell my closest friends and family members about my revelation, but I was nervous that they might not love or accept the new me, which would have been devastating, because for the first time in my life, I actually loved myself. Because I'm a comedienne, everyone's reaction was to ask if I was joking, which was understandable but hurtful. Initially I regretted even telling anyone, because some of them cracked jokes, making fun of me. But I stood my ground and told them that it was not a laughing matter and that I was entirely serious. After my attempt to seriously communicate my sexuality wasn't well-perceived, I came out to the rest of my family and friends the only way I knew how: through humor. I phoned some, and others were enlightened via a photo that I posted on Instagram. It became apparent that there wasn't a right way to come out, because the people who received my news in a humorous fashion viewed my communicative methods as insensitive.
It has been a fearful yet liberating time in my life as I've begun taking control of who I really am and demanding respect for the real me. Many nights I've cried myself to sleep, torn between complete happiness and a longing for acceptance. I've lost some friends along the way, but I've realized that if people aren't able to accept the real me, then they were never true friends to begin with. As a comedienne I expected the question, "Is this a joke? Are you serious?" But once the initial shock wears off, no one who knows me is ever surprised by what I say or do, and everyone is beginning to be entirely accepting of the new, permanent me.
It may have taken me 27 years to discover who I really am, but I can finally say that I love myself and mean it. In three short months I got healthy and changed my outlook and subsequently my entire life. With a new sense of hope and determination guiding my life, I'm destined for nothing but greatness!
Bo's episode of My Big Fat Revenge will re-air on Sunday, Oct. 20, at 11 a.m. ET/PT on Oxygen.
My Big Fat Revenge airs Tuesday nights at 9 PM ET/PT on Oxygen.