One doesn't often have the opportunity to make a quick remark that might affect the course of U.S. policy. I got that chance in an unexpected conversation with Barack Obama.
The year was 2007. I had been invited to the Democratic National Committee's annual meeting in Washington, D.C., to participate in a presentation to the Democratic Party's LGBT caucus. The subject of my presentation was America's "love exiles": Americans, like me, who are forced to live abroad because we have foreign partners of the same sex.
A week before I was set to fly to D.C., I got a phone call from a good friend in the Democratic Party. She said to me, "Bob, I want you to come to Washington a day earlier than you planned. I'm going to introduce you to the next president of the United States." She was not talking about Hillary Clinton, who was then the presumed candidate for the 2008 Democratic presidential nomination.
So I did something that I'd never done before and have not done since: I threw away a nonrefundable transatlantic airplane ticket and bought another one, just so that I could be in D.C. a day earlier and meet this unlikely presidential candidate whom my friend was so excited about.
The DNC meeting that year was held at the Washington Hilton. It was set up to present all the potential presidential candidates to the party, so that each of them could have a fair shot at the nomination. After all the contenders had made their speeches in the grand ballroom, each of them held a reception where you could meet him or her individually. Naturally, Hillary Clinton's reception was packed. You couldn't dream of getting through the door for the crowds.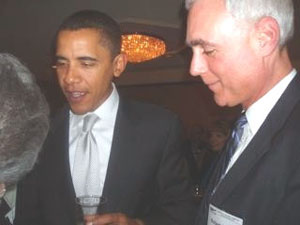 But Barack Obama's reception wasn't nearly that crowded. It seemed that most of the people there were his friends and supporters from Illinois. I had no difficulty walking right into the reception room. Before I knew it, Obama and I were standing next to each other.
Obama turned to me and asked politely, "And where are you from?"
"I live in Amsterdam, in the Netherlands," I answered.
This piqued Obama's interest, and he asked, "Why is that?"
I said, "Because U.S. law bars gay and lesbian American citizens from bringing our partners to live in this country. So I had no choice. I had to move to Holland because I am gay and my partner is Dutch."
There was a subtle but profound shift in our conversation. Suddenly, I was not talking to a presidential candidate occupying his public persona. Instead, it felt as though Obama and I were having a private conversation. I was talking to a man who understands discrimination, a man who, because of his skin color, might have trouble getting a cab in Manhattan, and who, as a constitutional scholar, clearly saw what was wrong with this state of affairs.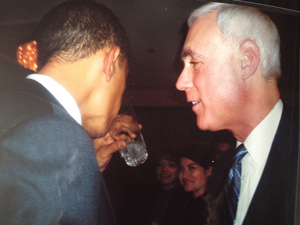 At that moment, we were just two people talking to each other, as though there were no one else in the room.
Obama looked me squarely in the eye and said to me quietly, "That's not fair." Then he paused for a moment to reflect, turned back to me, and said, with some feeling, "That's really not fair."
At that moment, I felt a surge of affection and loyalty to Barack Obama. No one had ever "gotten" the essential injustice of my position so swiftly or expressed it so clearly. His profound humanity and intelligence shone through. I privately vowed that I would work as hard as I could to help him win the presidency and achieve his goals. And I have.
But despite Obama's repeated expressions of support for change, American immigration law remains the same. And because that law won't let gay and lesbian Americans sponsor our foreign partners for green cards, many Americans like me have had to move abroad.
Almost 20 years ago, I moved to Amsterdam in order to live with Rik, the Dutch man I love. This move caused considerable hardship. I had to leave my American law practice, my family, my friends and my house -- really my entire life -- and move to a country where I had no useful skills and had to learn to speak Dutch (not so easy, believe me). This relocation was also very hard on my aging mother, who was living in Boston. In her final years I felt awfully guilty about being so far away, not to mention incurring the cost and effort of crossing the ocean repeatedly to be with her when she really needed me.
But I'm not writing this about me, not really. Today there are untold numbers of other Americans and their foreign partners who are in the same position that Rik and I are in. Fortunately, the Netherlands would take me as Rik's partner, so he and I have a country where we could live together. Others are not so lucky.
Fast-forward to May 2013. It's a new world. Twelve U.S. states and the District of Columbia have now passed laws allowing same-sex marriage. In a historic first, President Obama used his inauguration speech to call for recognition of LGBT families and same-sex marriage. The Supreme Court is hearing challenges to the hateful Defense of Marriage Act (DOMA).
Rik and I are legally married in the Netherlands, which has long recognized such marriages, and more recently in the state of New York, although the federal government still does not recognize our marital status (see "My Three Weddings: A Gay Love Story").
Comprehensive immigration reform is finally moving forward. President Obama's statement of immigration principles clearly includes immigration rights for LGBT families. If that enters the law, I will finally be able to bring Rik home to America.
Moreover, legal language has been drafted to make this happen. Sen. Patrick Leahy (D-Vt.) has held hearings on the Uniting American Families Act. That act would add three simple words to the immigration law that would transform my life and give Rik a green card. And as recently as last week, President Obama reiterated his support for including LGBT families in immigration reform.
So it's finally looking good for this fundamentally fair legal reform, right?
Alas, no. Things are heading south.
The "Gang of Eight" (yes, that's what they call themselves), which consists of four Democratic and four Republican senators, have introduced legislation that conspicuously excludes our families from all immigration rights. Apparently, Republicans have drawn a line in the sand, as if to say, "If you include gays, we will kill the whole immigration bill." Democrats, in an effort to pass badly needed immigration reform, appear to have accepted this exclusion.
This exclusion is simply unacceptable. I'm tired of being a second-class citizen. I want to come home.
Meanwhile, the kind and valiant Sen. Leahy, in his final term after decades of service in the Senate, has introduced amendments to the bill that would include our LGBT families. But he is under intense pressure to withdraw these amendments, for fear of sinking the entire ship.
In fact, the Republicans are being irrational. Thoughtful Republicans, seeing the handwriting on the wall, know that their party's continued opposition to LGBT families will only hurt them at the polls. Young Republicans don't care about this issue. One hundred influential Republicans have signed a letter in support of gay marriage. Several wealthy Republican donors have even tried to curry favor with LGBT organizations. Moreover, overturning immigration reform will further alienate Latino voters, whose support the Republicans lost in droves in the last election. So what are the diehards thinking? Taking a more enlightened position on this issue could be a win-win breakthrough for their party.
Of course we should find a way to regularize the status of the estimated 11 million undocumented immigrants in the United States. But are their rights greater than mine, as an American citizen who cannot be united with my spouse in my own country under current immigration law? I see the urgent need for immigration reform. But I also think that it is time for all Americans, gay and straight, to have equal rights under the law.
The immigration reform bill is being debated in Senate hearings in the Judiciary Committee right now. I hope every American who cares about immigration fairness will contact the senators, both Republicans and Democrats, who are involved in the process. A simple phone call to the Senate offices of the members of the Judiciary Committee this week, during the hearings, could do a lot of good. And you can call your own senators to express your support for immigration equality for LGBT families. You can get the latest updates at the website of Immigration Equality.
You can find the members of the Judiciary Committee here and the phone numbers of all senators here.
It's easy to call, and it makes a lot of difference. Just explain your point briefly to the person who answers the phone. Please urge them to include LGBT families in the new immigration law. For calls to Judiciary Committee members, urge them to support "Leahy-6" and "Leahy-7," which are the amendments that would allow us to sponsor our same-sex spouses and partners for immigration.
By doing this, we salute President Obama's sense of fairness. As he said, "It's not fair. It's really not fair." Let's keep that fact front and center.