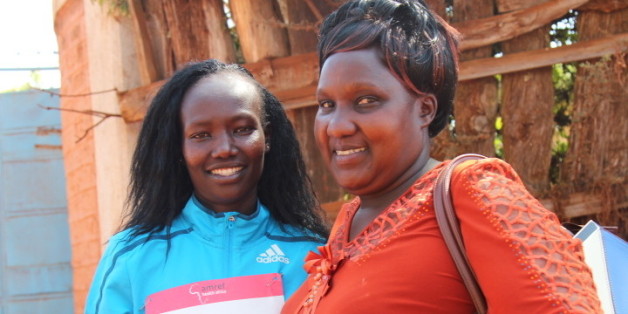 Every two hours a woman in Kenya dies during pregnancy or childbirth. That means 6,000 to 8,000 women die each year during childbirth, compared to 650 in the United States. Tragically, the majority of these deaths could have been prevented with the assistance of a midwife.
Fifty-five year-old midwife Elizabeth Ndunge Nthale has worked as a midwife for 33 years. Currently stationed at Kanzokea Health Centre in Makueni County, Kenya, Elizabeth has made it her mission in life to ensure that the women in her community give birth in a health facility attended by skilled midwives.
I had the privilege of meeting Elizabeth last month in Iten, Kenya. Iten is the marathon training capital of the world, where we were filming segments for our Run for Midwives campaign. Top Kenyan marathons have joined together to raise funds to reduce the unacceptably high rates of maternal mortality. These marathoners are passionate about this issue because most of them have been personally affected.
The biggest challenge in any remote African health facility is a shortage of skilled midwives. This means Elizabeth works many extra days and nights. But this is not just a job for her. She explains, "When I'm called to assist a mother, I feel it is my duty. My health facility is like my church and I imagine I am the pastor and I have to take care of this mother and make sure that this baby is delivered in the right way, in the right hands and make sure this baby is given the maximum care and that it lives a normal life. That is how I enjoy my work."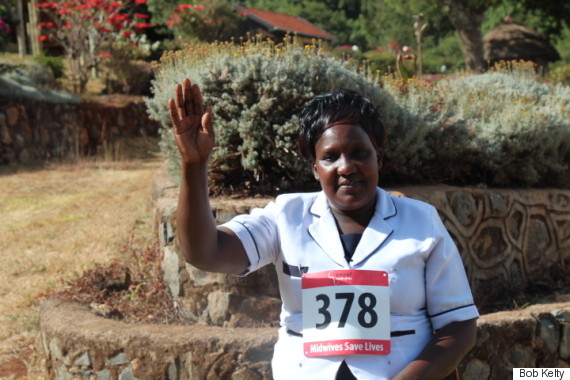 Elizabeth Ndunge Mphale, 55-yr-old Kenyan midwife, has delivered more than 1,000 babies in her 33-year career.
Lack of transportation is also a big barrier in getting women to the hospital to deliver. One time, Elizabeth had a patient who desperately needed blood. She sent three people to look for transport and they were able to 'hijack' a public vehicle and tie the IV drip to metal bars in the truck. When they arrived at the hospital, the mother was given two life-saving units of blood. She is alive today. "I feel proud as a midwife because we could have lost that mother if I was not there." Elizabeth as she tells the story.
By far the most prevalent and most difficult challenges is the cultural practices perpetuated by the TBA's -- traditional birth attendants.
Although well intended, TBA's have no formal training and cannot manage complicated situations, such as obstructed labor, bleeding or high blood pressure. They encourage women to deliver at home, which is exactly the opposite message we want to promote due to the high rates of maternal and newborn deaths that can easily be prevented at the hospital. TBA's are very highly respected in the community and are paid a fee for their services, so are reluctant to send the mothers away to deliver.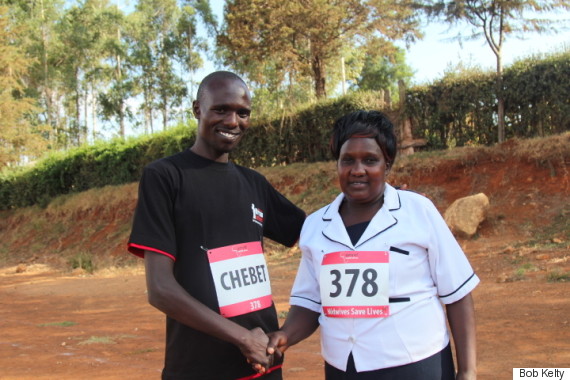 Midwife Elizabeth Ndunge Mphale with Wilson Chebet, champion marathoner, in Iten, Kenya.
With the training they received from Amref Health Africa, Elizabeth and her colleagues were slowly able to shift the roughly 20 TBA's in her community away from what was once an ingrained tradition. Elizabeth brought them on board, trained them, and helped them understand the need to instruct mothers to deliver at the health center and not at home where there is no help in case of emergency. The TBA's have now become referring agents. And while they have lost the fees they used to earn by birthing women at home, Elizabeth and her team have helped them devise new ways to generate income, such as weaving baskets for sale at local markets.
Elizabeth and her colleagues were also trained by Amref Health Africa on more complicated issues. They now have an assistant vacuum extrication machine that helps mothers when they are not able to progress in their labor.Doctors used to 'own' this procedure, but as a result of training in Basic Emergency Maternal Obstetric and Newborn Care, midwives like Elizabeth can handle many types of complications.They can deliver a placenta which failed to exit or resuscitate a baby that is having problems breathing.
And with big results. To date this year, they have delivered 236 babies at the health facility; in the whole of last year the total was 317. Through inspiring the community and getting everyone on board, including the local sub chief and all the opinion leaders in the village, Elizabeth and her team continue to increase the overall number of deliveries at the health facility.
Elizabeth sums it up this way: "Midwives are very important people -- their role is to save the lives of mothers and babies. When midwives are lacking, we lose mothers and babies who may become great leaders in this world. I love seeing babies come into this world, love taking care of them. What makes me passionate about my work is when I see babies I delivered in the facility, when they are grown and doing very well, I really feel proud. "
With more midwives like Elizabeth, just imagine what we could do.