A vintage flag flew at half-mast in Chelsea this past Sunday, as The Antiques Garage Flea Market closed its doors permanently. The gritty, eccentric, treasure trove was a popular haunt for die-hard collectors, designers, tourists and celebrities. Known to most as simply The Garage, it was an actual parking garage Monday through Friday, and a flea market on the weekends. That market brought together a group of people more varied and priceless than their wares. The regular vendors and patrons were like family, with The Garage as their home. Now the space is slated to become a hotel.
The story of real estate developers knocking out flea markets is not a new one in the neighborhood. The Garage was the last of the original suite of five Chelsea flea markets founded by Alan Boss who began his flea empire on a parking lot in 1976.
When I spoke to Boss yesterday he told me that the first market had only about 10 vendors, but as it took hold, that number grew into the hundreds. In fact, by the mid-80s and early-90s, his markets had 600-700 vendors a weekend, and 100 more on a waiting list. But that moment of flea Shangri-La was not to last. By the late-90s, developers bought the parking lots, and one by one the markets closed, making way for high-rise apartment buildings.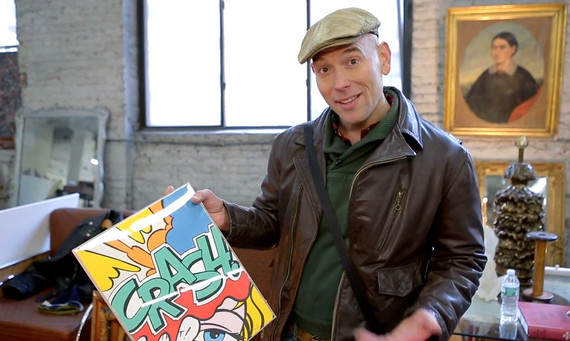 All You Needed Was A Dollar And A Dream

When I moved to New York City in 1990, I brought lots of flea market finds along to furnish my dorm room at NYU. At the time, I thought that flea marketing was something I'd have to go back to Pennsylvania to do -- but I was mistaken.
What I soon learned was that at the time, NYC ripe with fantastic flea markets (with vendors coming from my home state, along with others from all over the world). Those markets were concentrated in Chelsea around Sixth Avenue (Alan Boss territory) and were crammed with vintage gold. It seems I had arrived just in time for the heyday of NYC flea marketing.
The best of the lots was on 25th and 6th and cost $1.00 to enter. With a $20.00 per weekend budget, I was always able to pay admission and find something that added charm to my dorm room.
As the years passed, my budget increased and I was able to acquire some of my best finds, including an illuminated glass block Art Deco mantle, a painting by my favorite American artist and countless unmarked mystery items that continue to bring me joy.
As I became an interior designer, I'd shop for my clients at the markets and find items there that I'd ship all over the country. I bought wedding, birthday and holiday gifts there, and took every friend I had to experience it at least once. But mostly I'd go by myself, so I could enjoy conversations with the others in my flea family.
Celebrity Shoppers and Retail Development
I've seen my fair share of celebrity shoppers over the years at The Garage. Among them are Catherine Deneuve, Nicole Kidman, Marissa Tomei, Brooke Shields, Ande McDowell, and Michael Cunningham. Boss has a list that's much longer and spread out over all five of his Chelsea markets, including Annie Leibovitz, Michael Jackson, Barbara Streisand, Brad Pitt, Donna Karan and Andy Warhol, to name a few.
Aside from adding celebrity sparkle to the neighborhood, the Chelsea flea markets are often credited with paving the way for other retail development. "At the time we opened our first flea market," Boss explained, "the stretch between 14th and 26th Streets was known as 'Death Valley,' but after we established Chelsea as the flea market location, New York Magazine said we gentrified the neighborhood. "
That gentrification began with Bed Bath and Beyond, which came to Chelsea in 1992 and was soon followed by a bevy of other retail stores in the neighborhood. The catch? As the shopping increased and the neighborhood became more desirable, the parking lots that occupied the markets became desirable real estate, and so the days were numbered for the fleas.
Boss told me that celebrity flea market shopper Susan Sontag shared with him these words when the last of his outdoor markets closed: "How could they do away with this market? It's part of the social fabric of New York City. "
Social Fabric and Community Threads
My experiences with The Garage and the other Chelsea markets are not rare. All who loved them shared the thrill of the hunt as well as the joy of belonging to a community. Flea markets foster that sense of community, and have been doing it since the beginning of history.
As Boss explained, "You'd come with your sheep and I'd come with my eggs, and we'd trade. They've always been part of the human experience."
That human experience has suffered not only at the hands of real estate developers, but also by cyber ones. Sites like eBay and One Kings Lane offer at-home shopping with the click of a mouse, and for many, they've replaced the need for flea marketing.
As a fan of cyber markets, I say that while they're great for finding things, they don't do much in the way of developing community or interpersonal skills. They also make it impossible to touch an item, ask its provenance or get so many great details that are best found in a one-to-one interaction.
For me, the vendors at The Garage are friends and family. They are my community. We exchange holiday gifts. We celebrate birthdays and weddings. We mourn losses and offer support to each other in challenging times. Many vendors keep things under the table I might like. One man calls me when he has antique Christmas ornaments. Another keeps vintage clothing aside for me he thinks might suit me. And another gives me Barbara Stanwyck items because he knows I love her movies. The list goes on and on...
I liken The Garage to The Whistle Stop Café in Fried Green Tomatoes. It's where we all gathered. I went each weekend knowing I'd see certain faces in certain places. Vendors held the same spots for years. Letting go of the familiar is a very hard thing, especially for sentimentalists like me.
It is the loss of this community that I will mourn. The vendors at The Garage are historians and survivors. Many were there in the early days when the first Chelsea markets were outside. And now some of them are headed back to where it all began.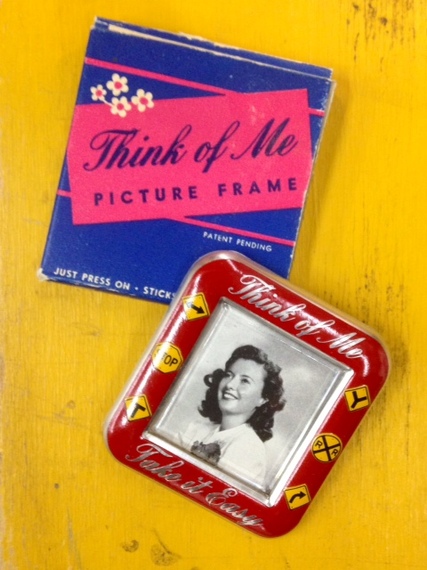 The Good News - A New Market
While The Garage has closed, Boss has already readied a new space for vendors to set up as early as this weekend. It's on 25th between 5th and 6th Avenues. The site has been a flea market, but not one of the best caliber. Boss says he's changing all that. The lot has been re-paved. Fences have gone up. And that old $1.00 admission fee will be reinstated. It will be called simply The West 25th Street Market.
"We haven't missed a beat because we're opening this weekend," Boss said. He expects many vendors from The Garage to be there, while others will move to his Hell's Kitchen Market.
"It brings me great satisfaction to have taken my idea for a flea market in Chelsea and create a reality. And as far as providing a livelihood for vendors for many years, I'm really pleased with that. I've got relationships with thousands of people as a result," Boss said.
Boss is used to rolling with the punches and surviving real estate take-overs, and confided that he's got even a few more tricks up his sleeve. Since the closing of The Garage leaves vendors literally out in the cold (and the heat), weather will be a factor for dealers and patrons again. When I asked Boss about this he said, "Should I be fortunate enough to find another indoor space, I'd consider it. "
Here's hoping that space will appear. In the meantime, I'll be looking for familiar faces at the new outdoor location. This is New York City. We always find a way.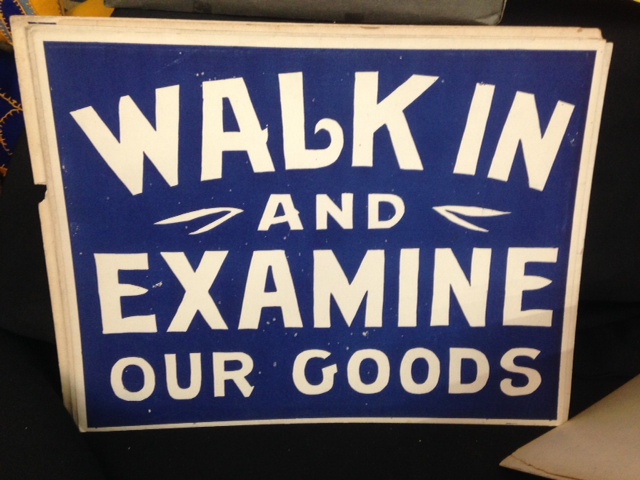 WATCH THE VIDEO: "An Homage to The Garage" as I look back on some fun moments earlier this year at my favorite flea market:
Video and Photos by Blake Drummond