Many decorators have a list of dream clients. Some are lucky enough to work with those people, while some ... just keep dreaming. Painter, Designer, Curator and Bon Vivant Deborah Buck didn't sit around and wait for her dream clients. Instead she invented them, decorated for them and sold all of their home furnishings at a profit.
From 2001-2012, Buck was proprietress of Buck House, a much-celebrated Madison Avenue antiques and design gallery where the windows routinely created a sensation. Each window had not only a theme, but also a personality---and those personalities were all strong, independent, trailblazing women. From starlets to bull fighters to ad executives, each woman came from a different time and place, and Buck envisioned each one. Those windows and the fictional femmes who inspired them are the subject of the new glossy page-turner "The Windows of Buck House: Fabulous Fictional Females."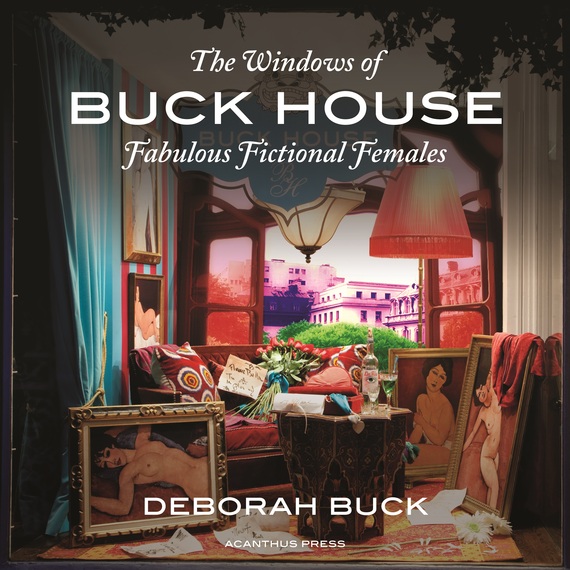 Like Buck, the book defies categorization. The photos offer up an eccentric mix of beautiful objects that tell the stories of women who dared to be different and fearlessly forge identities in a man's world. Of course such real-life women have been celebrated in many ways, but Buck chose to zero in on archetypes of women that might not have had their stories told.
Buck's identity as a painter resonates loud and clear in this book. It celebrates each window that began a blank canvas in the artist's imagination. Instead of paint, Buck used antiques, fabrics and props (including live canaries in one window) to create the artful windows of her gallery.
Artful Décor Meets Inspirational Quotations
As I paged through "The Windows of Buck House," I was entertained not only by the photos, but also by the biographies of the fictional women who inhabited each space. In addition, each chapter is further detailed by an inspirational quote from a real life person. Each bio has not only tidbits about the subject, but also hints at where each was at that exact moment of time. According to Buck, she wanted the windows to seem like each character had just "stepped out," so the space was exactly as she'd left it.
For example, a chapter that grabbed my attention was the story of "Berty Cardinal," an ornithologist who had just flown the coop, as it were. According to the story, it was 1952 in Vitoria, Brazil and Berty could no longer stay in her stifling marriage, so she left a note for him in an empty birdcage that read "Farewell, Bill. I really must fly."
The quote corresponding to Berty's story was from Henrik Ibsen: "A forest bird never wants a cage." This, of course was the window with the live canaries and lots of vintage cages. Get the idea?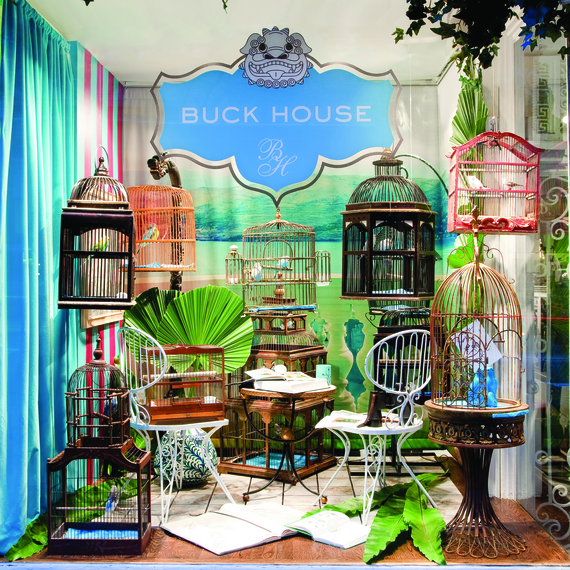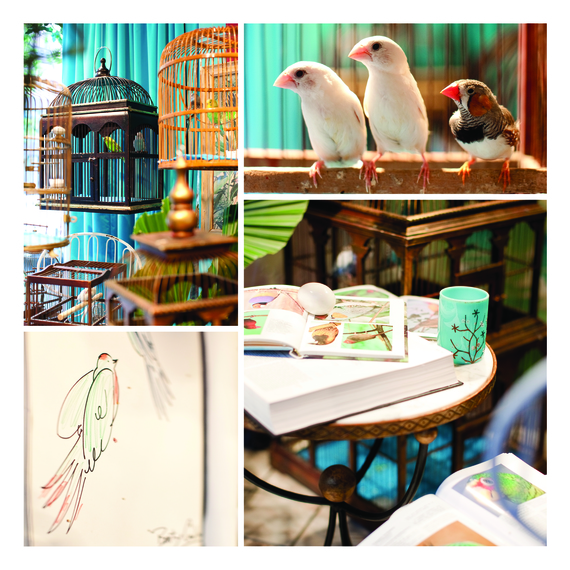 Another favorite of mine was "Lulu Aquamarine," a Hollywood movie star in 1959. Apparently Lulu is tiring of keeping up the façade of her studio-fabricated romance to her frequent co-star Rod. She shares her disillusions with Tinsel Town purely "off the record" in her biography.
It was Marilyn Monroe's quote that corresponded to Lulu's story: "Hollywood is a place where they'll pay a thousand dollars for a kiss and fifty cents for your soul."
The was a recreation of Lulu's dressing room, complete with scripts, awards, a movie poster Buck created for Lulu and Rod's new film "Blue Sunset," and a bag of fan mail from the studio. Her dressing table is lined with photos of her celebrity pals in silver frames, and her window looks out onto the Hollywood Hills.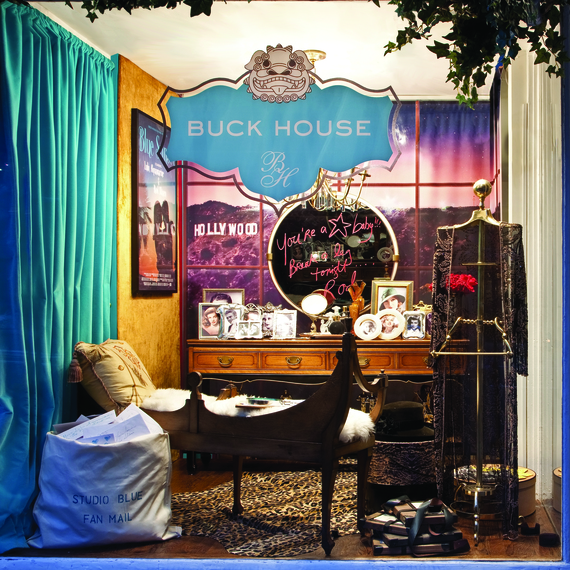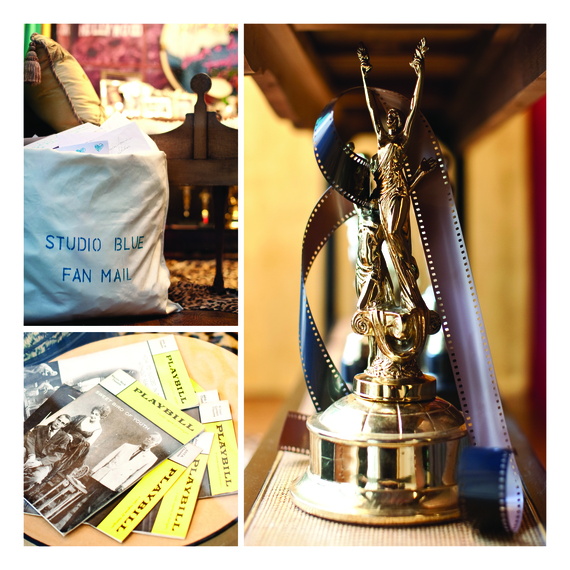 A Window Into Buck's House
After reviewing the book, I decided that I had to meet the woman behind it. When I called to arrange an interview I was invited to meet Buck at her home on the Upper East Side. I figured a woman who created characters based on art and antiques must have a pretty interesting home. As it turns out, I was right on the money with that one.
When I arrived Buck cheerfully greeted me, we walked into her kitchen where my eyes immediately darted to a black and gold table lamp on the counter. Let me just say here and now that I love a table lamp in the kitchen. I have one in mine and it's usually the only light I leave on, since I'm not generally a fan of overhead lighting. This particular lamp was pretty stunning. It was gold and black and beautifully designed. Buck told me it was Austrian and that she was currently loving such Viennese treasures from the 1920s and 30s. I told her I'd just returned from Vienna and I shared her passion.
Let's just say that moment defined our entire visit. People who love and collect beautiful things like to talk with their fellow enthusiasts. As I diverted my attention from the lamp, Buck offered to give me a tour of her home. Every room, every corner was filled with beautiful furniture and objects. I counted at least nine sofas. The artwork was wild and wonderful and much, as it turns out, was Buck's own work.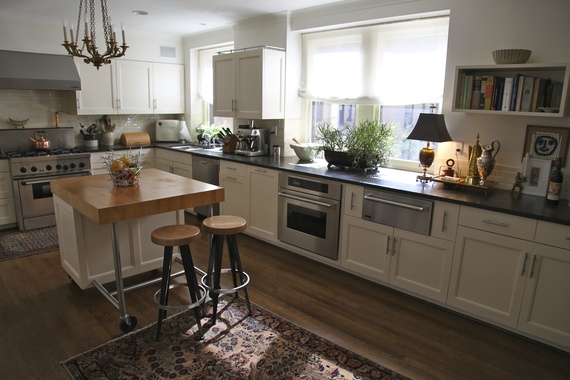 I went bananas for a vintage Belgian tapestry in the living room that you really have to see to believe. The detail and vibrant colors are sensational and it held its own in a room that was alive with outstanding pieces.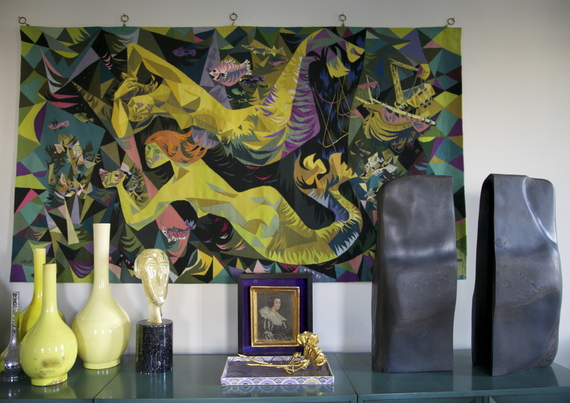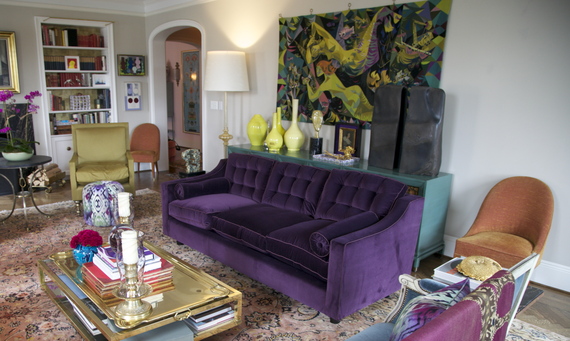 Our biggest moment of synchronicity came when I walked into Buck's study and made a beeline for an occasional table in the corner. I gleefully asked: "Did you get this from George at The Garage Flea Market in Chelsea?" Sure enough she did. It seems Buck and I have crossover antiques contacts. A wonderful piece by Baker, the round table was from the company's "Burma" collection and was probably from the early 1960s. I'd literally had my hand on it two weeks earlier at the flea market, but would up passing due to lack of space.
Walt Disney Beginnings and Fairy Tale Endings
As I walked from room to room, it dawned on me that Buck was basically a microcosm of all of her fabulous females, and that I could see each one curling up in a corner for a cup of tea. Curious and inviting, Bucks home was a true reflection of the artist.
As we made our way back to the kitchen, Buck invited me to take a seat at the vintage oak table.
Buck began to share her journey with me, which included lively anecdotes and fond remembrances. Buck talked about her first job out of college working for Walt Disney. While there she created dioramas. She took the Disney characters and placed them in imagined settings and told stories with images.
Flash forward to many career twists and turns, and she winds up at the helm of Buck House doing the same thing with her windows. It seems a familiar note in many stories I hear about interesting people---they often wind up at a mature place in their careers tapping into to something they did that was similar early on in their careers.
Time passed quickly as Buck shared her process around creating and re-creating the 6'x 6' window at Buck House. It seems each one began mostly with one piece of furniture, then a brainstorm session with her team over a bottle of wine---and voila---a fabulous fictional female was born. Just like when she was at Disney (except for the wine part, I suppose).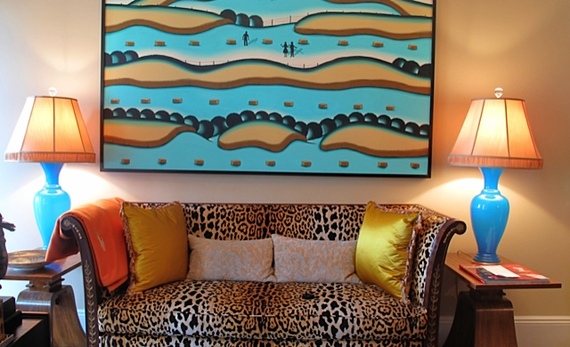 A Showroom Launch Party
It seemed fitting that the launch party for Buck's new book took place at a decorator showroom (Madeline Weinrib), filled with fabric and furniture and beautiful objects. Amidst the objects were some great non-fiction characters with whom I chatted and compared notes about antiques, design and, of course, Buck's book.
Just after I finished admiring one guest's fantastic Bakelite cameo broach, I was introduced to Ken Carbone, who wrote the foreword to Buck's book. It seems he wears as many professional hats (artist, musician, author, teacher) as Buck does. In the foreword he playfully introduces the reader to windows and ends with the question "where does Ms. Buck find all this stuff?"
It seems I have the answer to that question: George's booth at The Garage Flea Market in Chelsea. I wonder how many fabulous fictional females got their start there?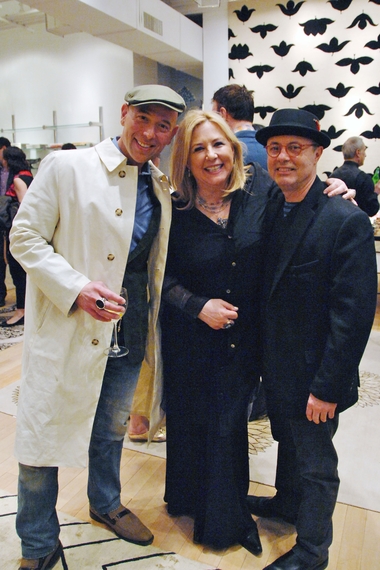 Bob Richter, Deborah Buck, Ken Carbone
Photography by Jaka Vinšek / Courtesy of Deborah Buck
Launch Party Photo by Patrick McMullan
For More About Deborah Buck: http://deborahbuck.com/