When planning my recent trip to Prague, I knew that a bouquet of architecture and design would be presented to me upon my arrival. Of course, because Prague has so much age and history, there would be Romanesque, Czech Baroque, Gothic, Neo-Classical and all that jazz. For example, there's a beautifully preserved convent from the 11th century that's a stunning example of early Gothic architecture. Being inside that is a religious experience -- pun intended.
What I didn't realize, however, was due to a renaissance early in the 20th century, Prague had an explosion of new construction. Most of those buildings remain pristinely beautiful to this day. In fact, I must say without hesitation, Prague not only has the finest examples of early-20th-century architecture I've seen, but it also is immaculately clean. On top of all that, it's one of the most navigable cities I've ever visited. The trolleys are efficient and fun, and most excursions can be ventured to by foot.
It's impossible to nail down my favorite parts of Prague in one post, so I thought I'd focus on my favorite examples of architecture and design in the city: Cubist, Art Nouveau and Art Deco.
Cubist
Finding original Cubist architecture anywhere in this world is a feat, since the movement was relatively short-lived. In Prague, there's one example that's touted as the finest in all of Europe: The House of The Black Madonna. Built by in 1911 by architect Josef Gočár, the building, which houses The Grand Café Orient, is a cubist dream, from all angles.
While the structure has had many lives, the café closed in the early 1920s, when cubism fell out of fashion, and remained closed for 80 years. As a result of the café's short life span, much remained intact, so when it was re-opened, it was carefully and accurately restored to its original splendor. This includes cubist light fixtures, staircases, a buffet-bar, chairs, tables and even a cubist grand piano.
Lunch here was one of my favorite moments of the trip, because, for the better part of an hour, I was immersed in a cubist masterpiece. Of course, it didn't hurt that I had a great sandwich, strong coffee and a slice of Medovnik (a Czech honey cake that had my taste buds doing the happy dance).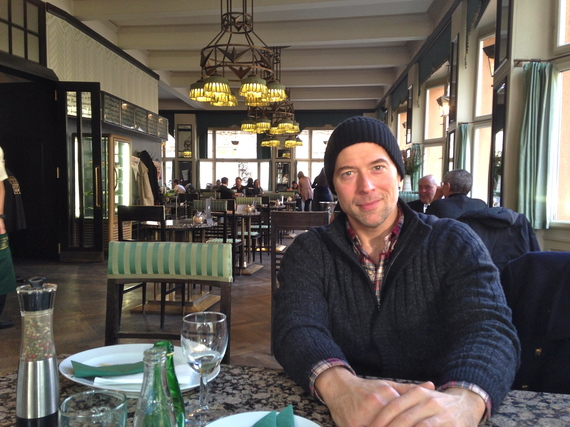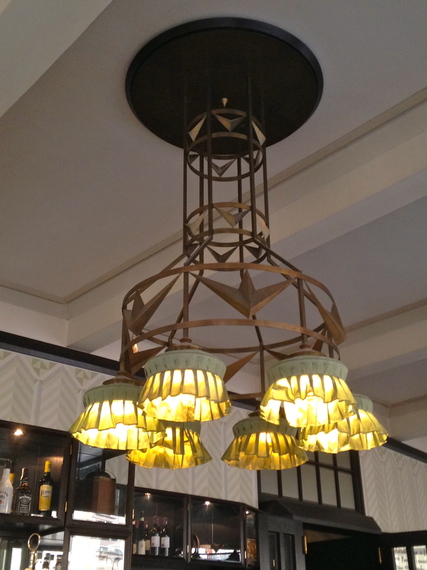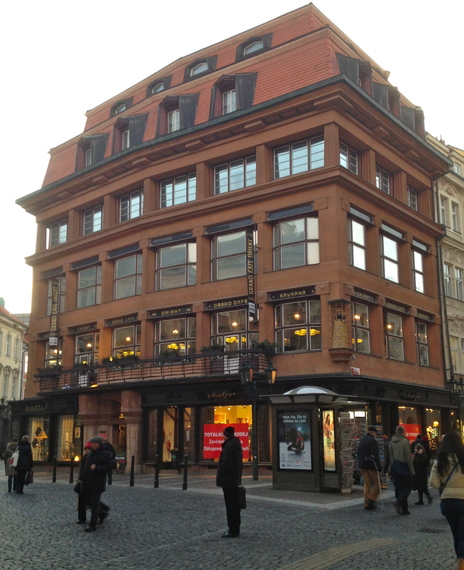 Art Nouveau
It seems almost impossible to walk more than a few steps in Prague and not see a gorgeous Art Nouveau building. In fact, I would venture to say that there are more stunning examples of Art Nouveau buildings in Prague than in Paris, or any other European city I've visited, for that matter.
Lovely maidens, bountiful fruit trees and flowering vines adorn hundreds of facades up and down the streets of town. Considered by many to be the father of Art Nouveau, Alfons Mucha was born in Prague, and his influence is everywhere.
Without a doubt, the grandest of all of them is The Municipal House, which is a building that houses multiple concert halls and restaurants. Built in 1912, it was always intended as a cultural center, and symbol of Prague's dedication to arts. We ate there twice, and I took at least 200 photos of artistic details while dining.
Most famous hotels were also built in the Art Nouveau style (Hotel Europa and Hotel Central were two of my favorites). Elaborate, colorful and shamelessly heavy on floral ornamentation, these hotels still appear to attract lots of tourists.
One of the most stunning and unique examples of Art Nouveau we saw was at the St. Vitus Cathedral. There Mucha was asked to design a window depicting Saint Cyrillus. It is nothing short of sublime. No amount of art history lessons could have educated me as greatly on Art Nouveau as that window. I stared at it from every angle and it is now officially my favorite Mucha creation.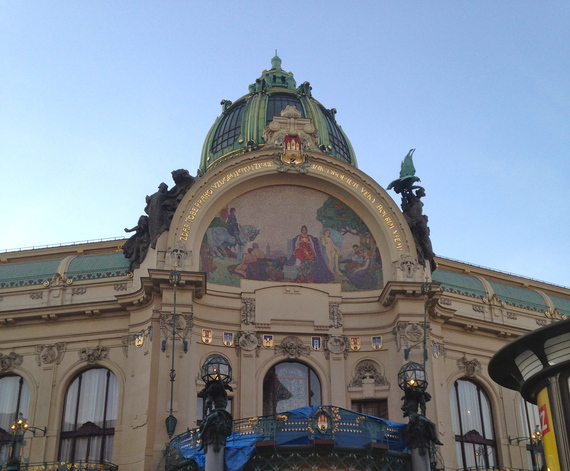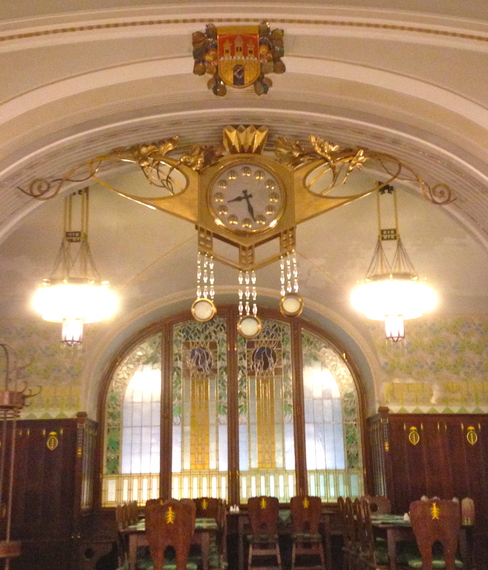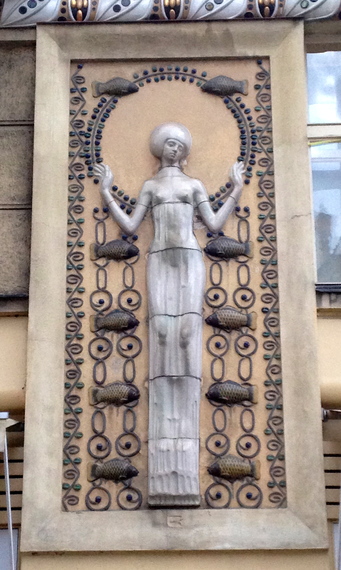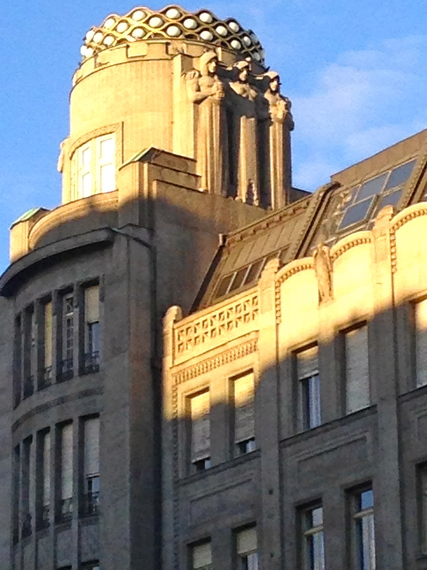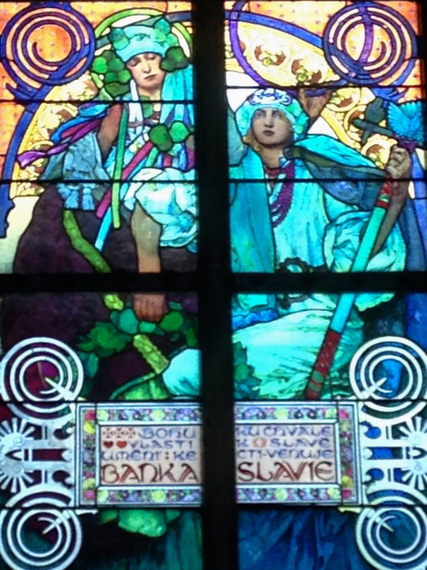 Art Deco
My favorite design period is certainly Art Deco, and lucky for me, our hotel was the Art Deco Imperial. Built in 1913, the hotel is really more Cubist than it is Deco -- at least from its façade. Once you enter the lobby, however, it earns its name.
The Art Deco tile-work in the main entrance has a decided nod toward Egyptian revival. The lobby greets visitors with stunning images of Pharaohs, Falcons and Palm Fronds and then the smaller sitting rooms feel Moorish with gold turrets and vaulted ceilings.
The real crowning jewel of this beautiful hotel is the Café Imperial, which was where we dined the first night and had breakfast every morning. The huge space is bathed in tiles on the walls, pillars and ceiling. They depict what appear to be Adam and Eve in the Garden of Earthly Delights. The bountiful harvest-like theme is stunning and pristinely preserved. In fact, the tiles are unlike any I've seen, and create both a calming and majestic feel. (When I researched the tile manufacturer RAKO, I discovered that it's in business to this day.)
Dining here each day, it was hard to think about all that enjoyed this space over the last century (Kafka was a regular) and what a gift it is to see something so magnificent thriving and being used on a daily basis.
The hotel and restaurant really set the tone for Art Deco as I saw it in Prague. There were no structures like the Empire State Building to be seen, but there were wonderful examples of Art Deco in interiors and home furnishings.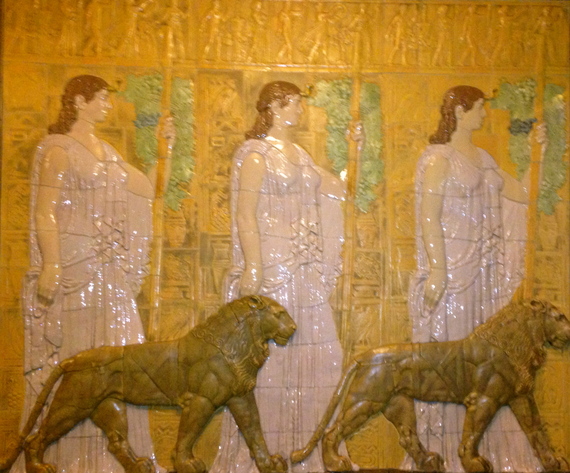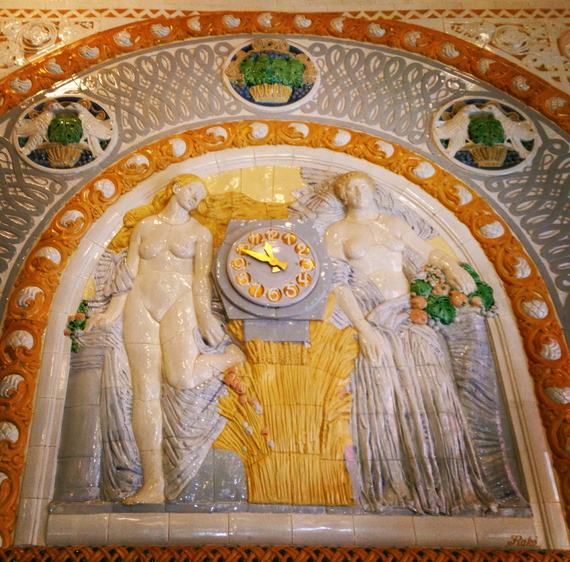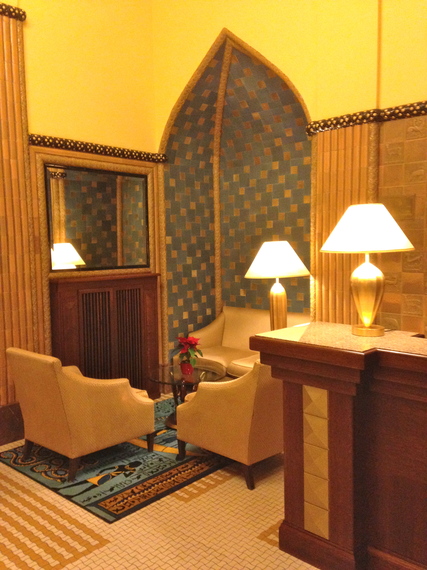 Art Deco Antiquing:
No trip for me is complete without some antiquing. Not only is it my vocation and hobby, but it's also a great tool to understand the history of an area in a deeper way. While I visited many antiques shops in Prague, my two favorites (and consequently those where I made purchases) were both focused on Art Deco pieces.
The first, simply called Art Deco, had some of the greatest mannequins, vintage clothing and china that I saw on the trip. Haphazardly adorned with lots of vintage eye candy, it looked like the fantasy version of a stock room that was abandoned in the 1930s. While hard to navigate for fear of breaking something, I did find a great breakfast tray that I purchased. I also fell in love with a cheery breakfast set (coffee pot, cups and saucers, etc.), but I had to leave it there because I was trying to pack lightly.
My other favorite shopping destination was called Art Deco Shop, which had mostly high-end, museum-quality pieces that were carefully and lovingly curated. I fell in love with a bronze statue of an ice skater, but I took advice I often give to others, and didn't buy it immediately. I went back to my hotel to research the piece and discovered not only that it was a good value, but also that it was done by an important Czech sculptor.
Needless to say, I went back for it. That sculpture is now on my mantle, and it remains my favorite souvenir of this lovely trip.