Durango is a little town nestled in a valley of southwest Colorado's San Juan Mountains. It's the kind of place where it's easy to imagine Butch and Sundance galloping off with a Pinkerton posse on their heels.
But this is no ordinary Old West town. For one thing, it's got a 130-year-old super-attraction that draws 140,000 visitors a year - close to 10 times the number of people who live here.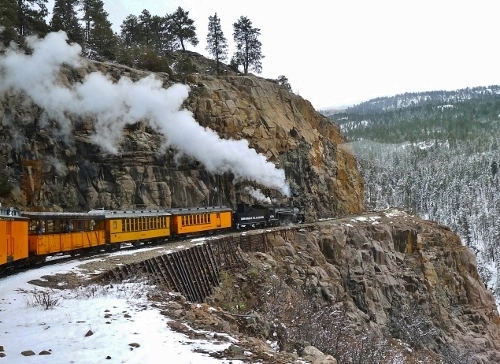 Historic train puffs through the San Juan Mountains.
Wander around the city and at certain times of the day you'll hear steam hissing and the click-clack of old-time railroad wheels. The sounds are from one of the oldest still-operating railroads in the US dutifully serving its only line: a 45-mile run between Durango and the historic mining town of Silverton.
Durango's vintage train station conjures up faded images of wanna-be miners lured to these parts by the gold and silver boom of the 1880s. They came from across the nation and from around the world, many ending up on the Denver & Rio Grande Railroad from Denver to Durango.
After a night or two of whooping it up in Durango's illegal saloons and gambling halls, they hopped on another train of the D&RG for the last leg of their journey, to the heart of the mining boom in the rip-roaring town of Silverton.
The Silverton run took the better part of a day as the steam-powered train chugged up the peaks of the San Juans on "narrow gauge" tracks with rails spaced only three feet apart (making the tracks a lot cheaper and quicker to build vs. the much wider standard gauge ). Long stretches of the trip on winding ledges blasted out of the hillsides gave the miners an eye-popping look at 400-foot drops down to the Animus River.
Welcoming the boys on the main drag of Silverton were three blocks lined on one side with honky-tonk saloons, gambling joints, dance halls and bawdy houses. That side of the street was pretty much an "anything goes" area - as long as the merrymakers stayed away from the stores, restaurants, hotels and churches on what was known as the "respectable" side of the street.
Fast forward to today and no one around these parts is yelling "Eureka!" anymore, the shady ladies of Silverton's red light district are long gone and the card sharks are tucking their aces away in a much hotter place.
But the train is still full of passengers. Only now they're tourists who've come to not only enjoy the ride -- on the same narrow gauge tracks - but also to mosey around Silverton's restored saloons, re-created houses of ill rep and all the other trappings of the way things were in the old days.
The summer run takes three and a half hours each way, and it's packed with sensational views of the San Juans and wildlife like deer, elk and eagles that seem to pop up as if on cue from a Hollywood director. In Silverton, passengers have a little over two hours to explore the town and chow down in local restaurants.
In the winter, the train rolls out of Durango for a two-hour scenic ride to a place called Cascade Canyon where it sits for an hour or so and then returns to Durango.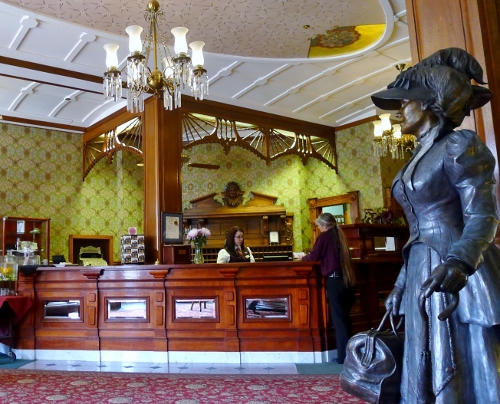 Hotel lobby in Durango.
Back in town, the passengers head off to the half-dozen or so blocks of shops, restaurants, museums, art galleries and hotels lining Durango's Main Avenue. There, they rub elbows with other visitors stopping off on their way to popular tourist destinations such as the Purgatory resort area and Mesa Verde National Park, both less than an hour's drive away.
With the town's long history of tourism, you'd think the 200-plus stores along Main Avenue would look, well, kind of touristy. They don't, thanks to what Durango historian and long-time resident Dr. Duane Smith chalks up to "civic pride." And to make sure garish signs and blinking neon lights don't turn the town into a sort of Broadway in cowboy boots, the city's Historic Preservation Board publishes an 85-page manual telling merchants what they can and can't do to their storefronts.
"They look at anything and everything," says Birgitte Lutfy, co-owner of Brix, a new fire-roasting restaurant being converted from a former Chinese diner. "But if all those rules keep Durango Durango, I'm all for them."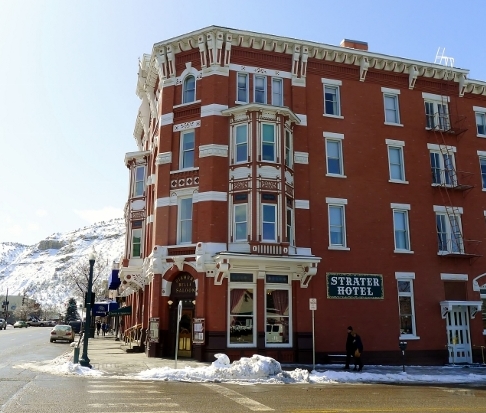 Iconic Strater Hotel was built in 1887.
Getting There: Other than the Silverton run, train service to Durango ended in the early 50s. Visitors now mainly get there by car on national and state highways and on jetliners from terminals at Denver, Phoenix and Dallas/Ft. Worth.
Staying There: Durango has 32 tourist-class hotels with a total of 2,500 rooms. Among historic properties is the iconic 93-room Strater Hotel, which looks much like it did - inside and out - when it opened in 1887. Guests can yell things like "This town ain't big enough fer you 'n me Black Bart" as they blast away on six-shooters in simulated gunfights periodically staged in the hotel's Diamond Belle Saloon.
Dining There: Visitors have a dazzling choice of some 100 restaurants around town offering everything from ribs and roasts to chow mein and chimichangas.
More Info: Visit websites of the Durango Area Tourism Office and the Durango-Silverton railroad. The city's colorful history is detailed in two books by Dr. Smith, Durango Diary and Durango Diary II.
Photos by Bob Schulman