General Villa nods to his snare drummer, who starts beating out out a long, machinegun-like roll of ratta-tat-tats. Next, some trumpets, trombones and tubas fire up, then more and more horns kick in -- all to hype up Villa's rag-tag troops to charge the cannons of the government federales. The song ends with a chilling bullfight victory flourish -- the signal for the attack to begin.
"Villa used the song to pour red-hot chili sauce in the veins of his troops," says Mexico City-based historian Jaime Capulli.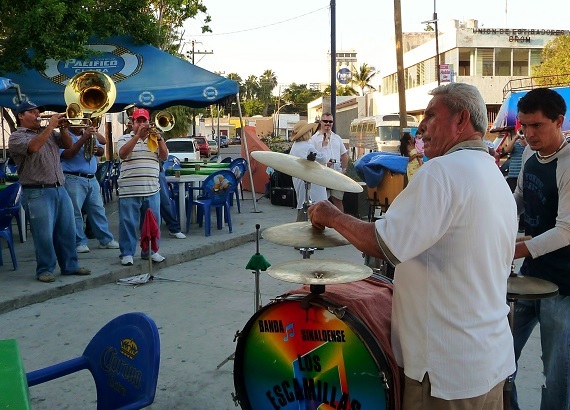 Los Escamillas street band belts out a peppy version of Villa's battle song.
The song, called
La Diana Ranchera
(reveille-like Mexican military tunes mixed with traditional folk music), most likely comes from the western Mexico state of Sinaloa, perhaps from the city of Mazatlan. You'll hear it now and then at Mexican fiestas, in cantinas, at village festivals and even at floor shows at luxury resorts. "Most tourists who hear the song have no idea they're listening to a battle warm-up," says Capulli. "It's been around so long a lot of Mexicans don't know what it's about, either."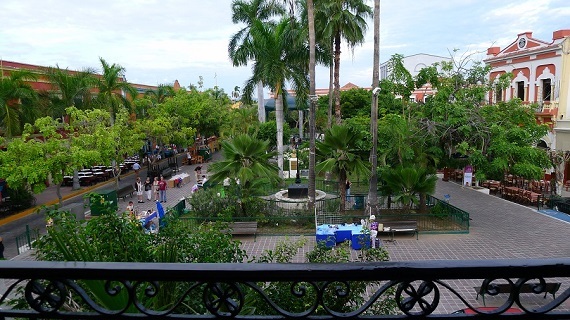 The song is sometimes played during concerts in Mexican village squares such as the Plaza Machado in Mazatlan.
Mexican patriot leader (later to become president) Francisco Madero sparked a national revolt against a corrupt, oppressive government in 1910. Villa, who led the revolutionary army of the north, was one of Madero's two top generals during the nearly 10-year-long war against the federales. The other was General Emiliano Zapata, who led the army of the south.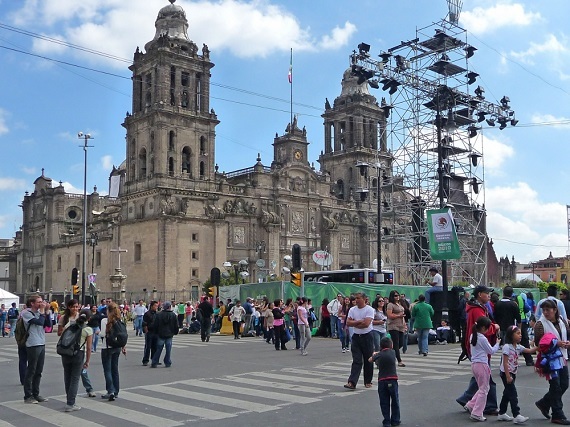 Main square in Mexico City is readied in 2010 for a gala celebration marking the 100th anniversary of the Mexican revolution.
Marching to a Different Drummer
Fast-forward to 1847, and Mexico's military tunes have been drowned out by the songs of U.S. troops marching through Mexico City. Among popular ditties of the lads from north of the border were "Green Grow the Lilacs" (sung by an Irish brigade) and "Green Grows the Grass (of Kentucky)." Picking up on the same color in the songs, anti-U.S. crowds are said to have shouted "Greens Go Home."
Such reports from the Mexican-American War are among all kinds of stories -- some going back as far as the 1780s - on the source of the tag "gringo" for non-Latinos. Originally used as an expression of contempt, the word has mellowed out over the years to become more or less non-derogatory.
Photos by Bob Schulman