I'm a nut for old-time calypso music. Harry Belafonte turned me on when I was a kid, the first time I heard his blockbuster hits from the West Indies. I played them over and over, yearning to buy juicy mangoes and casabas at the Kingston market...to hear Angelina play her concertina...to watch Senora shake her body line...to listen to "sounds of laughter everywhere while the dancing girls swing to and fro."
Years later, when I finally got to the Caribbean, such thrills were not to be mine. Bowing to a hipper age, my sweet calypso tunes had given way to swinging Jamaican skas and reggaes, brassy Trinidadian socas, sizzling Dominican merengues and sultry zouks from the French islands.
I admit, dancing to all this is a lot of fun (not to mention a great workout). Still, I miss the good old days that I never got to see.
Recently, though, I found the next best thing - in a little-known spot in Central America. On the east coast of Costa Rica, to be exact.
Trips to Costa Rica typically start with a flight to the capital at San Jose, roughly in the middle of the country. There, most visitors hop into tour vans or rental cars for a few hours' ride to the posh resorts dotting the country's western beaches. Others spend a few days in town, then head off to the eco-delights of Costa Rica's northern volcanoes and rainforests.

A few take a 90-mile ride east (as I did) to a long strip of palm-lined beaches edging the Caribbean - without a Hilton or a Marriott in sight.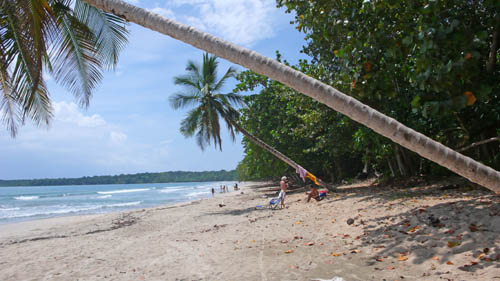 First impressions there: I spotted my mangoes and casabas at thatched-roof roadside stands subbing for supermarkets...I heard people speaking in the Afro-Caribbean-English patois of the old-time West Indies (here, with a bit of Spanish tossed in)...and best of all, everywhere I went, from bars to barbershops, vintage calypsos wafted through the air.
No wonder they call this place "the Calypso Coast."
It starts about two-thirds of the way down the country's Caribbean coast at Puerto Limon, and runs some 55 miles south to the Panama border. Along the way are towns such as Cahuita, Puerto Viejo and Manzanillo, places where I half expected to find Harry Belafonte sitting on a dock in striped, clamdigger pants telling tales of how a lady named Matilda took his money and ran off to Venezuela.

Instead, in a little cafe in Cahuita, I ran across Walter Ferguson.
Down here, he's as popular as Belafonte, Ricky Martin, Kanye West and Bruce Springsteen all rolled up into one. Known as the King of Calypso, having written and sung for seven decades about everything from local politics to troubles with his girlfriends, Ferguson at 89 came out of retirement to cut his latest CD, Babylon. He says this one is his last. "I'm just too old to make any more," the gentle superstar said as he autographed a copy for me.
Wandering around the Calypso Coast, I rubbed elbows with an eclectic mix of locals with centuries-old roots in these parts; descendants of the Jamaican and Chinese laborers imported in the late 1800s to build a cross-country railroad to Limon; aging expat hippies, mostly from the U.S. and Canada; and surfers speaking everything from French to Finnish.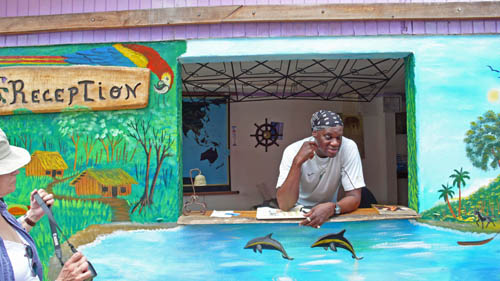 That night, the cool ocean breezes at the Colon Caribe Jungle & Beach Resort near Limon were filled with - you guessed it - calypso songs. There, under the twinkling stars, a band belted out my favorite West Indian tunes on an old banjo, a plinkety-plunk "finger piano" and a one-string washbucket fiddle.

I finally found my tropical Garden of Eden.
On the way back to San Jose, our tour bus driver unwrapped a new CD and slipped it into the player. And for the next hour or so we relived happy memories of the Calypso Coast as we listened to tunes such as "Cabin in the Watah" and "Callaloo" on the last recording of Walter Ferguson.

More info: Visit the Costa Rica Tourist Board, www.visitcostarica.com.