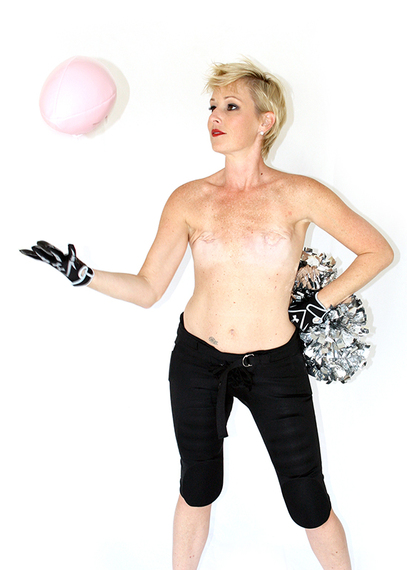 In its tone-deaf punishment against Baltimore Ravens running back Ray Rice, it not only failed to match the punishment to the crime, it failed all those in our communities nationwide who rally against domestic violence.
Rice's two-game suspension has left abusers to believe that knocking someone unconscious is equal to a slap on the wrist.
The NFL has missed the opportunity to send a broader message in support of survivors. Men and women alike, find the league's punishment for Rice's actions as a flagrant disregard for the excessively violent actions of one of their own.
As a former NFL cheerleader and trained domestic violence advocate, I am perplexed and frustrated by the apparent lack of national support for this victim from the organizations that are charged with raising awareness of these crimes. At the very least, the NFL could acknowledge these groups with a generous contribution to their cause from the $530,000 Rice will sacrifice.
The league, however, continues to operate with a lack of transparency when it comes to its charitable efforts. When the NFL recently increased the penalties to protect their players, they substantially increased the amount of fines paid to the league.
Those fines, as well as all fines, collected by the league are expected to be donated to charity. The charities reported to benefit from these fines include the NFL Player Care Foundation, which provides medical, emotional, and financial assistance to retired NFL players, and/or the NFL Players Association Player Assistance Trust.
However, the NFL may make an exception and select another charity. But where is the list of charities backed by the NFL? Don't bother looking.
The fields throughout October are flooded with a sea of pink, so I set out to find the sea of green.

Federal tax code laws require that 990 documents must be provided within 30 days of any request. In October of 2013, while investigating the distribution of charitable funds as it relates the NFL's "Crucial Catch" breast cancer campaign, I requested the 990s and subsequent filings for the NFL and each of its subsidiaries, in hopes to gain clarity for how the organizations charitable funds are raised and distributed. As I expected, the NFL failed to comply with my request. I have since filed subsequent complaints to the Internal Revenue Service for assistance.
In a recent radio interview on ESPN's Mike and Mike, league attorney Adolpho Birch said the league needed to be "afforded a level of privacy" in what factors it considered in determining Rice's punishment. I realize the context of his statement was in regards to a legal case, however it's the same corporate culture of arrogance within the NFL organization that repeatedly rears its ugly head.
This is a sport supported by the public and played, in most cases, in stadiums funded by public tax dollars. We deserve a greater degree of transparency when it comes to how it allocates its charitable gifts. While I will continue to focus on what percentage of its pink merchandise profits actually find their way into the hands of nonprofits supporting the cause, I would be remiss to not defend all those victims, families, and even abusers who could have benefited had the NFL fulfilled their inherent responsibility to their fans.
What we do know for sure, Domestic Violence Awareness Month is recognized every October and will inevitably fall to the wayside. It's just not as profitable as dressing players in pink socks, cleats and ribbons.
Besides, too many league clubs already incorporate purple -- the color of domestic violence advocacy -- including the Baltimore Ravens.