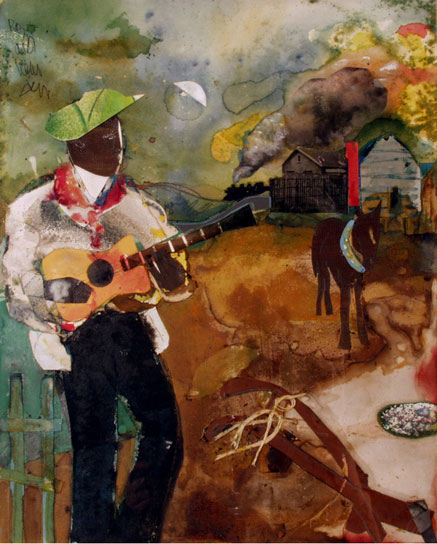 Romare Bearden, "Sunset Limited" (1984)
If there is a story to tell about Romare Bearden's centennial in New York, it now has a good ending. ACA Galleries' Romare Bearden: Urban Rhythms and Dreams of Paradise gathers, for the first time during the centennial, a representative look at Bearden's entire career. Where other tributes were slight, uneven or unconventional, Urban Rhythms and Dreams of Paradise is the sort of show I had been waiting for: a considerable, fairly balanced and clear celebration of America's greatest collage artist. As one visitor put it, "Romy would have been proud!"
ACA Galleries has been supporting Bearden's work for a very long time and it shows in Urban Rhythms and Dreams of Paradise. As the former representatives of Bearden and his estate, ACA's access to both his work and his archives is hard to match. Nearly every stop of his career is noted and considered here, from Bearden's early religious paintings (which are rarely seen) to his iconic collages (which can never be seen enough) and late portraits of jazz and blues musicians. The selection is augmented and given life by a heartening array of memorabilia - letters and collector's items, mostly, all wonderful, including what looks to be a ledger from one of the very first Spiral meetings (Spiral was a legendary collective of African American artists in the early 1960's). Just seeing Bearden's loopy, elegant handwriting was enough to make me smile.
But probably the most significant historical artifact of ACA's show is a recently discovered and untitled double-sided piece from 1956. At that time, Bearden was somewhere in between his religious paintings of the 40's and his experimentations with abstraction in the 50's - neither aesthetic endured, and it is commonly held that Bearden found collage in 1963, when Bearden asked Spiral members to produce a joint collage and found himself working on it all alone. From that point on, the story goes, Bearden jumped ship for collage, the medium he would perfect for the rest of his life.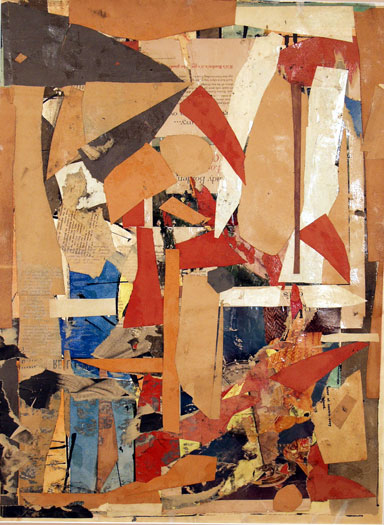 Romare Bearden, Collage Side of "Untitled (double-sided)" (1956)
The double-sided piece on view in Urban Rhythms and Dreams of Paradise, however, may suggest that Bearden considered jumping ship seven years earlier. Both sides of 1956's "Untitled (double-sided)" depict a typical religious scene, nothing particularly special in either, but one of those scenes has been almost completely obfuscated by a collage. Bearden had made a few collages before and after 1956 -- so the idea that the failed art collaboration introduced Bearden to collage is somewhat of a myth already -- but they were never in such contest with his religious or abstract work from the time. "Untitled (double-sided)," the early highlight of Urban Rhythms and Dreams of Paradise, literally vandalizes the religious imagery behind it, indicating that Bearden's unrest with his work -- and his solution, collage -- existed earlier than we had thought. In Bearden scholarship, that's an enlightening twist. Although I can't confirm it myself, this is said to be the first public showing of "Untitled (double-sided)." Either way, it's a fun piece of history.
As for that still important year, 1963, in Bearden's career and the golden decades that followed? Urban Rhythms and Dreams of Paradise has a lot to say and a lot to show. Bearden's mature collages are often grouped into three categories: the urban, the southern and the Caribbean (Bearden and his wife vacationed and lived in St. Martin). The current show has only two of his urban collages -- 1976's "On Such a Night as This" being the masterpiece - and that is its only real Achilles heel. (More of them would have been nice because they paint a more complete picture of Bearden's reach, skill and vision.) That said, the southern and Caribbean collages are equally important to the story of Bearden's art and offer viewers a portrait of the artist at his most introspective and nurturing.
All told, there are over twenty of these collages to see, most of which were completed during the 70's and 80's, and they are paired with some like-minded paintings and a good group of Bearden's music portraits. The collages are what made Bearden a major figure in American art, helping him overcome the prejudices he faced as an African American artist born in 1911 and earning him, the year before his death, the National Medal of Arts from President Reagan. It's worth your time to spend the afternoon taking in Bearden's technique, his expressiveness within the medium and his staying power as an artist with something to say. (Something that stood out to me is the role of women in Bearden's work - they are the pillars and stars of these collages.) In an era of art-making that was decidedly anti-sentiment (and anti-figuration), Bearden's work is heartfelt, colorful and meaningful. "Mother and Child" is a perfect example.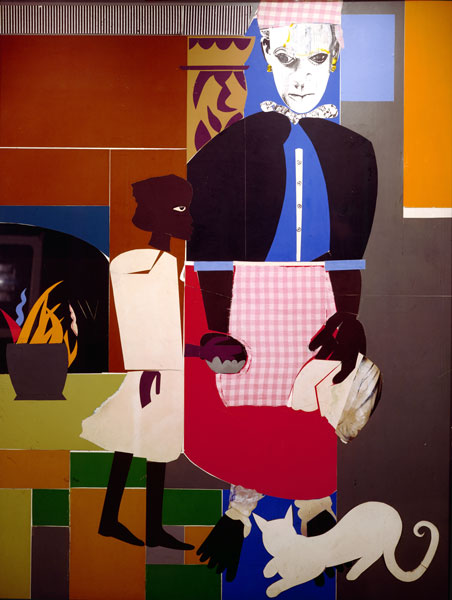 Romare Bearden, "Mother and Child" (1976 - 1977)
I was about to write that I don't envy the institutions responsible for celebrating Romare Bearden's centennial -- but that's not true. I actually do envy them, greatly, and were I someone with any say, I would have dressed all the city's museums with Bearden's. As it was, the city may have dressed a little timidly and that's a shame for many reasons. But I left ACA thinking that Romare Bearden: Urban Rhythms and Dreams of Paradise would have made "Romy," as friends called him, quite proud. It's our chance to remember an artist whose work we're lucky to see and whose legacy we will hopefully be celebrating for the next one hundred years to come.