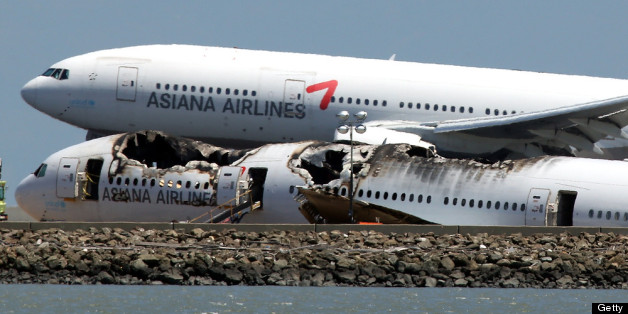 If one thing can be said for the flight attendant community, we always stand together. No matter the airline we work for, the country we live in, or the size of the plane we work (you'd be surprised: some people think size matters!) we all realize that we do the same job, with the same ups and downs, passenger issues and when tragedy strikes, we're all there to support each other.
As the news about Asiana Flight 214 unfolded live from San Francisco on July 6th, I noticed one thing the experts and analysts on television forgot to mention: the flight attendants. As they were assessing the damage and starting to try and figure out what happened, they were, first, shocked that reports were circulating that everyone survived (we later learned of two deaths) and were amazed at that outcome based on the look of the wreckage. Then as the conversations and round table discussions progressed, the on-air personalities began to refer to the fire department and EMS crews as the "first responders" when in fact, the flight attendants were.
When the Boeing 777 came to a stop in between runway 28L and 28R, who were the first people tasked with saving lives? The flight attendants. They're a huge reason why so many survived.
Not hearing the flight attendants mentioned really disturbed Wendy Roche Barrutia, a flight attendant herself. She quickly posted online: "I would like to submit for your approval, that any vehicle/personnel showing up to an aircraft emergency, be from this day forward, be referred to as 'THE SECOND RESPONDERS' because WE are the "FIRST RESPONDERS!"' Many flight attendants agree, and say its about respect for the position.
In the days following the accident we finally saw a shift in the news and reports about the heroic and selfless acts by the crew on board. But even before the media reported on the cabin crew, the flight attendants in the United States of America were already praising their heroic efforts.
As a flight attendant myself, I am a member of many social media networks that connect flight crews together and immediately following the news saw the comments begin to pour in:
Kei Linn posted in "The Sassy Stew Crew Room" about the infamous photo of three flight attendants assisting passengers in front of the crash scene: "Consummate professionals...not a stitch of hair out of place and scarves still on. These brave crewmembers have my admiration!"
On the Savvy Stews Facebook page so far over 187 posts have been made, most by flight attendants, calling attention to the crew:
Patrick Liepold posted: "So proud of the crew and so proud to be Flight Attendant!" and this comment followed by Lynn Burnett: "I've never been so proud to be a flight attendant . They did Asiana and all flight attendants proud!"
One of the biggest movements created through Facebook this week is one by Cyndy Kawakami Atkins. She's a flight attendant for US Airways and started a grass roots campaign to ensure the flight attendants on board Asiana 214 and their employer, Asiana Airlines, realize how much the crew is respected and honored. They showed "such grace, class and dignity" Cyndy said. "We have much to learn from these heroes. They are rock stars"
Cyndy's idea is simple. "Let's blitz ASIANA headquarters with letters and cards to the heroic flight attendants on ASIANA#214. They crawled back to the aircraft, cut passengers out of their seatbelts, used crash axes and carried passengers on their backs to safety..such honor, character, bravery and resilience. Let's send thousands of letters from abroad." Her movement was met while an outpouring of support. Brandon, a flight attendant said: "Those are remarkable flight attendants - sending my card and extra pair of [my airline's flight attendant] wings to them ASAP!"
Cyndy's movement isn't just for fellow flight attendants, "This is a collective effort," so she encourages anyone touched by the story of the crew send a note to Asiana:
Flight 214 Crew
ASIANA Airlines
c/o Inflight Services
Asiana Town
#47 Osoe-Dong
Gangseo-Gu, Seoul 157-713
Republic of Korea
And, lastly, Angi Andersen summed up how a lot of flight attendants feel: "One of the most thankless jobs in the planet. Thank you for showing the world what being a flight attendant is really about!"
The position is most of the time, in non-emergency situations, thankless. After reading some of the comments posted to news articles about the incident, many folks said that there was no reason to praise the flight attendants because "they were doing their job" and this wasn't anything heroic because we "over use that word," and while some of you might agree with those statements, think about this. Would you still say that if you were one of the passengers that a flight attendant cut out of their seat-belt with a knife and carried, on their back, to the exit and saved your life?
I don't think so.
And to end on a personal note, from one flight attendant (myself) to the crew of Asiana 214: Your crew did an outstanding job and set an example for flight attendants around the world. Though some only see us as "glorified waiters and waitresses" in the air, we are much more than that. We train hard initially and re-train yearly for situations exactly like that one you all experienced, and we hope, everyday that we never need to use our emergency training. You all had to put it to use and use your situational awareness to overcome scenarios in the damaged cabin that you couldn't ever have planned for, but you did it with true professionalism and class for that, I'm in awe and salute you.