By Sam Dean, Bon Appétit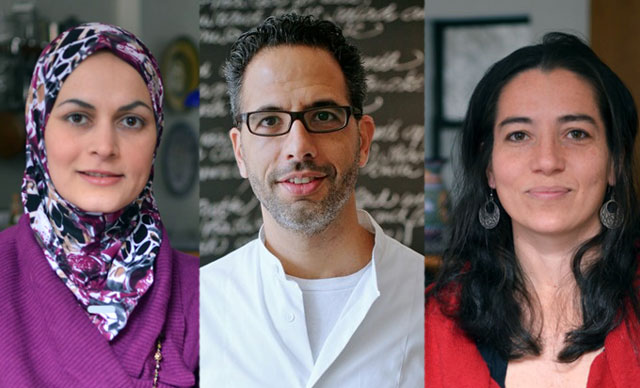 Laila El-Haddad, Yotam Ottolenghi, and Maggie Schmitt (Credit: courtesy Laila El-Haddad, Ottolenghi, and Maggie Schmitt)
Defined by conflict, densely packed with refugees, and sealed from the outside world by the Israeli military, the Gaza Strip is not your typical culinary hot spot. But in their new cookbook The Gaza Kitchen, Laila El-Haddad and Maggie Schmitt set out to prove that Gazan cuisine can hold its own against any in the region by going into the homes of Gazan cooks and documenting the recipes they make for their families every day. It's a cuisine with some familiar elements -- chopped vegetable salads, falafel, richly spiced rice dishes -- but for such a small region, it has a surprising number of trademarks. Gazan cuisine is unique even within Palestinian cooking for its chilis, its red tahini (made with roasted sesame seeds), its use of dill seeds, and, of course, its adaptations to the difficult circumstances and food shortages that have shaped its history. And this book is fascinating, both for its recipes and for its painstaking reporting, not to mention the first of its kind.
Last fall, London-based Israeli chef Yotam Ottolenghi wrote a cookbook called Jerusalem with his Palestinian business partner, Sami Tamimi. Together, they looked at the complicated mix of culinary cultures in their shared hometown.
The two books describe two different worlds -- there's Gaza, food-insecure and isolated, and Jerusalem, relatively rich and cosmopolitan -- but these two worlds are only a two-hour drive apart. Inevitably, they touch on the same issues, shared histories, and, often, shared recipes.
We asked Ottolenghi, El-Haddad and Schmitt to talk about their books, their hometowns (El-Haddad grew up in Gaza), the contentious problems of ownership and appropriation, and about how much they love this food. Their conversation is transcribed below.

Yotam Ottolenghi: I've been reading your book in detail over the weekend, and making so many little comments and little things that I thought were puzzling and interesting. It's a great book, by the way.
Read More: Easy Ways to Upgrade Instant Ramen Noodles
Laila El-Haddad: Thank you very much. We've also been poring over yours, it's gorgeous.
YO: Thank you. Very different books, I must say.
Maggie Schmitt: But somehow working in parallel.
YO: Your books is just such an accurate documentation of what's going on, it's fascinating. I learned a lot of things I hadn't known about at all. I just claimed my own ignorance, but Gaza has never featured in my radar as a food place. I've always followed with great regret what's going on in Gaza and seeing all the terrible things, but I just didn't assume that there's so much going on with these very clear identifying features.
LEH: It's not on most people's radars. For me, as a Palestinian from Gaza, it's always figured on my radar, and I would always think, "Why? Why isn't anyone familiar with this fantastic cuisine?" But, of course, it was also more than just featuring the cuisine. It was using the cuisine to talk about the larger situation.
Read more: Your New Favorite Chocolate Chip Cookie
MS: I think there are really clear reasons why it doesn't figure on anyone's radar.
YO: Who goes to Gaza? That's the thing. I think it's almost impossible -- I just assume there's no tourism.
LEH: Ha, no.
MS: The border is hermetically sealed. There's no way without tremendous paperwork to get a permit. So really, there's no way to get into Gaza and no way to get out of Gaza.
YO: So, as a result, there's just no one to tell the story unless you're there, like you were.
The whole business of women cooking home food at home and men cooking the official street food in restaurants or other sorts of eateries really struck a chord. I think this is something that actually happens across the Middle East -- men cooking in restaurants and women cooking at home.
When I did a program about Jerusalem for the BBC a couple years ago, I went to visit a Palestinian home. The cousin of the family was working in a hotel, and the women of the house showed me a few Palestinian dishes, but they said, "Let's do it quickly before our cousin arrives, because then it's going to be all sorts of fancy food." They wanted to get everything out of the way because they knew he can't cook their food and they can't cook his food, and it's almost like there's actually no dialogue. He's the official chef but, in actually they were cooking the things that I found more interesting.
I think it's an interesting division.
LEH: That was important to us, to highlight that home cooking that never gets featured, it's almost a shameful thing. There's also an element of protecting that intimate or personal space. Usually, at least in the case of Gaza, men are the interlocutors, and you never see the women, or you're never getting that view of the inside intimate space.
Read the rest of the conversation here.
More from Bon Appétit:
Healthy Snacks? Maybe Not
Spring Vegetables: 26 Ways to Eat 'Em
8 Essential Kitchen Gadgets
Top 20 Best-Tasting Burger Recipes