Travel is more than the seeing of sights; it is a change that goes on, deep and permanent, in the ideas of living.— Miriam Beard
Since the publication of my book, Without a Spare: A Fearless Woman's Life of Travel, the first thing I'm asked in every interview is, How do you pay for all those trips? A minuscule number of people on the planet can do what they want, when they want. Almost everyone has to pick and choose. I'll be blogging every other week on Friday with traveling tips garnered from decades of personal experiences living and traveling abroad. Ask questions. I look forward to hearing your suggestions and solving challenges together. Here we go. . .
Post #1 How To Do Exceptional Things Inexpensively
Stop Booking Ahead!
In a world in which people increasingly feel compelled to check their Foursquare app in a restaurant before daring to order on their own, this advice must sound revolutionary. Obviously, there are great deals if purchased in advance. But you'll get just many things at a better price if you arrange them at the last minute, as well as have a more authentic experience dealing directly with locals. And think of all the time you'll save planning.
1. Travel off season and avoid holidays. I'm not suggesting you visit India during a monsoon (although that can be quite special), just travel slightly off season -- what's referred to as the "shoulder season" -- and you'll have the best of everything without the crowds and the pressure to make reservations. One good example would be the cost of chartering a yacht to sail around the Aegean. It's a small fortune if arranged from the States, but hang around Bodrum, Turkey in June or September for a few days (hardly a hardship), and you'll have a choice of gulets at half the price. The best part is that you get to actually see the amenities different boats offer and as importantly, meet the captain and crew. We all have individual needs, and nothing matters more than a good personality fit.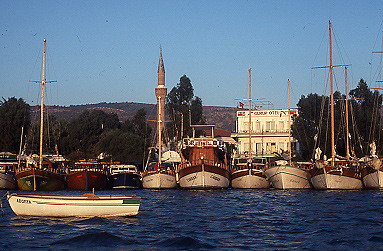 The Bodrum harbor
To avoid misunderstandings, be clear about what you want. I can't emphasize this enough. You should have an idea, if not a passion, for where you'd like to go, what you'd like to see, and what you'd like to do. Read a book. Go online. If you don't, I can guarantee that you'll only be taken to tourist sites. Think about it. Is someone going to share their best wedge of aged Comté with a person who knows nothing about cheese? Express an interest in a country and people will knock their socks off showing you out-of-the-way treasures and preparing special foods. This is a universal principle.
2. If you enjoy taking classes when abroad, it's not always necessary to enroll in a formal one. To learn how to prepare the food of different nationalities, walk around the market and inquire who has a reputation for being a great cook. When you find her, ask if she'd be willing to teach you and how much money in exchange sounds reasonable. Be specific about what you want to study and how often. Even if it's only for one day, I like to shop with my teacher to become familiar with the variety of produce and spices available in addition to making an individual dish. Don't be surprised if she asks you to come to her house, which might be quite modest. This is how I learned backstrap weaving in Guatemala, but it holds true for just about anything. If you want to learn how to fish, approach local fishermen until one says yes. It's the classic win-win. Within a village there's usually some prestige in teaching a foreigner and there are decent people all over the world looking for ways to earn extra money for their families.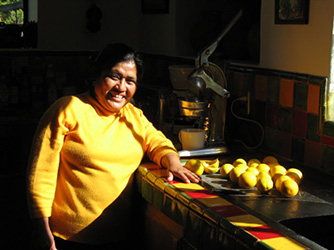 Lourdes, my cooking teacher in Oaxaca, Mexico
So select a place you've always wanted to see, get a ticket and go. Travel light. Talk to strangers. No app in the world can compete with on-the-spot current information.