Travel is more than the seeing of sights; it is a change that goes on, deep and permanent, in the ideas of living.— Miriam Beard
How To Do Exceptional Things Inexpensively
Post #8 The Mileage Game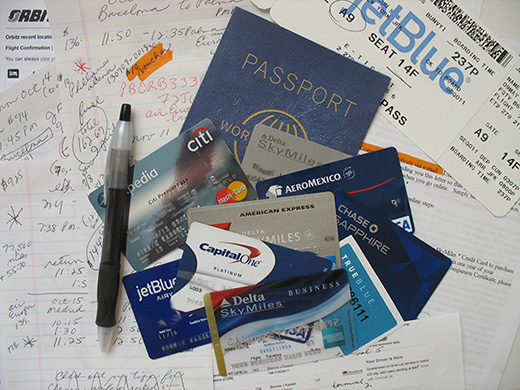 Steel yourself. If you want to fly for less, you have to play.
Tickets to Europe that were $500 two years ago, are now $1,000. If you look closely at the breakdown, you'll see that the base ticket price is still the same $500; it's the increased taxes, security fees, fuel surcharges, etc. that account for the whopping additional $500! If you redeem miles to buy a ticket through a Frequent Flyer program, you're often stuck paying the staggering taxes with cash. So how to beat the system?
Enroll in the (gratis) Frequent Flyer Program of the airline you're most likely to fly in order to get miles for the actual distance flown when taking a trip. I mostly travel internationally and chose Delta because their Air France/KLM/Aeromexico/and now Virgin Atlantic! Sky Team alliance allows me to go almost anywhere in the world. If you frequently travel to one destination abroad or within the United States, you'd want to join a program with an airline that flies there. Next, apply for that airline's credit card through the airline. (occasionally the bank offers the same card with different or fewer perks) There are super promotions being offered for gold and platinum status that will also waive the first-year annual membership fee.
Delta/American Express gold or platinum card holders can participate in the Pay With Miles program, a perk that can't be beat. It's one of the few where you can pay for your entire ticket, including those outrageous taxes, with miles, or whatever portion you choose. I recently booked a $950 direct round-trip flight from New York to Barcelona using 70,000 miles and paying $250 cash. Delta gold/platinum is now offering 30,000 free miles plus a $50 statement credit off your first Delta purchase if you charge $500 within three months of receiving the card. That's $350 off a ticket before you even begin earning miles! Instead of a cash credit, sometimes the offer is for a free domestic companion ticket, which can be just as good or even better.
Designate two credit cards as your primary cards and get into the habit of charging everything: cell phones, utilities, doctors--even if it's only $10 at the deli. Usually each dollar spent equals one mile, and dispersing them among several cards makes it difficult to accumulate enough for free tickets or upgrades. If one of your cards is American Express, keep in mind that AmEx cards are not accepted everywhere and they charge foreign exchange fees on all purchases abroad, so the other card should be a Visa or MasterCard that you've checked doesn't impose foreign exchange fees. (Capital One, for example, does not) Obviously, spend only what you can afford. When I was in high school, my father took my first paycheck and pretended to throw it down a sewer. "This is what happens to your money when you pay finance charges," he explained. The concept of working hard all day with nothing to show for it made a huge impression on me and I've always paid my bills in full each month. Paying a finance charge would undo all the benefits.
Generally the main difference between airline credit cards and bank credit cards is that with airline cards all of the miles go directly into your Frequent Flyer account and your miles are all in one place. Bank cards like Capital One Venture Rewards (which probably has the best customer service among all its competitors) has great promotions, but you can't transfer miles to your airline account to bundle them with flown miles. On the plus side, they offer two miles for each dollar spent and you can use the miles on any airline. Excluding the elite status cards with a $500 annual membership fee, Chase Sapphire is one of the few bank credit cards that allow you to transfer miles into a Frequent Flyer account if it's with one of their partners: United is, Delta is not. You can see that this is not an exact science. Depending upon your personal travel M.O., only you will know which is best for you.
There are still some connections between different airlines that you can't book online. Last week I was forced to call Delta and heard the familiar "We're receiving an unusually heavy volume of calls" (translation: We've let so many people go to save money there aren't enough left to answer the phones),
only now they've added the approximate time you'll have to wait on hold before speaking with a representative. When I heard 16-22 minutes, I dubiously decided to try the "leave your number and someone will call you back in the order in which your call was received" option. My dog and I raced downstairs for a 15-minute late night walk, and damn if the phone didn't ring just a few minutes after we got back. But there was static on the line and the man on the other end said, "Oh, we have a bad connection," and hung up. Which is where it becomes funny. I waited by the phone for 3 or 4 minutes before I started laughing at myself. What? Did I think he was going to call me back?
When you do get an airline representative on the phone, here's a tip. If they've never heard of the place you want to go and ask you for the airport abbreviation code, it's doubtful you're going to get the help you need. No matter how long the wait, say pleasantly that someone is at the door, hang up and call back. It can take half a day for you to compare routes, schedules, costs and mileage requirements for several different airlines. But you can ultimately get what you want if you're persistent and know how to play the game.
Let me hear about your experiences. Ask questions. I'm happy to offer suggestions and look forward to solving challenges together. And check back every two weeks for my latest travel tips. Next blog: The Currency Exchange Game
*Disclaimer: I receive no compensation for my recommendations.