Travel is more than the seeing of sights; it is a change that goes on, deep and permanent, in the ideas of living. -- Miriam Beard
How To Do Exceptional Things Inexpensively
Post #4 House Rentals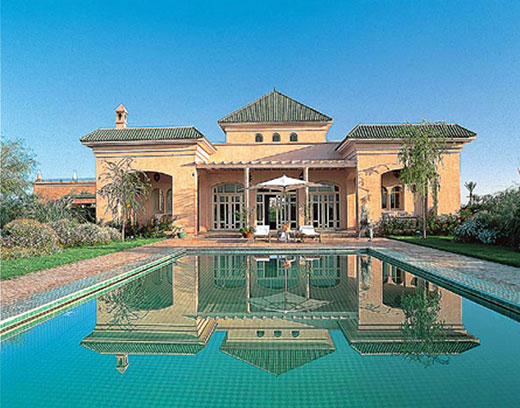 Our Marrakesh house rental
You know from my last post that I'm a big fan of housesitting and house rentals, having done both many times in different parts of the world. But renting a house overseas can be trickier than housesitting because of the wide range of costs. If you rent through a company based in New York, Paris or London, you're going to pay top dollar. Their overhead is tied to the economy of the United States, France or Britain and has nothing to do with what things cost in the country where you're renting. There are exceptions, yet it's somewhat the same story with an agency run by someone in the expat community of a foreign country. They want to make the kind of money one needs to visit their kids back home. As soon as you're quoted a price in U.S. dollars or euros, you know.
A New York friend recently told me she was quoted $12,000 to re-tile her kitchen. (This may seem like it has nothing to do with house rentals, but stay with me.) She hadn't taken the time to learn that the two Mexican workers hired to do the job for three days were being paid $150 each per day. Nor did she have any idea what was the price of the imported Italian tiles she'd ordered. ($1,200) Adding in grout, parking of van, etc., $3,000 would be a generous ballpark number for the job. Everything above that is profit to the company. (one phone call and she got the job for $9,000) I want you to think like this: You have to take the time to find out how much things actually cost or you can't negotiate to do exceptional things less expensively.
When I'm visiting a place I think I'd like to return to, I start talking to people. Everyone. I can't tell you how many amazing opportunities I've stumbled upon this way. The latest happened just a few months ago. I was in a Unesco World Heritage site town and heard about a tastefully designed house with pool that had been renovated for a Canadian couple's retirement. The husband and wife weren't planning to retire for a year and I fell into one of those win-win situations. They had no intention of renting, but now their property could be protected (leaving a beautiful home vacant anywhere in the world is not a good idea) and the costs for running the house would be covered by someone as respectful of their property as if it were their own; for $10,000, my husband and I could leave doubles of all our things (robe, bathing suit, shampoo, sunblock, etc.) and arrive in utopia swinging our arms whenever we wanted to go away for a month or two.
Another advantage of seeing properties firsthand is to help determine the area where you'd like to live. It's not just about renting an apartment in Paris -- it's about what arrondissement in Paris will suit you best. Be open to lesser-known villages outside of major towns; look at small islands off the coast of big ones. (Yalikavak instead of Bodrum, Turkey; Paxi off of Corfu in the Greek Islands) If you already know your preferred location and are researching online at a site like VRBO (Vacation Rentals by Owner), keep in mind that most things you see offered are geared to the average tourist. Typically quotes will be: $250 per night, $1,750 per week. For two couples with limited time, this is a great deal -- cheaper than a hotel with more privacy. But if you avoid holidays (and who wouldn't want to?) and can stay longer, that same house/apartment can probably be gotten for $3,500-$4,000 a month. Telephone. Deal directly with the owners. Wouldn't you rather negotiate a discounted price renting to one person who's respectful of your property (I can't repeat this enough) and pays on time for a longer stretch of time, than go through all the hassle involved with changing tenants every week?
My mother celebrated her 80th birthday in Morocco and wanted to return. Considering her age, renting a house with a live-in housekeeper would make it easier, but I couldn't find anything that fulfilled our requirements. I succumbed and called a London agency; they didn't have what I wanted either, but were kind enough to tell me they'd heard of a new property being rented privately that sounded ideal and gave me the website. When I went to the site, I couldn't get the pictures of the house out of my mind. Only problem was the cost -- even for a splurge. After thinking about it for a couple of weeks, I picked up the phone and the delightful French owner of the Marrakesh house answered. She generously offered a price several thousand dollars lower than listed if we visited when there was a lull and she had no reservations. Which just happened to be the time we wanted to visit.
Let me hear about your experiences. Ask questions. I'm happy to offer suggestions and look forward to solving challenges together. And check back every two weeks for my latest travel tips. Next blog: Think Globally, Not Locally.