Travel is more than the seeing of sights; it is a change that goes on, deep and permanent, in the ideas of living. -- Miriam Beard
How To Do Exceptional Things Inexpensively
Post #10 City and Country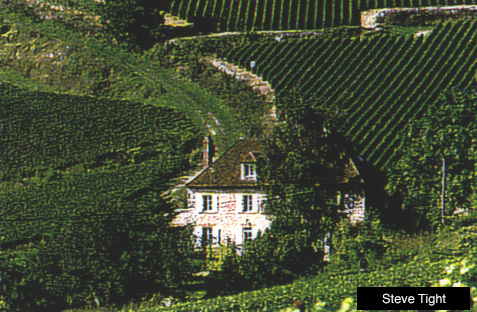 Champagne vineyards, France
Whether you have a week, ten days or two weeks to get away from it all, a well established travel philosophy of mine is to visit both city and countryside on every trip. Cities conjure up trendy restaurants, gallery openings, pulsating nightlife and world-class shopping; the countryside -- farms, orchards, cultural traditions, long bucolic walks -- tranquility. Alone, each offers a partial impression of a place; together you begin to understand what a country is truly about. Both can be equally exciting. Many people try to cram in too much when they go away. Dig deep. Stick to a single city and one rural area max; traveling between places, packing/unpacking, checking in/checking out, soaks up a lot of time.
In Europe, high-speed trains have made this easier than ever to do. You can be whisked from Paris to Champagne country in an hour, where enjoying leisurely lunches at restaurants surrounded by vineyards will become part of your daily routine: in two hours you could be riding bicycles at your Normandy farm-stay. Swiss Alp villages where the natives speak Italian, French or German are less than two hours from sophisticated museum-laden Zürich. Steep cliffs, nesting seabirds and cozy pubs are remarkably close to Edinburgh, Scotland. Asolo, Italy, known for the sumptuous villas designed by 16th-century local Padua architect Palladio and homemade cakes dense with ground hazelnuts in the crust, is a fraction over an hour from the delights of Venice. Wherever you are, be a local. Sit in a cafe at the end of the day sipping a Prosecco, coffee or hot chocolate. Listen to the church bells as you watch the show casually walk by.
Farther destinations require at least two weeks. Vacation should mean rest. But you can easily visit Santiago, Chile, then spend some time in wine country or take a flight to Easter Island or the Falklands. In Turkey there are cheap domestic airline tickets available in Istanbul's Sultan Ahmet shops: even less expensive first-class Mercedes buses ply all of Turkey conveniently connecting yacht harbors, citrus orchards and stunning archaeological sites. Some of these suggestions may sound ambitious, but they're actually quite simple and relatively inexpensive to do.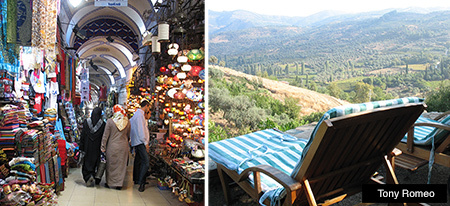 Istanbul, Turkey Şirince, Turkey
For countries with less developed infrastructures such as India, I strongly recommend staying within one state on a trip. It's madness to plan to see the Taj in the north and then expect to meditate at a Kerala Yoga retreat in the south. It's exhausting and few really enjoy themselves (though most lie when they come home and say they did!). Whether Kerala, Goa, or Tamil Nadu, each individual state in India is packed with things to do. My friend Xila and I visited Rajasthan a few years ago and explored only the southern and western part of the state. We had a month, and still didn't have enough time to get to the north or east. Putting aside the necessity for a break after the chaos of Bombay or Jaipur, experiencing village India is even more essential than it is in most countries to grasp the complexity of a culture.
In addition to improved transportation, another major development that allows travel to outlying areas possible without having to choose between sleeping in a costly five-star tourist hotel or on the floor of a barn, is Airbnb. Affordable private rooms with bath and/or entire apartments/homes are offered by their owners in 192 countries according to their website --and growing by the week. Just checking out www.airbnb.com makes you want to go somewhere. Recently while looking for a place to stay in Europe and noting several well-recommended rooms in the 30-euro range, I came across a charming stone cottage on an estate at 60 euros a night for two with breakfast! The accommodations are more personal than a hotel and the hosts often a great source for local information.
Remember the mantra: always off-season, travel light, no tours. Most guidebooks, phones and tablets fit in your pocket and have maps. Keep in mind that in developing countries, few rural people have their own means of transportation. No matter how remote, there is always some type of shared van or bus to shuttle the local citizens around. So if you're on a budget, there are many wonderful places to go where you don't need a car. Be adventurous, open to the unexpected, and the rewards will last a lifetime!

Click on the green comment box to the left of the article as you read. Let me hear about your experiences. Ask questions. I'm happy to offer suggestions and look forward to solving challenges together. And check back every two weeks for my latest travel tips.
Next blog: Travel on $1200 a Month!