Travel is more than the seeing of sights; it is a change that goes on, deep and permanent, in the ideas of living.

-- Miriam Beard
How To Do Exceptional Things Inexpensively

I recently met someone who told me they were going on a one-week tour of Europe and would be visiting London, Paris and Amsterdam. It was all I could do to be gracious and say I hoped they'd have a wonderful time. I wanted to scream.
Tours cost more than independent travel and when you have limited time, why waste so much of it moving from place to place, packing and unpacking? It's far more relaxing and enjoyable to try living as a native and get to know one place. If you're nervous about not speaking the local language, begin with a visit to Scotland or Holland. If you select a large sprawling city like New York or Paris, narrow it down to a single neighborhood. Don't feel compelled to see everything. Travel should be more than simply seeing tourist sites.

A Spring Morning in Central Park
1. In Manhattan you could base yourself on the Upper West Side. Central Park is gorgeous in the early morning, and coffee at Le Pain Quotidien in the park (enter at West 69th street) is delightful. Lincoln Center, the Planetarium and Museum of Natural History will be at your doorstep -- a choice of twelve movies with IMAX options within walking distance. Amsterdam, Columbus and Broadway offer a staggering range of ethnic dining and outdoor cafés for people watching. The Turkish restaurant Pasha and romantic Moroccan/Mediterranean Shalel are both great for mezes (appetizers) if you don't want a big meal, and there's always Zabar's, Fairway and Citarella for top-rate takeout.
Walk along the renovated Hudson River waterfront -- in summer there are free movies, yoga and kayaking classes. Spring and fall, there are street fairs almost every weekend; the Sunday West 76th flea market, including a city block of artisinal food vendors, is year round. After a couple of days, you'll feel comfortable enough in your "hood" to walk straight across the park to the Metropolitan Museum on Fifth Avenue, passing the Dakota where John Lennon lived and Yoko Ono still does. Take a bus that goes straight up/down the west side (no changing required) to/from the theater district, where same-day half-price tickets are available at the TKTS booth, or take a chance and put your name in the nightly lottery for $32 Book of Mormon tickets.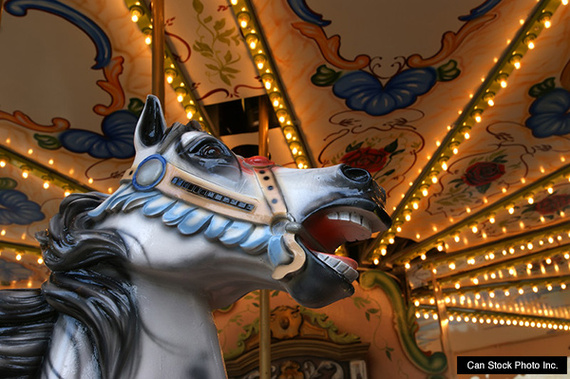 2. In Paris, the 4th arrondissement Marais has exceptional antique and clothing shops, the elegant Place des Vosges square where Victor Hugo's home is kept as it once was, the former Jewish quarter on Rue des Rosiers (now mixed with Arab shops), the Picasso Museum and extremely interesting City of Paris Museum. Walking just a few blocks gets you to the amazing food shopping on Bretagne, or, in the opposite direction, Île Saint-Louis with stupendous cheese store and Berthillon ice cream -- both within site of Notre Dame.
The 7th arrondissement of Saint-Germain is just as chock full. More narrow streets bursting with unique gourmet shops, art and photography galleries, the exclusive Bon Marché department store, and nearby neighborhood of Saint-Sulpice where the restoration of its magnificent cathedral (with Delacroix murals) has recently been completed. Children on the merry-go-round in Tuileries Garden spin next door to the Louvre. Continue walking to the Orly Museum, or cross the bridge over the Seine for a hot chocolate at Maison Angelina. The Raspaille market is held three days a week; Sunday, it's mostly organic. The caramelized onion bread is beyond compare.

Campeche Isla Holbox
3. With a basic understanding of Spanish, there's a world at your fingertips. In Mexico, a personal favorite is the Unesco World Heritage city Campeche. The light in the 17th century pastel-colored walled city is incomparable and the fort houses a superb collection of Mayan art -- all excavated within the state of Campeche. Be sure to have a fish lunch at the seaside Faro Del Morro across the street from the fort when you leave. Inexpensive and open only at lunchtime, Faro Del Morro is a local hangout. At the end of the day, walk the Malecón that skirts the Gulf of Mexico to see Campechanos jog and walk their dogs as the sun sets. Catch a concert in the evening on the main square. You must have one meal at the Hacienda Puerta Campeche. As soon as you enter the courtyard, you'll know why. The Hotel López can't be beat if you're looking for affordable and immaculate accommodations during your stay.
Hire a taxi to drive you to Hacienda Uayamon in the countryside for a two-hour lunch. If you're lucky, Mennonite children will be selling hot cross buns along the side of the road. Rent a car and visit spectacular Mayan ruins within a couple of hours of the city, passing acres of cacao planted by Belgians for what will become superior Mexican chocolate. If it's beach you want, save Campeche for another trip. Instead, fly into Cancún and head directly north to Isla Holbox where there are no paved roads, cars or banks, but miles of undeveloped beaches, endless varieties of birds and an Italian restaurant that specializes in lobster fettuccine.
Think small. Delve deep into a place you'll remember all of your life. When you see how effortless it is to travel this way, you'll be eager to begin planning the next trip. And able to because of the money saved by not going on a tour!
Click on the green comment box to the left of the article as you read. Let me hear about your experiences. Ask questions. I'm happy to offer suggestions and look forward to solving challenges together. And check back every two weeks for my latest travel tips. Next blog: A Traveler's Alternative to Assisted Living