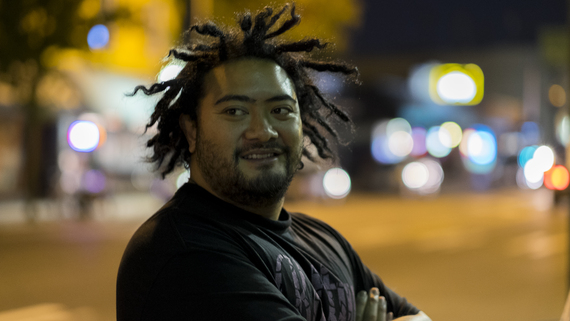 All Images Copyright Brad Puet
Recently I had the honor of meeting, photographing, and interviewing J Boog of Wash House Music. He was on the last leg of his "On The Run" Tour with The Hot Rain Band and was performing in Tacoma's Jazzbones venue.
J Boog is a well known Hawaiian/ Island reggae artist. He has an amazing fan base that stretches past the islands and California (where he's from). He's on heavy rotation in my household. Matter of fact he's on heavy rotation in a lot of households.
If you're new to Hawaiian reggae, you're in for a good one. J Boog's music is in the "must own" status.
Let's have fun!
BP: First of all, big thanks bro for meeting up and doing this interview. I know you've been on the road for over two months. Thank you for taking the time. Can you tell us about your cultural and ethnic background and how this plays into the type of artist and musician you are?
JBoog: I'm Samoan. I was born in Long Beach, California and raised in Compton, California. You know, my parents were really strict in the house and growing up in Compton, it wasn't really easy for them to let us just go outdoors and just go cruise around. They made sure that we knew who we were and what we really about. They weren't hearing about us getting in trouble and letting any bad outside influence into the house. It worked out you know. I think my siblings and I carry that everywhere in life. This helps in like being humble in everything, to know where we came from, see where it's taking us, and making sure we don't step out of bounds. Yeah, we're just grateful for everything we have and we have my parents to thank for. We just making sure we keep that in our heads all the time.
I think seeing my dad from when I was a little kid, you know. He tried to do everything he could to put food on the table or put gas in the car; from collecting palettes from industrial areas or collecting card board boxes and recycling them, I just seen him work hard every day whether he was employed or unemployed you know what I mean?! You know, I do carry that in my music as well. I try to keep it moving all the time whether we trying to bang it out in the studio or touring the country, we just don't waste the time. I learned from my dad to go get it and keep it going, you know. It's 24/7 on the road, its 24/7 in the studio, its work hard. And it's showing most definitely.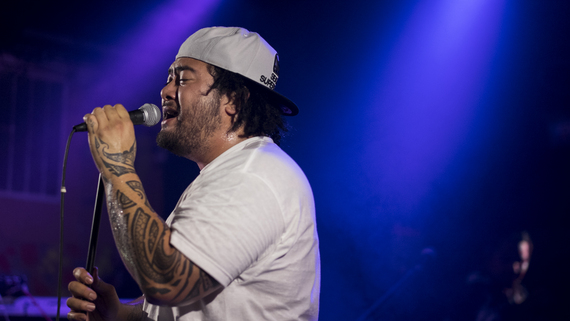 BP: Were your parents musically creative also?
JBoog: No they weren't but they LOVE music. Reggae was like the only music that we could listen to that was a non-swearing genre that we could play in the house and turn up, you know (laughs). They couldn't understand it that well with all the Jamaican patois and everything but it was something that they learned to love. My parents were really big into old school Samoan songs and those tie into country music too. They really love country too.
BP: How many siblings do you have?
JBoog: I have seven brothers and one sister. I'm the youngest of them all. Yeah bro, I had a lot of hand me downs growing up (laughs). A lot of hand me downs and a lot of slaps on the head growing up you know (laughs). It's all G man, I love my family, man.
BP: Were they creative also?
JBoog: I think all of this really started with my sister. My sister played piano for the church. When she practiced, she'd play like old classical music and those were the notes she'd have to study and take back home. There were songs she'd have to do all the time just to do it right. It was a lot to do with timing and everything, and I'd sit next to her and the piano, and I'd try to mimic key. Yeah it was pretty irritating for her I'm sure but she had to live with it because I was her little brother (laughs). Then one day she brought out a Bob Marley one sheet home and we already listened to reggae all the time, so to hear it from the piano with her playing it, kinda tripped me out. I think ever since then something never really turned off inside me, you know?!?
BP: What's the name of the track?
JBoog: It was "Jammin." Still to this day that's my favorite song.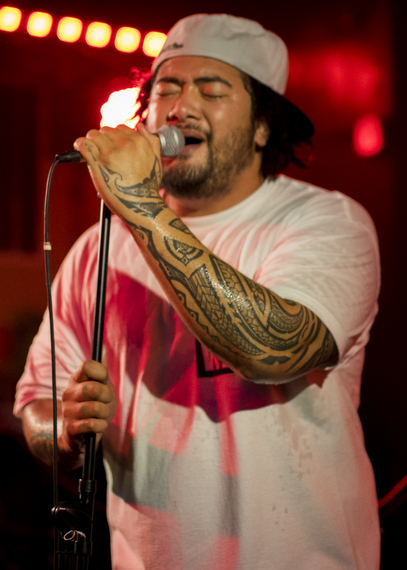 BP: Can you explain to folks the difference between Jamaican and Hawaiian reggae?
JBoog: I think as far as the message goes, we are all talking about the same thing. I guess one of the main differences is, that one the Hawaiian side, it's more melodic. I'm not saying that Jamaican reggae is not melodic but the Hawaiian side has a lot of singers that come from the backyard jammin' in the Hawaiian style. I don't know. Let's ask Les (drummer for The Hot Rain Band).
Les, what do you think is the difference between Jamaican and Hawaiian reggae?
Les: Hawaiian reggae uses a lot of acoustic guitar and a lot more string instruments. It is a lot more string driven than the Jamaican style.
BP: In the Jamaican category, who is your biggest influence/mentor?
JBoog: I think it have to be Beres Hammond. You know what I really love is the Lovers Rock. I'm all about the love music and what he does, it just hits it on the head you know. Like every time you listen to a Beres song, you know it's him. It's about that feeling his songs gives off. It all changes you know. It can go from Beres to Busy Signal and you know it can go back and forth. I love dancehall as well. But at the end of the day, as far as Jamaican reggae goes, it is Beres Hammond. But there's so many; Tarrus Riley, Richie Spice, Morgan Heritage, there's just a whole lot of people.
BP: How about on the Hawaiian side?
JBoog: Bro, all of them. I mean you got The Green crackin' off, and you got Anuhea, Rebel Souljahz, the Hot Rain Band, Innavisions that's touring with us right now, Steppaz...I mean really, it's everyone from Hawaii. Everyone is doing their thing. When we're at home, we kick back and hang out. When we are all on tour we try to meet up just like home but in a different city, you know.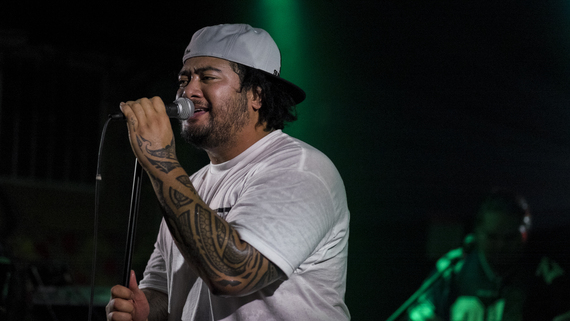 BP: Did you always perform reggae?
JBoog: You know back in the day, I thought I could rap (laughs) but I think the first song I sang or wrote is "Hear Me Roar" and I think ever since then I knew I wanted to do this. It was because the buzz I got from the people who really liked my music. I mean it's what I wanted to do anyways you know. It helps when people like my music.
BP: So when did you "know" know, you know?
JBoog: It was on my first trip to Hawaii. I was still working at the time and then I had a chance to meet George "Fiji" Veikoso. Fiji is real huge for us, you know. I mean just to see him perform much less meet him in person is amazing. At the time our mixtapes got out there and he wanted to check us out. So I heard Fiji wanted to meet, and I left my job and took the chance. We went to Hawaii and met him and the whole company. They surrounded me in the barber shop, you know, and I was nervous as shit (laughs). We took it to the parking lot, and then I just sang. I just sang bro. Ever since then, he took me under his wing and in a week, we recorded my first album, "Hear Me Roar."
I got to see Fiji really work his magic in the studio and I took it all in. He showed me that first time in the studio what doing this music thing is really all about. Studio time is studio time, you know. You got to stay focused. Sometimes you don't sleep. Just shoot for perfection, you know. He's a beast in the studio and man, I really look up to him a whole lot.
I really have the best teacher in Fiji. He's opened the door, you know what I mean. I try to do what I can to make him proud, make all of the people in Hawaii proud. We're trying to make sure we don't let no one back home down. I think we're doing all right.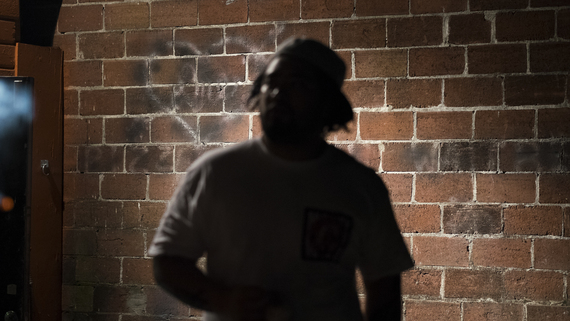 BP: Where do you feel your music is going now?
JBoog: I really don't know bro. I think we're just going to stick to the same formula you know. Give the people what they want. As long as it feels good to us, it should transfer to the people.
BP: All right bro, for closing out the interview, what would you like to tell the new and the established fans from day one?
JBoog: Thank you, thank you, thank you! So much! For all the continued support throughout the years. I mean without all of you right now, spreading the love, we'd be nothing right now. From the bottom of my heart, with all of my heart, thank you.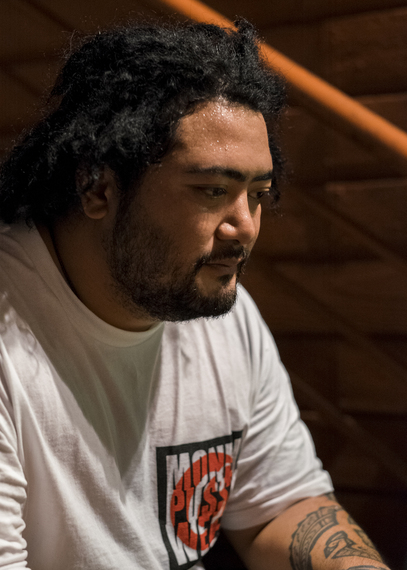 BP: OK bro, I lie I still have one more question for you. For those who don't know, what does "Chee Hu" mean?
JBoog: Chee Hu? Its Faaumu. Its a celebration. I mean...he wants to know what Faaumu means (he turns to Anuwatu's mother-in-law - Fiaapia Lautoa).
Fiaapia: The Chee Hu? You know when you hear the "Chee Hu" thats the Faaumu! (We all laugh.)
*Big thanks to Anuwatu for getting this opportunity to get the interview. For clarification, Anu is one of the hardest managers I've met (and I've met quite a few).
"Sunshine Girl" J Boog ft. Peetah
Follow J Boog: Website : : Twitter : : Facebook : : YouTube : : Instagram
Brad Puet is a street and documentary photographer based in Seattle, WA.
Follow BP on Instagram : : Twitter : : Grryo : : TownSnaps