As you all know or may not know, I'm a fan of reggae. I'm especially a fan of reggae from the islands of Hawaii. With the Huffington Post platform, I plan to keep bringing the story of reggae music from the islands and from the musicians themselves.
My first interview was with J Boog entitled, "Hear Me Roar." My second interview in this series is with the boys from the amazing band, The Green. They have an amazing following which grows exponentially every day. They are an award winning reggae band that should be on any playlists of those who love Hawaii, love reggae, or just plainly love great music. I had the honor of talkin' story with three of the bands members. These guys are not only funny but are insightful, passionate, and full of creativity. It's not just about them or their music. They don't work this hard just for themselves. They carry with them where they are from, their family and friends, their peers, and their fans, at all times. It's a responsibility they know they have and they take seriously. This story, their story is a great one.
Currently they are on tour with J Boog and The Collision is just that, a collision of beautiful island reggae from some of its great and upcoming stars. They should be in a city near you and if so, you don't want to miss them. Trust me! It's a great show!
With that, let me introduce to you, The Green!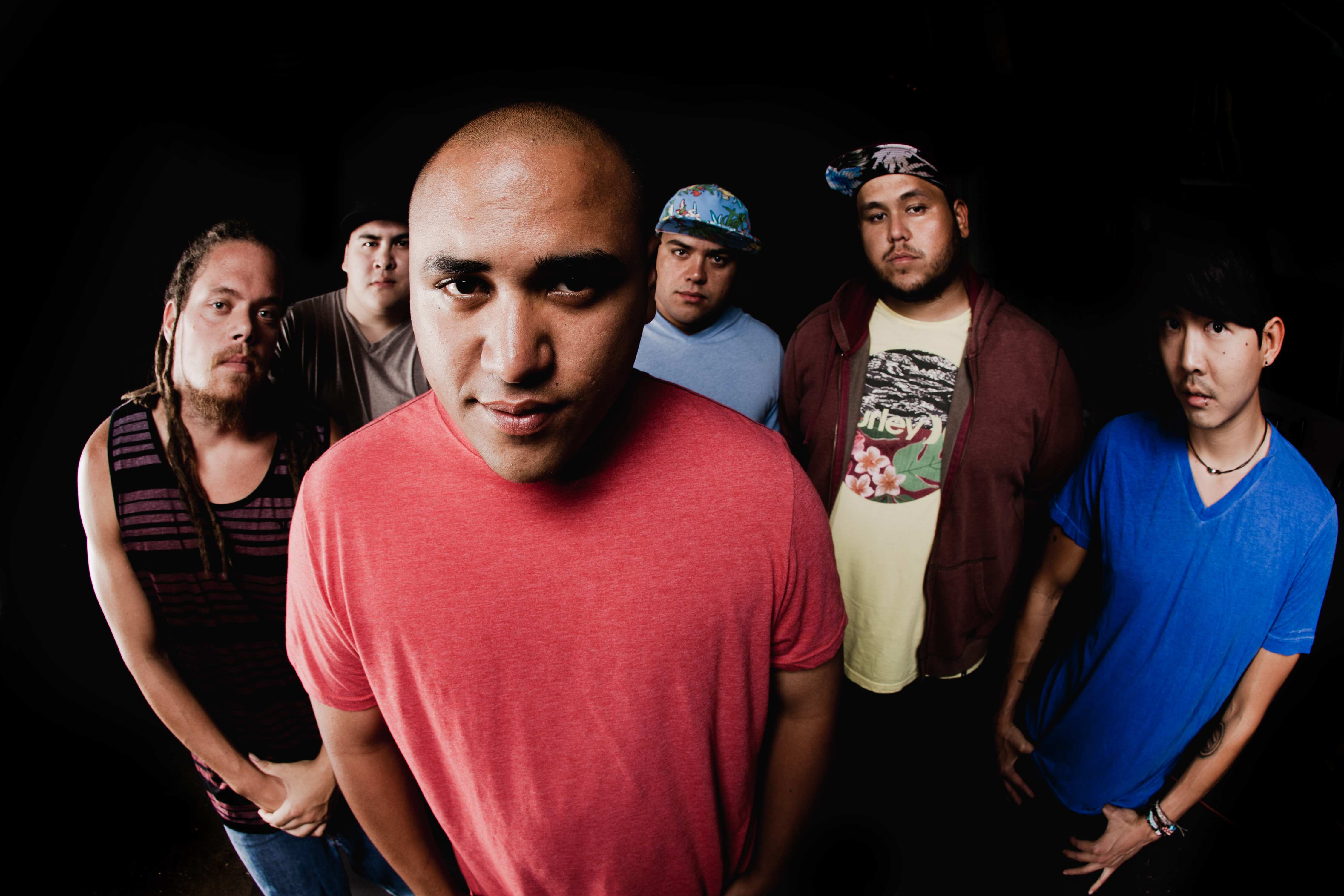 Members of The Green: l. to r. Zion Thompson (Guitar), Jordan Espinoza (Drums), Caleb Keolanui (Lead Vocals), JP Kennedy (Guitar), Ikaika Antone (Keyboard), Brad 'BW' Watanabe (Bass) Photo: Mason Rose
Peace fellas! Big thanks for agreeing to chop it up with me. Let's jump right into it. Would you please introduce yourselves, your name, your part in the band, who your favorite artist is right now as well as some of your musical influences?
Z: My name is Zion Thompson. I'm one of the guitarists and singers for The Green. I'm gonna say J Boog is one of my favorite artists right now. Straight up. I like soul music a lot. Al Green, Stevie Wonder...I mean I like everything; hip hop, pop, R&B but I really like that soul stuff. Of course I love Hawaii music. That's soul music too but just a little bit different.
I: My name is Ikaika Antone. I'm one of the vocalists of The Green. One of my favorite artists right now is our homeboy, Bruno Mars. I grew up on a lot of Hawaiian music and church music. Reggae music most definitely; Bob Marley, Steel Pulse, ASWAD are all huge influences. I'm into a lot of local bands especially those when I first started discovering reggae music like Dread Ashanti, Natural Vibes, Fiji, Kapena.
J: My name is JP Kennedy. I play guitar of The Green and one of my favorite artists right now is Nicki Minaj. I love hip hop right now. I've been listening to DJ Mustard a lot lately. Minaj I like because I think she's a genius lyrically. I love taking a ride on her lyrical fucking journeys. Of course we've got J Boog, small kine reggae artist. I pretty much love the same names that Kaika and Zion mentioned.
Z: Yeah so we love like the conscious music and then of course the exact opposite. (laughter) We love it all. There's a time and place for all of it.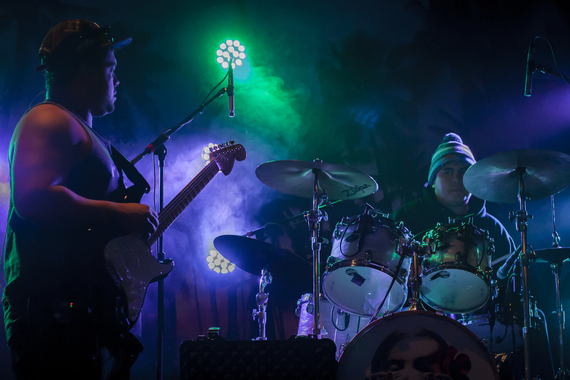 JP Kennedy, Jordan Espinoza, Photo: Bobby Gaon
Who are we missing from the band currently, their name, their part in the band and a crazy story about them.
J: I'll start with Caleb Keolanui. He's our lead singer for the band. My first cousin, our braddah. You're gonna have to come to one of the shows. He does crazy stuff everyday.
Z: He's just in his own world. He gets left behind. (laughter)
I: Well I'll say this about Caleb, he's not here. He doesn't really deal with the interviews, the media, and stuff. Even though he's our lead singer, our front man and stuff you know, he's like so shy. It's really hard to believe because on stage he's a different guy. He's so shy and humble you know. He's so soft spoken. We're working on it though.
J: On stage you can't tell. He's so take charge. He has to be you know. He's super chill. He's going to eat when he's ready, by himself. He's shy kine.
Z: But like off stage he's like, "Aw Shucks" you know. (laughter)
I: So... the other guys...
Z: Well there's Jordan Espinosa, our drummer. He's been with us for a couple of years. He's from Central Oahu. He's the youngest guy in the band. He's like 23-24.
I: Here's the crazy story about him. In 2012, we were going out on our CD release tour and just found out a week before leaving, that our drummer wasn't coming. So a week before, we have no drummer. We weren't really panicking but we knew that it could be trouble. JP saw him play drums one night at a local spot in Honolulu and asked him if he'd be down to jump on the road with The Green for seven weeks and that he'd be leaving in a week and said, "Can you do it, I need an answer, let me know?" He said, "I'm down and I quit my job. I'm going."
Z: He was working at Subway. He quit Subway. He hated Subway. (laughter)
JP: He started rehearsing music and he did this without working with a drummer who worked with us before, Leslie. Les is on the road with us now and has been with Boog for a bit now.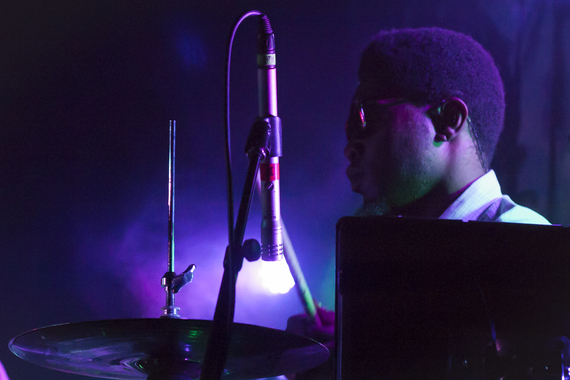 Leslie Ludiazo, Photo: Bobby Gaon
Z: Leslie Ludiazo is one of the founding members of The Green. That's why it's a family.
JP: It was on my birthday in 2012 that we first got on stage with Jordan. We sound checked 2-3 songs and we crushed that night with our set.
Z: He killed it. He hit every punch, every single stop, all the dynamics, everything. He killed it.
JP: He killed it super hard and we all got off stage and we were like "HOOOLY" we knew already. We knew we had our drummer.
Z: Then we have our bass player, Brad Watanabe. He's an East Oahu boy from the same town as me and Ikaika - Kailua, Oahu. He like all of us played in a lot of reggae bands back in the day. He's super talented and is one of our musical directors kinda. He plays everything and can play any of the instruments well. He's just super talented.
And then for this tour, we have Leslie from Hot Rain and J Boog. That's why it's called the Collision Tour. We also have Eli Mac on stage with us for the tour. She just came out with her new EP Dub Stop. She's doing really well. She's killing it with a few big singles in Hawaii right now.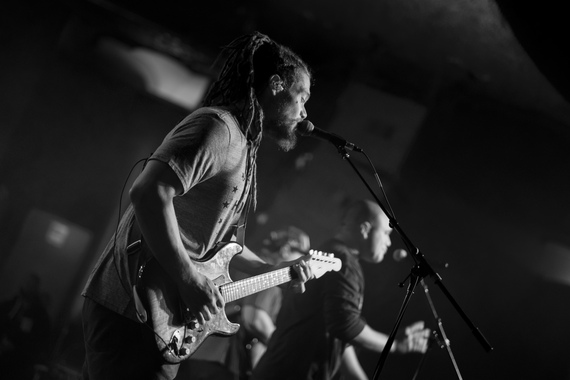 Zion Thompson, Photo: Brad Puet
Each of ya'll have different influences yea, as a group, of those influences which best is seen in the band and in your music.
I: Definitely. As individuals we listen to all types of different music. All of that comes out in our music and even more in our live show. It offers a different element to the live performance when we can incorporate like a rock section for instance, like a heavy metal section or like a R&B Jazz breakdown, which all adds so many elements. It breaks away from the reggae that people know we do already. I mean it's what they came to the show for but we want to give them all types of vibes.
Is that a conscious effort?
JP: Well it's conscious as we all want to play what we enjoy and love. That's why rock's in there. That's why R&B's in there. So yea it is a conscious effort but at the same time it is all natural.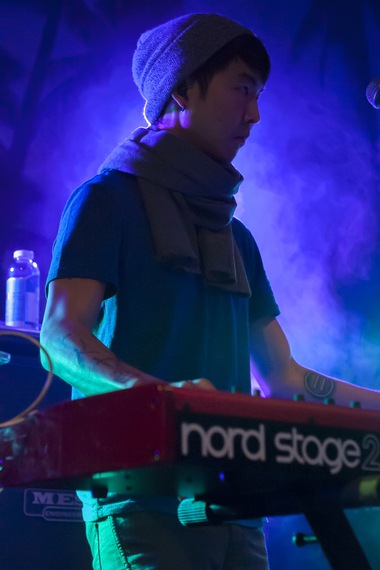 Brad Watanabe, Photo: Bobby Gaon
Tell us how The Green got together.
Z: We had always played music together at some point. Caleb and JP are cousins and they had a group together called "Next Generation" which did really well.
JP: That was around 2003 or so and those guys had a band called "Stir Crazy" and we all knew each other or of each other. Then after a while we got to jam together. Those guys were like the roots rockers of all the parties going on back then. Those parties don't really happen anymore. They weren't safe you know. They were raging parties. Then that started to fizzle out a bit and so we started to move on and continue jamming together. We started recording stuff. You know a bunch of different ideas would come up and we'd want to do this or want to do that or let's do a solo project here. We just all stuck with what we wanted to do and then we ended up together. It just happened that way.
Before that everyone was in a different place. Me and Ikaika wanted to do some things, and Zion is on the road with his band, and we were talking to Caleb about doing a solo project. Then we realized that everyone just wanted the same thing in the end you know which was great.
Z: It's exactly like how JP said you know, we had a feeling when it all started. It was all organic. It was natural. Everyone's projects were up in the air and everyone wasn't exactly happy with what they were doing individually. We all just wanted to do stuff together. It was like we just fell back together as a group. Then we started recording at JP's house or Brad's house. It was such an easy flow and it just came together.
We really wouldn't have taken off if it we didn't have the support from other bands like Iration and Soja who took care of us like little brothers and taught us the ins and outs. Our family and others like our uncles and aunties who gave us so much support. We know how much we are blessed and because of their support our dreams are coming true.
JP: We had mega support and so we realize that we have a responsibility to all of them. We've gotta handle this. We not let uncle and them down you know.
Z: Yup we trying to represent Hawaii as best we can and present it to the rest of the world. We want to give a proper introduction to where we from and those who helped us get here you know. It's a little bit of pressure but we love it.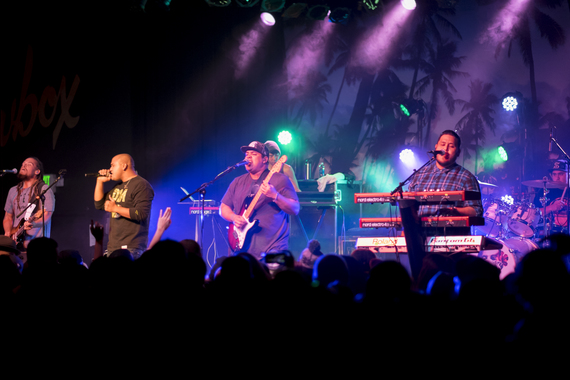 The Green at the Showbox in Seattle, WA, Photo: Brad Puet
There's 5 of ya'll who write the songs, 5 of you who are the storytellers for the band. How do you choose what tracks go with that many writers?
Z: We fight til the death! (laughter)
I: Believe it or not, it's easier that way. We have 5 guys writing songs. We don't have to worry about egos and pride in this band. When it comes down to recording, we're going to pick the best songs. We're not going to be like, "Use one of Kaika's songs because he only has 1 or 2." No. We're going to use the best songs for the album. If it means that we use all of Zion's songs or use all of Caleb's songs, then those are the ones were going to do. When we are producing the album we're thinking, "Ok, how do we make it where we don't have Zion singing all of the songs?" Well we arrange it where we have 4 singers sing Zion's songs, you know what I mean? When it comes down to it, there's 5 writers. The stock of music we pull from is bigger. So now we have more options. We have bigger inventory. It raises the bar for us. We have 5 writers pitching in so it makes it better.
Plus this translates to the live show. We won't have just one singer, we can now use 4 singers you know.
While you're at it, tell us exactly how ya'll named yourselves (maybe some of the names that were runner ups).
I: I don't think there were any runner up names but I'll tell you when and how it happened. In late 2009, we had our first show booked in Kona opening for Katchafire. We just started the band and we didn't have a name. So they needed a name for the flier. JP calls me up and says, "We need a name for the flier." He starts saying a bunch of names, coming out with a whole bunch of stuff just boom boom boom, what you think about this, what you think about that. "OK I think about it." Hang up then call back again. "What about this, what about that, how about this?" Then he said, "The Green." I was like, "Ok. That sounds interesting. What is it?" "Hoh, it can mean anything, whatever you want it to mean."
So we came up with that because we can tie it to anything.
JP: It was universal. It was a color we liked. We weren't mad at anything green. We can't get hurt by anything about that name. It can be whatever we wanted. There's a lot of good in green.
Z: Then we started looking up "green." What does the color green mean? What is its significance? It kinda grew on us. At first it was kinda like a joke then the more we looked it up and got serious, we really love it, you know. Oh and we're a reggae band too so the name fits.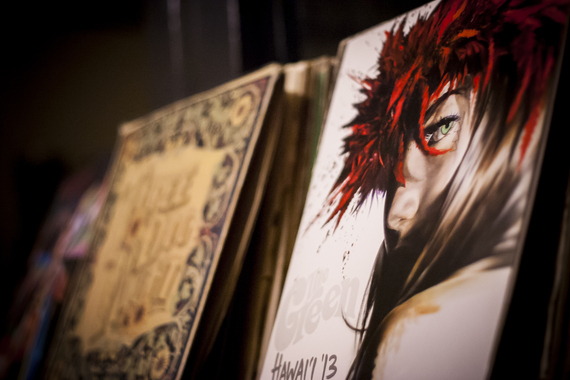 Hawaii '13 Album designed by Kamea Hadar, Photo Credit: Bobby Gaon
So now we got the name, let's talk about the artwork that's associated with The Green. All the art that's come out with The Green name has been sick! Tell us more about the art and the artist.
JP: So the artist of every album cover is Kamea Hadar. He was my neighbor when we were little kids. We weren't super good friends but we were neighbors. As we got older, we got into similar things. For college he went to UC San Diego and I went to Orange Coast College so we just happened to be near each other far away from our neighborhood. He just started painting some crazy next style level paintings. He was really doing the fine art thing. So we asked him to do our first album and that's how we started working with him. After that he was so pumped. He was getting more attention for his art and after that he wanted to do the next thing for us. From "Ways to Means" to "Liar" to "Hawaii '13" he went for it so hard core and he was still doing so many other things in the art world. He kinda gives credit to The Green because we all kinda started out together. We made our rise together almost at the same exact time and HE's doing so many crazy things. Like he's trying to paint a mural inside and out of a Hawaiian airlines new airbuses. He's like everything is possible and is always down. We give a lot of thanks to Kamea. He's been with us ever since we were born as The Green.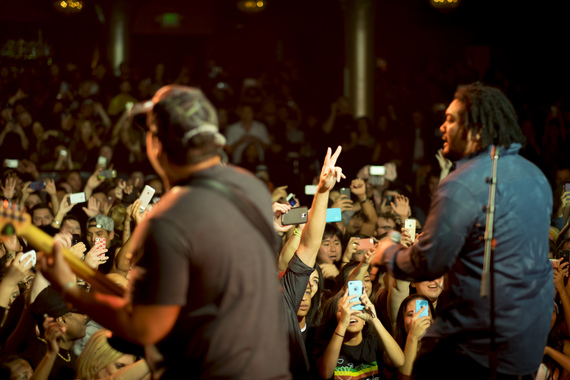 JP Kennedy, J Boog Photo: Brad Puet
Tell us about island life and how this comes out in your music.
I: There are a lot of values we hold coming from Hawaii. It's like anywhere else growing up yea. Respect in Hawaii is a big thing. You gotta give respect to get respect. You gotta honor your elders right. You have to honor your mother and father. It's those types of things, those family oriented things that comes out in our music. We have 5 different song writers and 5 different perspectives but because we're from Hawaii, in general, it has all the same values coming out in each song.
We do go to the beach all the time. We try to go out as much as we can. It's a relaxed lifestyle. It's a chill lifestyle and that's the type of personality that comes out in our music. All of our experiences from the islands translates into our music. We have that type of upbringing and experience to write and sing about. We have 5 different takes on growing up in Hawaii.
JP: Then you have the "Hawaiian" Hawaiian side. You know the super, super Hawaiian side you know. The side that's like fighting back. Fighting back for our land. It's a big part of all of our lives.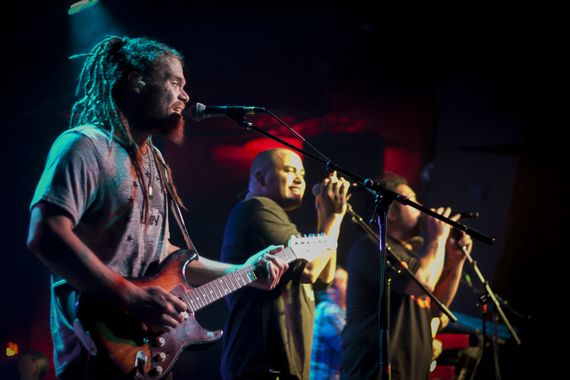 Zion, Caleb, J Boog, Photo: Bobby Gaon
Help us explain to a person who has no clue about island reggae, what that music is about, and what The Green is about.
Z: I think Hawaiian or island reggae gives you the vibe like the clichés' that Ikaika was talking about earlier with the "going to the beach and just chillin." Hawaiian music, and just not the reggae kine, just gives you that feeling. Like that steel guitar that's used a lot in country music, gives you that feeling. That steel guitar was made by a local Hawaiian kid by the way. Hawaiian music gives you that soothing vibe. That sweet, sweet vibe. It has a lot of harmonies in the vocals. Picture that and add it to reggae music. Make it a lover's rock reggae song with that sweet vibe and lots of harmony coming from the connections of your family, your loved ones, you know what I mean.
It's got that built in Aloha.
It's the reggae with a little taste of where we come from. We also have a bit of everything in our music. You will hear the dancehall, the hip hop, the R&B...you'll hear it all. But that little other stuff that you hear and you aren't really familiar with and you aren't really sure where it's from. That other stuff that you may not be familiar with. The kine that makes you say, "What is that?"
That's the Hawaiian part.
That's the Aloha.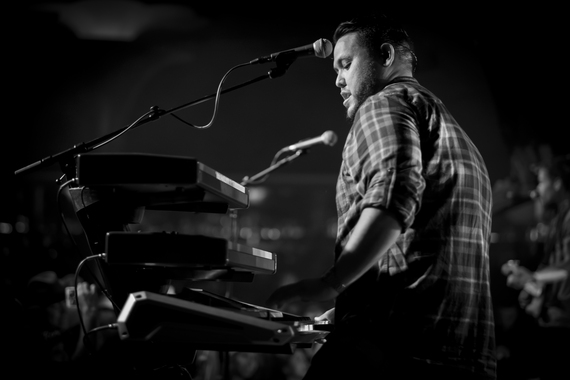 Ikaika Antone, Photo: Brad Puet

Like many before you, and those right next to you, ya'll are putting island reggae, Hawaiian reggae on the map outside of the Pacific islands. Big congratulations for all the accolades you have received thus far. Ya'll received multiple Album of the Year awards in 2013 (RudeboyReggae.com Awards and Pier Awards), Best local band in 2014 (Honolulu Pulse Award) , and won 3 categories (Group of the Year, Reggae Album of the Year, Favorite Entertainer of the Year) for the 2014 Nā Hōkū Hanohano Award.
Simple question: How ya'll feel about that?
I: Thank you. All of the awards have been blessings. The Nā Hōkū Hanohano Award is like the Hawaiian Grammy's. (laughter) Historically, these awards are dominantly won by traditional Hawaiian musicians. They decided like maybe 10 years ago to add a reggae category, well back then they called it island contemporary. Then they decided that it's not actually island contemporary and just called it what it is, reggae category. So really we have one chance to win an award at this ceremony and that's the reggae album of the year. Really the ones that we were most pumped about was group of the year and entertainer of the year. Usually those awards are won by traditional Hawaiian musicians. If you were to go back and look at the archives of all the artists who won every year for group of the year or entertainer of the year or artist of the year or album of the year, it's gonna be traditional Hawaiian.
For us, we had a chip on our shoulder. Not just for us, but for any one of our peers. We feel like we, and our peers in our genre and other local reggae acts, deserve more credit for this which they call Hawaiian awards about Hawaiian music. When I look at the radio dial I see that there is 3 stations that play our style of music. Those other guys who play traditional Hawaiian music, which we grew up listening to and we love, has only one station. So how come they have all the chances to win these awards.
It wasn't really our mission, but we've always wanted to change things in Hawaii. We always wanted to change what the radio plays. We took a chance by recording more roots-ier stuff and try to say that, "Yea we play local Hawaiian reggae music but hopefully you can see this side of us where we play what we really love like the roots reggae." We wanted to infuse that into the radio, like, we wanted to sneak that into the radio stations to see if they would play it. We wanted to change what Hawaii's take on popular reggae music was going to become. I think in the last 5 years, we've succeeded. I think we've definitely opened more doors for other artists to get the songs that they thought maybe "not be radio friendly for FM 100 standards or FM 98 standards" and we gave that song a chance. We gave those style of songs a shot to be played on those stations and get major radio play.
I guarantee you that if you look at who sells the most tickets in Hawaii are going to be reggae concerts. Of course there are the country concerts and the hip hop concerts that do well but again if you look at which is most consistent, day to day, it's going to be a reggae concert that sells the best and those reggae concerts are going to be local reggae acts. Traditional Hawaiian music is different. You know they are going to play at a hotel or maybe at a special event and they might be free. I think we, and our peers, are really changing the landscape of Hawaii's music scene.
It used to be that these awards, in one year, are won by a few traditional artists. Maybe one traditional artist will win 5 to 10 different categories and you know, that's a lot. Reggae artists have one chance. Those guys have a lot of shots at taking home those awards. So that's why we're pumped you know. This past year it wasn't just one guy who won 5-10 awards because we took 3 of 'em.
We were stoked to get the reggae award, but we were more pumped on the other 2 because the fact that they gave a reggae act the entertainer and group award, was better for all of us.
Z: That's better for all of us and it was like we "ALL" won.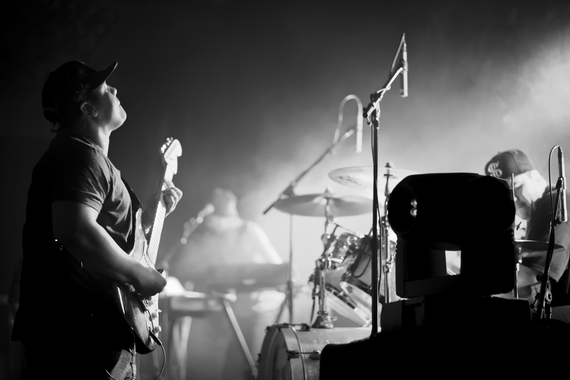 JP Kennedy, Jordan Espinoza, Photo: Brad Puet
What's next for The Green?
I: Outside of the Collission Tour, we want to release a single soon. We want to release our 4th album. That's happening any second now. We want to expand you know. We want The Green to be more than just music. We want it to be more than just a band. We want to be known not just for our music. We want to do more things at home with the kids and stuff. We want to start music programs for them. We're going to do more stuff for the younger generation. We know that we are role models for them. So we don't just want to be a role model, we want to build a relationship with them. We're in the position to do that and we're lucky to be in that position so we owe it to them to help in any way we can.
Like a movement?
I: Yea like a movement. You can't get rid of us. (laughter)
JP: Put a song, we on. You can't get rid of us. We won't go home. We gonna stay for dinner. (laughter)
Z: We clean up too! (laughter)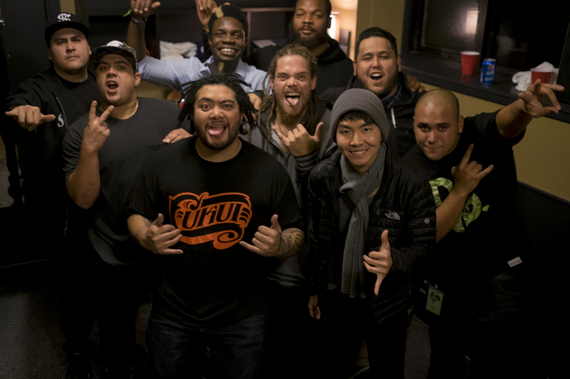 The Green, J Boog, Leslie, and Michael Bennett of the 2014 World Champion Seattle Seahawks, Photo: Brad Puet

For my last question, what is the best experience thus far for being a member of The Green?
I: I would say just touring. Half the year I live with these guys. That's way different than the other half of the year. (laughter) I live with these guys half the year and I feel pretty lucky to do that. All of those experiences that go along with that is a privilege for me. I'm privileged to take a part in this.
Z: This is a dream come true for us. We've always wanted to do music. We've always been musicians. We're close. We're family. So having this vibe, and being able to do this fun, crazy, dream-come-true stuff with your boys, your family, with whom you trust and love, and know they got your back and you know how smart they are, how dumb they are, they know how dumb you are and it's all good. (laughter) It's refreshing and it's a blessing. I'm so thankful for it.
JP: I agree with all of that and the only thing I'd add is that we get to represent Hawaii and our families.
*Big thanks to Bobby Gaon for assisting with the concert coverage. Big thanks to Curtis and Kimo for their organization and getting this interview set up proper!
Follow The Green: Website :: Facebook :: YouTube :: Twitter :: Instagram