Think Android tablets and phones lack quality educational apps? Think again.
appoLearning, which curates the best educational apps for iOS and Android devices, conducted the first head-to-head comparison of top apps for educational categories for the iPad, iPhone, Android tablet and Android phone.
With the exception of early childhood categories, Android is in a virtual dead heat with iOS for the top five apps per categories as selected by experts.
"These results were quite surprising to us; we had all heard stories of the lack of great Android apps in Education for some time; but the reality is you can find great apps for Android Tablets and Android Phones in addition to iPhones and iPads," said Alan Warms, founder of Appolicious, Inc., producer of appoLearning. "For the first time, consumers can easily compare platforms by category to find the best educational apps as determined by teachers."
Other results from the comparison: iPhone educational apps are actually ranked slightly higher than iPad educational apps across the board; not surprising given the larger installed market of iPhones vs. iPads and the subsequent ability to make a large investment against that market. Each of the four platforms have a significant percentage of these top five apps being paid, with iOS having a larger percentage of paid apps than Android, and also a higher average price. Again, this is not surprising because it is much harder to deliver a true freemium model in the Education category due to expectations of value upon delivery and the burst-driven use case model. Finally, Android's success in K-12 is likely due to its focus on Google Play for Education, which was released publicly last week.
Methodology: In conjunction with educational experts, appoLearning defined 80 categories (for example, "Fractions.") across four age groups: Early Childhood, Elementary Education, Middle School, and High School. Next, teachers and educational experts were recruited and tasked with choosing the very best five apps for each category, scoring each app according to the appoLearning proprietary rubric, a 14-question score in addition to commentary that generates an appoLearning Report Card Score that judges Educational Content, Kid Appeal, Assessment, Features and Design, Value, and Privacy. Next, each category was reviewed by yet another educational expert or teacher for consistency and quality. Since appoLearning has almost 170 categories for the iPad today, the comparison was limited to the 80 categories developed for the other three platforms.
AppoLearning experts used a Samsung Galaxy Note 10.1 running Android version 4.1.2 Jellybean as their representative tablet, and a Samsung Galaxy S3 running Android version 4.1.2 Jellybean as their representative handset. For iOS, as there are no compatibility issues, experts used various iPhones and iPads running iOS 6 and 7.
Here is a summary of the results.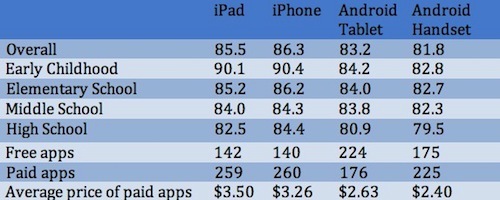 The result is a Report Card Score that provides essential information to parents to make good decisions around Education apps: context (not just educational apps, but elementary numeracy), credibility (not an anonymous editor, but an actual expert who can be identified and contacted), and transparency (not a hidden scale or 5-point score, but a detailed score).
This methodology when applied across platforms allows appoLearning to compare the efficacy and quality of apps.
The full set of expert data and reviews for each of the 400 apps for 80 categories for iPhone, Android Tablet and Android Handheld join the over 830 apps for over 165 categories for iPad on appoLearning.com. In recent weeks, appoLearning also launched a Community Picks section which lets anyone curate lists of their favorite educational apps, and a 5-Star iPad app available in the iTunes App Store. Appolicious, a mobile application discovery network, is the producer of appoLearning.