Michelle Simpson of Tallahassee, Florida, is a mother, wife, veterans affairs advocate and writer. As single mom to Emma, Tristan and Zoe, Michelle knew her children needed to embrace any new partners in her life in order for her family to be truly whole and move forward together. When she reconnected with wounded warrior Kevin Pitts, a former sweetheart, archery served as a bridge between Kevin and Michelle's children, especially then 8-year-old Emma, who took to the sport and is now pursuing the Olympic archery dream.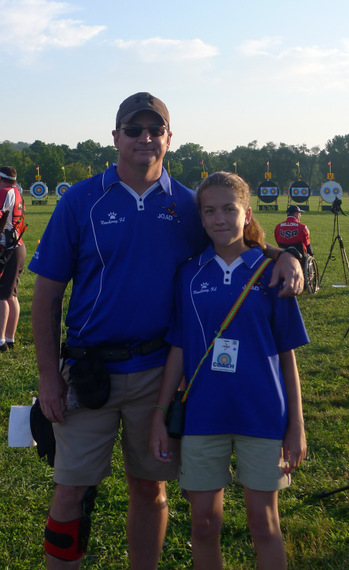 Archery is at the root of your family. Tell me how you and your children came to the sport.

Kevin is a long time bow hunter and compound competition shooter. Kevin and I started dating when Emma was 8 and almost immediately she expressed an interest in shooting. She started with a Pink Lemonade Mini-Genesis, and she has been shooting ever since. When she was 11, Emma had the opportunity to work with MJ Rodgers and Bill Hewes when we lived in South Dakota for a short while. Once the suggestion was made that she tried a recurve bow, it was over. She has competed in state and national competitions ever since.
How did Emma and Kevin's relationship grow?

Kevin, a combat disabled Veteran, had not had a great deal of help dealing with the physical and mental realities of his injuries when he met Emma. Being able to get outside and coach her helped him feel like getting up and engaging in life. It was a large factor in his pursuit of treatment for a variety of issues and what has lead him to become a USA Archery certified coach. Emma was pretty shy and unwilling to engage with anyone much if approached outside of the house at the time she started shooting. Now she is the exact opposite; it's difficult to get her to stop talking at all! The two of them could not be closer. It is tremendously gratifying to see two of the people I love most become such a great team.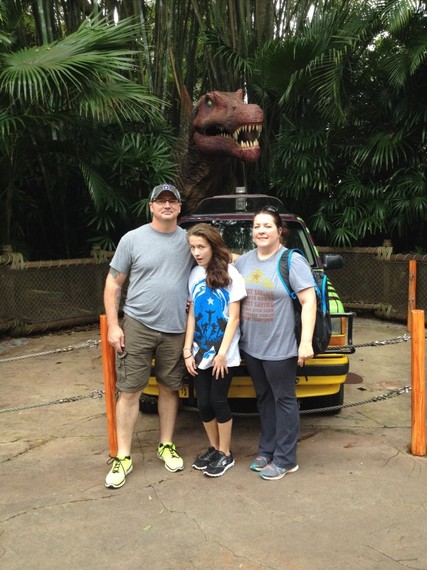 What do you think it is about archery that leads to so much relationship building? What does it bring to the table?

I asked Emma to help with this because she has seen tremendous benefit from being involved in archery and she had some great responses. She said that in this process, you learn to talk about experiences and learn from other people. The only way you succeed is by seeking out the knowledge you need to improve both your technique and your mental game. You get more information through teammates and coaches so communication is important. An archer has to rely on the person that is teaching them and trust that they are giving them the information correctly.

You mention that archery helped Emma bloom. How has she changed? Why do you think archery builds confidence?

For Emma, I think once her hands were engaged in shooting, it got her out of her head. For kids that are shy, I think they tend to talk themselves down internally. When she started putting the arrows in the red and yellow, she immediately experienced a confidence boost. Success feels great! She is so much more talkative and much more willing to be exactly who she is than a mother could ever hope for. It's been really cool to watch.

One of the biggest things that contribute to that confidence is that you can't put blame on others. Archery is a personal journey and a singular task and at the end of the day, it is your own work and discipline that put the arrows where they are supposed to go. Once the archer figures out its all in their hands (and heads), it becomes a desire to see the success repeatedly.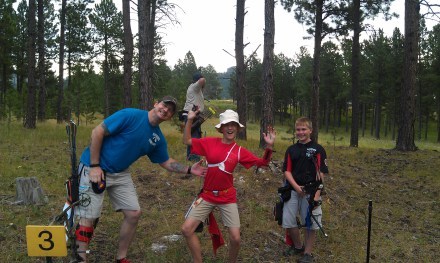 As mother of a junior Olympian hopeful, what advice do you have for other parents?

Emma hasn't made the JDT team yet but she is working on it. She has been lucky enough to be invited to camps at both USOC locations and it is probably her favorite event of the year. She has made great friends with team members and there are several coaches that come by to check on her at every shoot.

One of the reasons that Emma decided to start a blog and write about her experiences (www.recurveemma.com) was because we had no idea what to do when she came to us at 12 years old and said "I want to make the US Archery team and go to the Olympics." As a parent, how do you even start to figure out what that means? Thank goodness for the Internet! We put Emma in charge of researching and made a plan of what we could do (and what we couldn't.) I asked her to make the commitment to write about each tournament or event as a way to reflect on what she learned and she did. What we didn't anticipate is how many people, especially on Tumblr, would have questions about the process. Now that archery is so much more popular, it is a lot easier to find what you need to know about the process.

There are so many things I would tell parents, I don't know where to begin. My biggest piece of advice would be to manage expectations and know your limitations. Is the archer just doing this for fun or do they repeatedly ask you to help them figure out how to go to the Olympics? There is a big difference. Also, know what you CAN'T do. There are competitions all year in several different archery organizations...it's not usually realistic to be able to afford to attend every single one. Fees can be expensive, and competitions always start during the week, so there will be a ton of missed school. Several competitive young archers have to be home schooled for this reason.

Kevin's advice is to remember to support the archery not the score. It is easy to make an archer feel overwhelmed in the process when the focus is on a number. Remember when they are no longer having fun, they are no longer having fun. Anything that someone is passionate about should be fun and taking that element away from a kid is always detrimental.