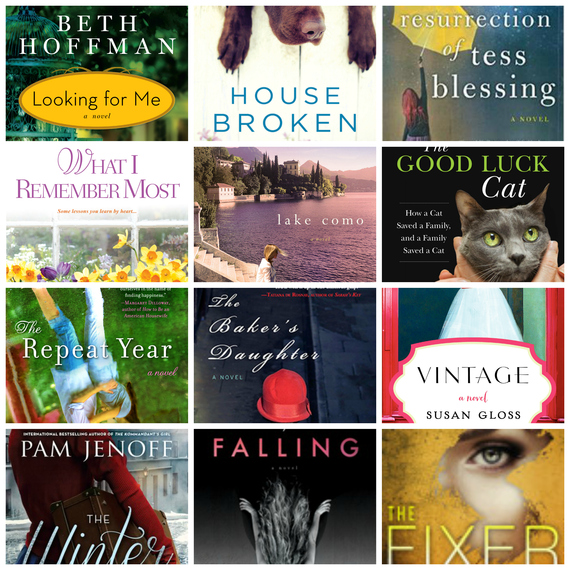 Finding a great book for someone else can be quite the challenge during the holidays. Here are some suggestions to help you on your merry way!
If they love fashion or thrift store shopping, check out Vintage by Susan Gloss. Gloss, who runs an online vintage store, draws readers into this multi-generational novel about a secondhand boutique, the women who work there, and the clothes that come through the door. Booklist called it a "book-club-worthy story of redemption, healing, and love."
If they love bragging about solving psychological mysteries, they will love you for giving them The Fixer by T.E. Woods. This first in a reader-rated five-star series written by a practicing psychologist is sure to keep them up nights.
If your special someone loves a historical-contemporary hybrid story that crisscrosses time, lands, and hearts, check out The Baker's Daughter by New York Times bestselling author, Sarah McCoy. Bonus flair: add in a gingerbread cookie mix or your favorite holiday recipe for a memory gift that transcends the page. A treat for the mind and body!
If they love romance, they will eat up Such Devoted Sisters by New York Times bestselling author, Eileen Goudge. Literally. Because what goes better with romance than chocolate? In this novel set in the world of gourmet chocolates, two sisters are in love with the same man. New York Times bestselling author, Eileen Goudge, bakes for a hobby and enjoys nothing so much as marrying her two passions.
If they love cats, try the memoir The Good Luck Cat: How a Cat Saved a Family and a Family Saved a Cat by Lissa Warren. It's about a small family that suffered a big loss, and the seven-pound Korat that helped them through it--only to need them to return the favor one year later.
If they love magical realism, check out The Repeat Year by Andrea Lochen. In this feel-good novel about second chances, ICU nurse Olive Watson wakes up on New Year's Day to discover she's reliving the previous year. Faced with the opportunity to rewrite her past, she must decide: should she make different choices this time around, or accept her life as she knows it, flaws and all?
If they love family secrets--and dogs--try House Broken, Sonja Yoerg's debut novel. Geneva, a veterinarian, understands animals better than people. When her alcoholic mother moves in with her and her family--including two slippery teenagers--Geneva uses the opportunity to delve into her family's dark past.
If they like WWII and historical fiction such as Those Who Save Us or Sarah's Key try The Winter Guest by Pam Jenoff. Inspired by actual events, it is the story of eighteen-year-old twin sisters struggling to raise their younger siblings in war-torn Poland when one of them finds a downed Jewish-American paratrooper in the woods.
If they love women's fiction, check out What I Remember Most by Cathy Lamb. Grenadine Scotch Wild, a collage artist and painter, is on the run. She has been on the run before, the first time when she was six. This time she has been falsely accused of a crime by a soon-to-be ex-husband. She hides out in Central Oregon, lives in her car, builds a new life, and waits for her past to catch up with her. It does.
If they love Southern fiction, then Looking for Me by New York Times and internationally bestselling author, Beth Hoffman is a must read. This richly imagined story moves between the charms of Charleston, SC and Kentucky's woodlands while exposing the fragile wounds and strengths of a woman who comes to understand the words once written in a simple note and the remarkable boy who penned them.
If they love the arts--or honestly, if they have one creative bone in their body--check out The Art of Falling by Kathryn Craft. A former choreographer and dance critic, Craft uses her dual perspective to look at what creates individual contribution, and why artists strive so hard to find it. After what should have been a deadly fall, Penelope Sparrow's ongoing struggles with body image take on new meaning in what Kirkus calls "a sensitive study of a woman choreographing her own recovery."
If they love literary women's fiction with a twist check then chances are they will fall in love with the The Resurrection of Tess Blessing by Lesley Kagen. An unforgettable, redemptive story that's by turns poignant, hopeful, gritty, and hilarious as hell.
If they love romance and exotic locations give Lake Como by Anita Hughes. Filled with sumptuous descriptions of Italian life, Lake Como is a heartwarming story about love, self-discovery and the quest for the truth.