We waited outside in the back courtyard. It was off of Robertson near Beverly Hills. Some office building. Newsmen and women, cameramen and women, murmured and exchanged stories of the past few days. Blazes, gunfire, chaos, looting. The L.A riots were being digested, reformed, examined, and mythologized right before my very eyes.
I was at KJLH and KJLH Radio was in the middle of it. You can read about it here and listen to clips of those days here. I was sent to this patch of the Westside for a press conference. To be given by a common man.
The doors opened and, flanked by men in different levels of suit/pay grade distinction, Rodney King stepped beside the mics.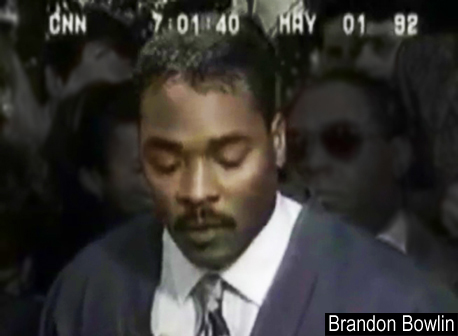 They wanted to know what the man whose ass whippin' stood at the center of this had to say. They wanted him to encapsulate the feelings of a people enraged. Or to speak on the complexities of racial boundaries in our society. They wanted him to proclaim or pronounce or inspire or just explain what was going on. As if he had some special insight. As if he had started it all.
But he didn't. The anger released during the Los Angeles uprisings of '92 was a pressure release valve of class animus that had been built up over years in a racially divided city the borders of which included sky-high walls of economic inequities. Key moments along the way ramped up 'hoods all over LA until the people exploded and turned to fight someone or something -- back.
But this wasn't those days. By the time Carl Nelson of KJLH News sent me to record this moment, the uprising had turned into opportunistic looting, violence, and destruction. A riot. People had been hurt... were getting hurt, and no one really knew what to expect when the National Guard posted up.
And so, we waited. For some words from the man who became synonymous with the "set-off." We waited for an explanation. Some deep reflection. Something to assure us that we'd get through this. After a brief intro from one of the nearby suits, King stepped to the mic and humbly searched for a way to express the nature of what he was seeing from inside the storm. He wasn't a torrent of eloquence. He wasn't a loquacious stream of reasoned articulation. He was Every Guy. He struggled and stuttered and then...
"Can we all get along?"
It was heartfelt. I was there... King meant it. It seemed too little. Banal in comparison to the volumes of words written in those days. Some of our greatest minds in this nation had let loose waves -- oceans -- of thoughtful strategies on how to overcome this infinitely complex and multi-tiered moment tied to human emotion, social constructs, and individual conceptions, predispositions, biases, and ambitions.
"Can we all get along?" didn't rise to the occasion of the chaos in the streets. It seemed ridiculously small to cover the now full-frontal ugliness Los Angeles belched out into the world. "Can we all get along?" was a Band-aid trying to bridge a gushing artery bleeding Los Angeles's golden reputation as a beautiful city filled with beautiful people who all got along.
King said it and, within a month, we (myself included) turned it into a national joke.
But the joke was always on us. King was being what we all claimed to be -- real. He was the common, everyday, average, and sometimes below-average man. He was the little guy who became an icon. Who accepted the love he was given and barely hung on to his sanity through celebrity. He was an addict. He didn't speak from a written speech or from some political soapbox. He didn't employ a deep vocabulary. He just asked a question. Something that would never occur to someone carrying a smoldering TV.
On that day, his simple words crept below our arrogant expectations. And today, in this heated and racially-pitted political arena, it still lingers. Past all of the pronouncements and awards and accolades tossed about in the aftermath of a burnt city. Past all of the back-patting and medallions and scrolls and photo-ops. Past the snickering and side-eyeing of King's speech pattern. He posed the question NONE of us have had the courage to face and, really, honestly, answer in the realness that our jokes and books and columns and articles and blogs and voices would claim to speak with:
"Can we all get along?"
Rodney King. Rest in Peace.