Summer is in full swing! And there is no better way to enjoy the season than by lounging in an outdoor living room. Whether you own a home or rent an apartment these simple tips will help you create a space that is inviting, fun for entertaining and the perfect spot for relaxing.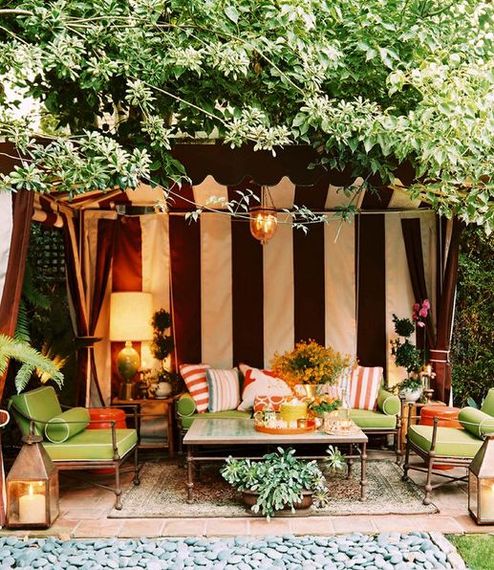 outdoor living roomImage source: Lonny
CLEAR SPACE + PREP
Make a quick inventory of what you need for the space and remove any items that are currently not adding function or beauty.
"Have nothing...that you do not know to be useful or believe to be beautiful" - William Morris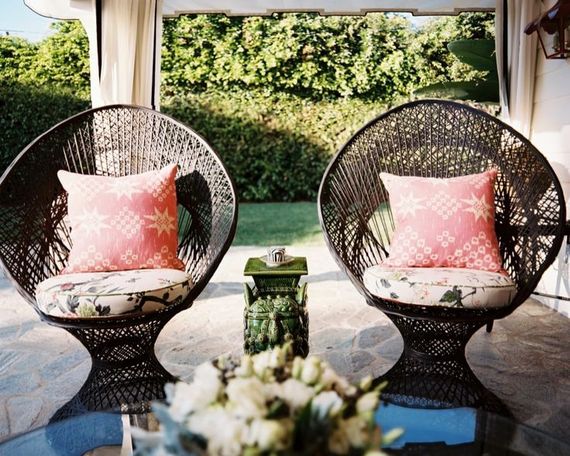 Image Source: Hillary Thomas Interiors
LIST ITEMS NEEDED
Make a list of what you do need and want such as: Seating, Tables, Lighting, Plantings, Fire pit, Pillow + Candle Accents then set a high-impact low-cost budget.

BE INSPIRED BY...
Find inspiration for your new space. There are so many possible options that honing in on one you really vibe with will help inspire and focus your design.

FURNITURE
Select good furnishings: comfortable couches and seating and mix and match accent or coffee tables. Use quality made options that you'll enjoy year after year.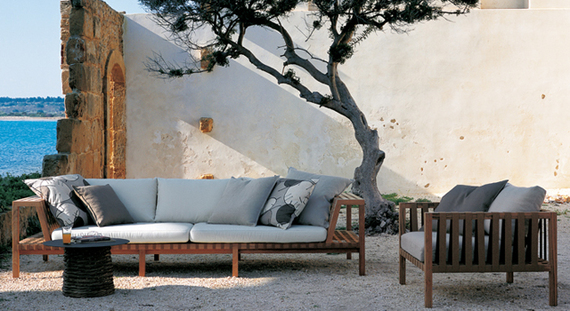 PLANTINGS
Go green with native draught-tolerant plants, sand/rock gardens and vertical gardens! This will add another element of luscious detail.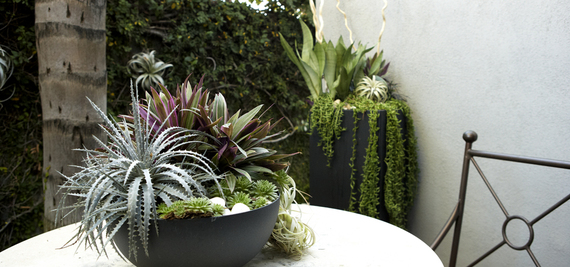 LIGHTING
Lighting from small holiday lights to beautiful dramatic lanterns and chandeliers are a great option for creating an intimate space you'll love. To create a cozy and romantic mood, hang them from a canopy or even place candles on side tables and on the floor.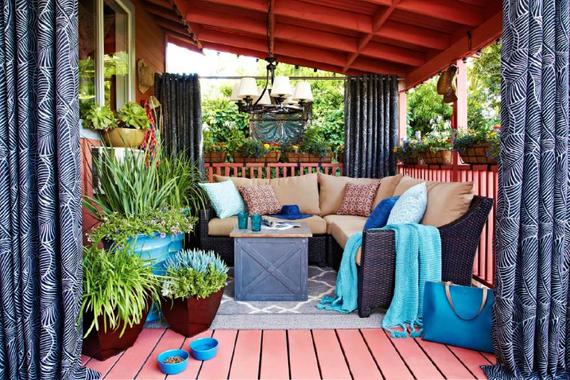 Image Source: Flynnsideout
ACCENTS TO ADD PERSONALITY
Once the space is set, then add the fun details with accents that are unique to you. Think of color, texture, pattern and don't be afraid to be bold!
Ground the space with an outdoor rug in natural material, floor tiles or even use faux turf
Pick patterns and textures for drapes and accents pillows
Elements like water fountains or fire pits give a natural charm...or budget options such as candles give a great glow for evening entertaining
Temporary decals for walls set the tone for an evening theme or you can invest in wall art or graphic mural for a striking feature
What are your perfect outdoor additions to enjoy upcoming outdoor summer fun? Here's a few of ours!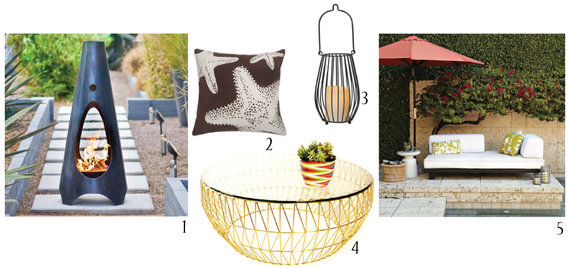 1) Fire Place by Modfire 2) Starfish Pillow by Thomas Paul 3) Basket Lantern at Target 4)Coffee Table by Bend 5) Tillary Modular Seating by West Elm 6) Cleo Moss Rug by Dash & Albert 7) Potted succulents - Local nursery 8) Ohjoy Wall Decals for Target 9) String Lights by Smith & Hawken for Target 10) Afton Chair
Happy summer!
--
Laurel & Wolf is the world's leading interior design marketplace. We provide online interior design services to residential and commercial spaces powered by our talented community of professional interior designers.
For a one time flat fee, you will receive multiple designs for your space with all the information you need to execute the design. All designs are fully customized to your space, budget, taste, and more!