There has been a revolution in restaurant design! Diners crave the artistic theatrical experience in a casual and sophisticated environment. The constant pursuit of excitement and beauty has led to elevated dining experiences that offer next level taste in food and design. Let's peek into these tasting spaces for some mouth-watering and lip-puckering design inspiration!
1. Arlington Club, New York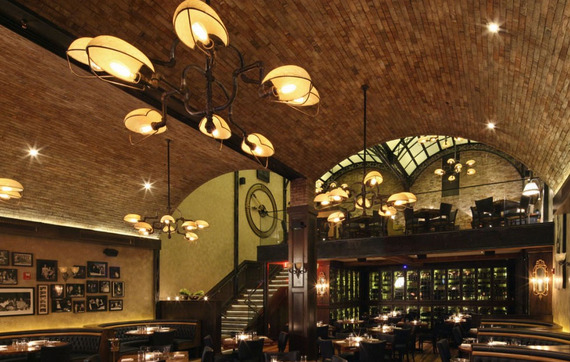 Arlington Club gives "vibe dining" its name.
Why We Love It: Designed in Beaux-Arts style, arches are prevalent in the architectural details as well as in the leather bench seating. Brick detail, dark woods, tufted leather, crane neck ceiling lighting and decorative sconces work together in perfect harmony to create this rich and classic dining room!
2. One Up, San Francisco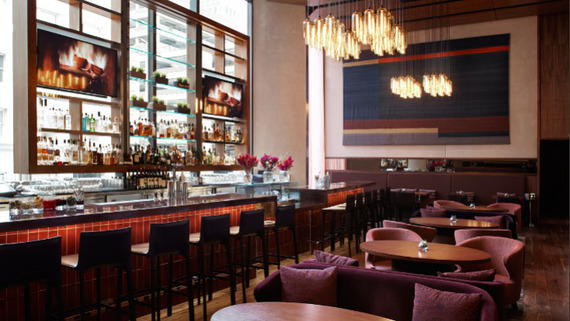 One Up indeed!
Why We Love It: The modern streamlined look with warm rich tones! How can you not be wowed by the burgundy velvet seating, persimmon red tile, maple wood tables, beautiful built-in bar at window, French oiled oak floors and stunning drop Edison bulb fixtures. The food must taste better here!
3. Fat Rice, Chicago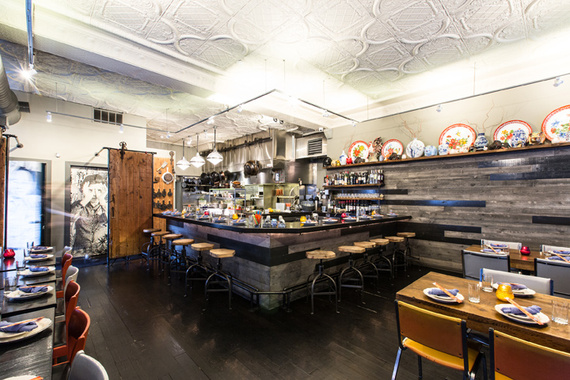 Fat Rice likes to mix it up with a a lot of flavor as well as some industrial eclectic design at this Chicago hot spot.
Why We Love It: Check out the detailed ceiling tiles, horizontal reclaimed and ebony wall panels, old oak room divider, ebony stained floors, bold art, bright chairs and antique Chinese ceramics! All in all, it looks and, we hear, tastes amazing!
4. Spago, Beverly Hills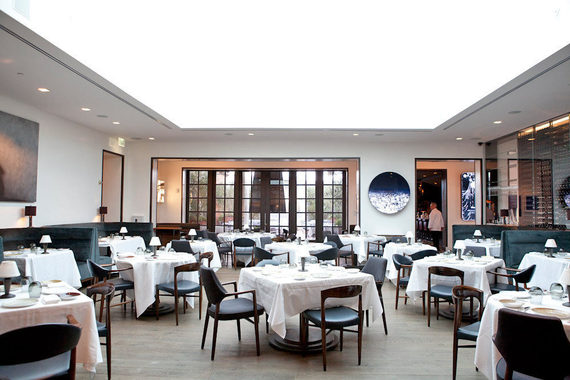 Spago, in Beverly Hills has been remodeled and it's looking sleek and modern!
Why We Love It: The modern and sophisticated space features dark jade velvet seating, modern wood carved chairs, white washed floors and a "James Turrell - esque ceiling light. A delish palette not only on the plate but in the space!
5. Lafayette, New York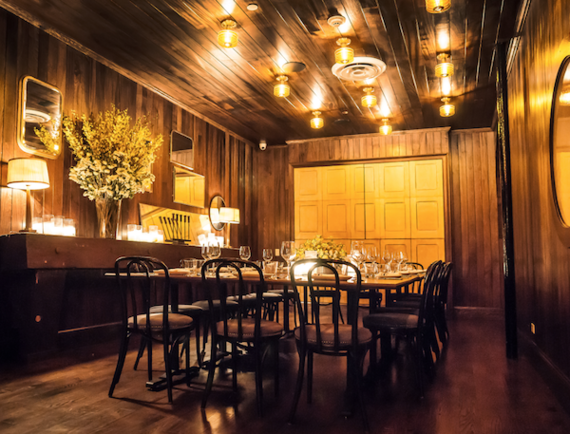 Layfayette makes you want a cigar immediately with its moody traditional lounge.
Why We Love It: The warmth of walnut wood walls and ceiling is enriched by the flush mount ceiling fixtures, beautiful sidebar with dramatic floral decor, mirrors to reflect and create sexy light and classic French cafe chairs. Cozy, sexy, and totally delicious!
6. Juniper & Ivy, San Diego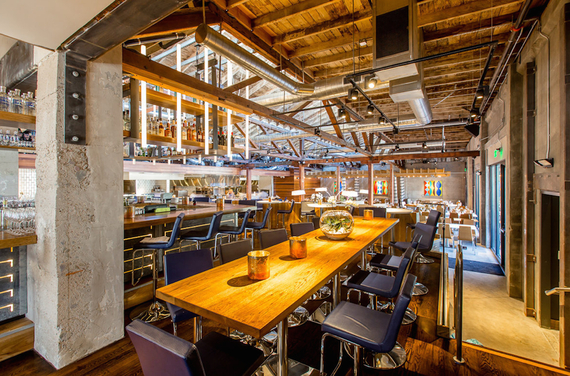 Junipuer & Ivy is an architectural gem with industrial rustic vibe.
Why We Love It: Metal, concrete and wood are the main elements here which make for an industrial yet rustic feel. There is natural lighting and simple architectural detail which keeps in line with the style. Modern seating, bold pops of art and simple plant accents make the space casual and easy going.
7. Alma, Los Angeles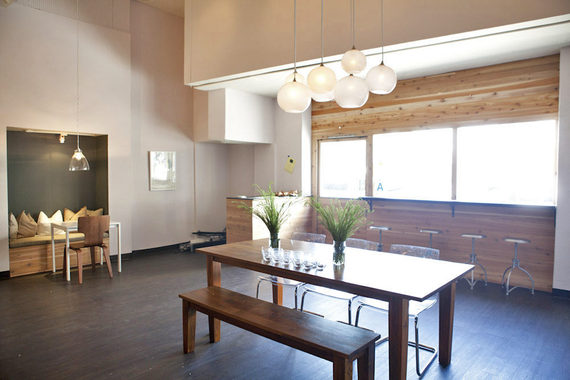 Alma is cool as a cucumber slice with its modern minimal design.
Why We Love It: Oh so soothing! Besides Alma's having the Bon Appetit award, they also have a pretty sleek interior space. Cool palette, neutral wood floors, sage back walls in the tiny seating nook, globe drop lights, bar seating and ghost chairs with simple plant accents make this zen space relaxing in it's approach to fine dining.
8. Maysville, New York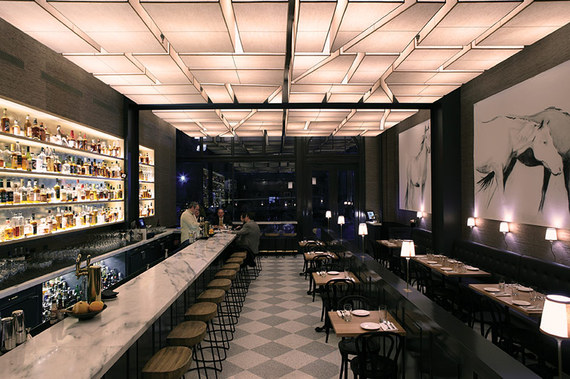 Maysville has us all ears, eyes and tastebuds with this stunning glamorous modern space that highlights geo design lighting and graphic elements!
Why We Love It: The granite counters have an organic movement down the entire bar and the carved wood seats give an industrial chic touch. The walls look like they are textured in a dark slate and the art work is bold and scaled perfectly for the space. The checkered floor is a fun way to keep the kinetic energy moving and the mouth watering!
Happy dining to all of you! ...We're here every step of the way to make sure where you eat is as delicious as the food they serve!
#GetYourDesignOn
xo,
Laurel & Wolf
Laurel & Wolf is the world's leading interior design marketplace. We provide online interior design services to residential and commercial spaces powered by our talented community of professional interior designers.