Master suites should engage our senses, relax our bodies and rejuvenate our souls among other things! However, generally speaking the master bedroom is the area that we "design last"! It's our sanctuary and should be reclaimed as one.
Destination hotels have this all figured out and the people keep coming back for more. Let's look at some of the luxxiest hotels for inspiration to get some of the most amazzzzzzzing (however you interpret that statement) nights of your life!
1. St. James Hotel, Montreal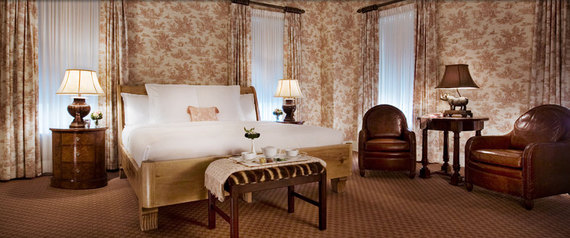 Why We Love It: Soft tones throughout, rich burl wood furniture, toile wallpaper, rich leather, bold lighting, a carved platform bed and headboard and white linens creates traditional charm in this master bedroom.
2. Four Seasons Hotel Lion Palace, St Petersburg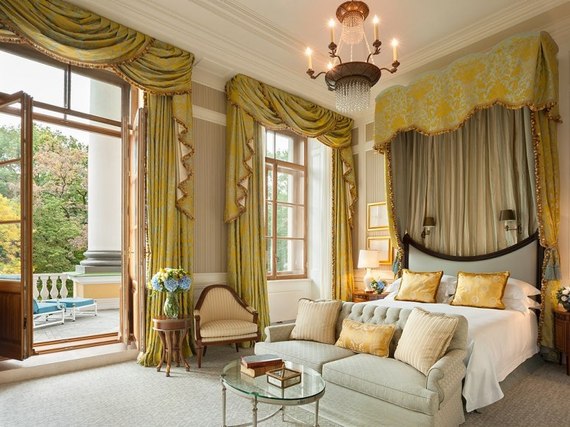 Why We Love It: Awe inspiring ceilings, crystal chandelier, silk drapery and valances, wallpaper with vertical stripes, tailored furniture with silk fabrics all add to the luxury of this royal master bedroom suite.
3. Rosewood, London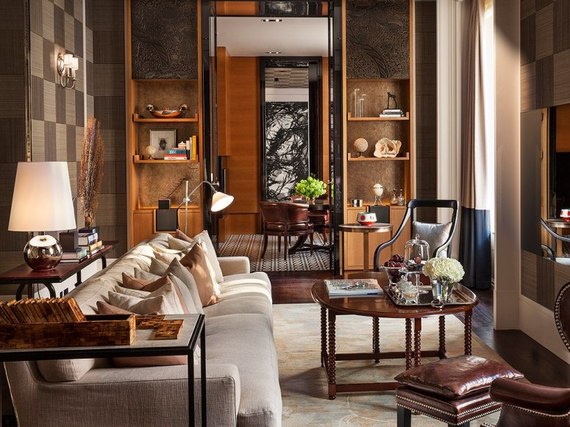 Why We Love It: Rich linens, worn leathers, wood bobble table, carved chairs, vertical art, wallpaper, wood bookcases to highlight accents and simple drapery all give a sense of elegant comfort in this Master Bedroom.
4. Hotel Costes, Paris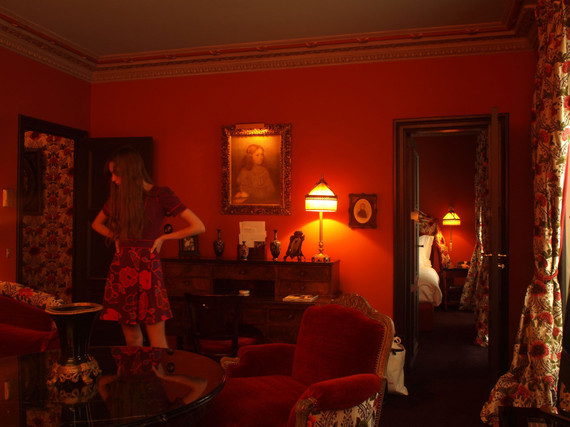 Why We Love It: Red is the color of passion and thus perfect for the boudoir! The suite above gives luxe a new name with the Parisian flair, velvet upholstery, vivacious walls, exquisite ceiling detail, antique patterned textiles and drama in every inch! Get ready for some heat in this Master Suite.
5. Faena Hotel, Buenos Aires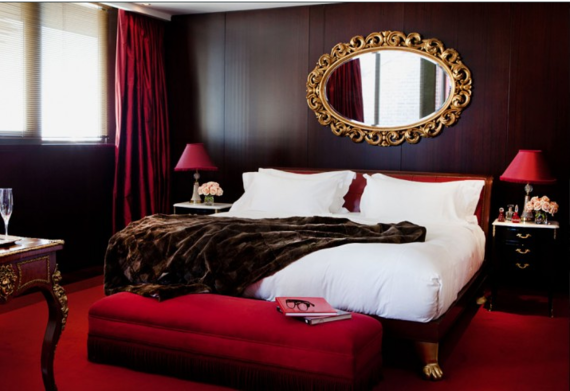 Why We Love It: Bold, sexy sophistication with glamorous accents. This room features clean white linens, silk window coverings, fur throws, sleek light fixtures, dark furniture, leather headboard and many variations of the inky dark red Malbec tones throughout.
6. Hotel Hotel, Australia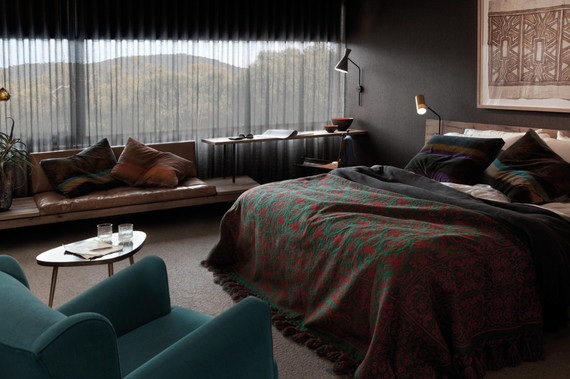 Why We Love It: This sultry room is made for those who share a love of sophistication and comfort. We love the tapestries, ombre velvet pillows, reclaimed wood headboard, slate linen wall treatment, leather and velvet seating and modern coffee table. Its modern and casual luxury make you want to never leave.
7. Point Yamu, Phuket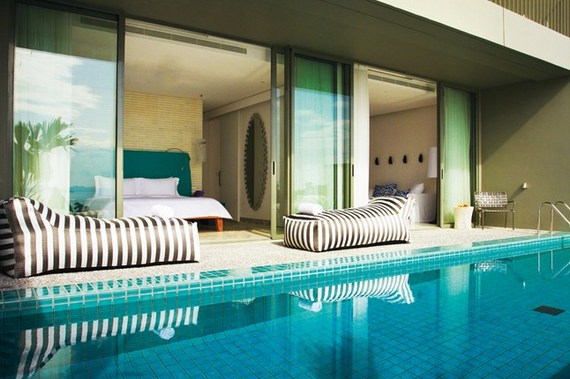 Why We Love It: Here is a unique expression of contemporary style with the tropical flair. Oh wait, where is the pool in our Master Bedroom? These tropical cool tones in rich teal greens, cool whites are complementary to the bold statements of the grand mirror and black and white lounges. Vibrant relaxation anyone?
8. Aman Hotel, Lake Powell Utah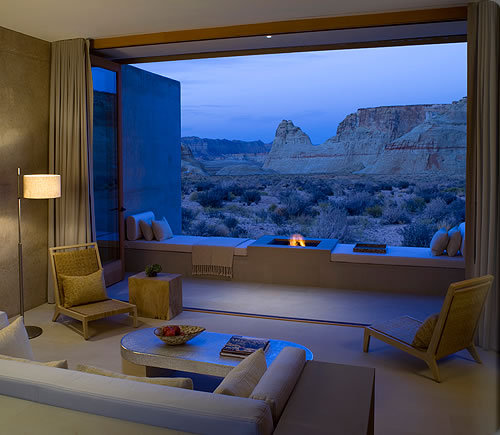 Why We Love It: This master suite is using the surrounding view and stunning natural backdrop as its highlight and then pairing subtle but stunning pieces that enhance the space. The natural materials such as woven chairs, wood accent tables, luxe linen throws and natural material pillows blend and envelope the senses, rejuvenating the soul.
9. Gramercy Hotel, New York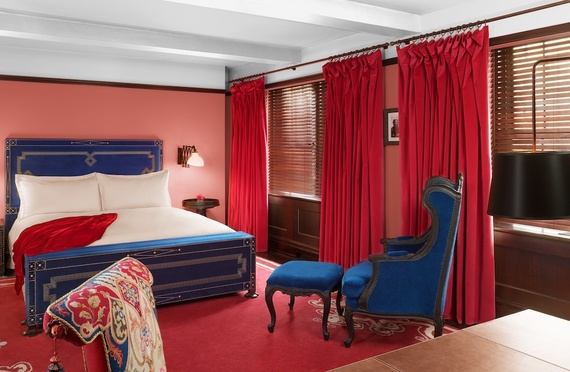 Why We Love It: This room invokes a charming eclectic style with beautiful complementary tones in rich red and royal blue, detailed Louis furniture, Art Deco headboard, vintage tapestries, industrial accordion wall sconce lights and rich wood panel wainscoting. All it needs is a freshly popped bottle of bubbly!
10. La Mamounia, Morocco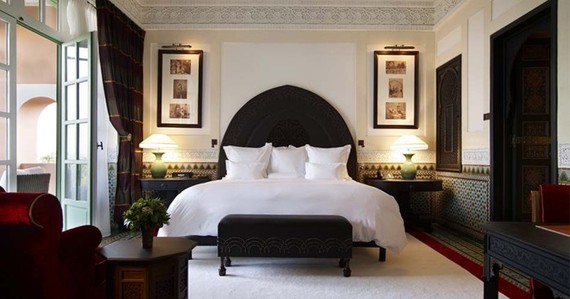 Why We Love It: Moroccan details make this a stunning room come to life in a dream. Wainscoting of tile, architectural details, crown moldings, gourd lamps, dark oiled furniture, the arched headboard, simple linens, symmetrical art and bordered carpet make a beautiful master suite.
11. Saxon Boutique Hotel, Johannesburg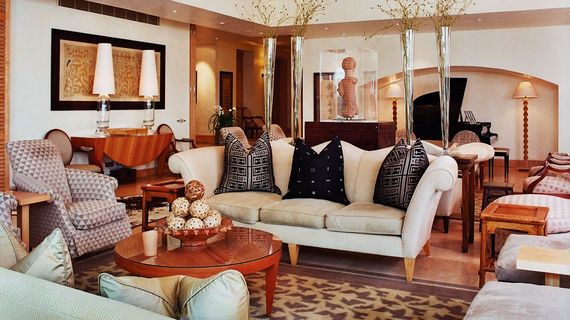 Why We Love It: This room embodies a natural and earthy spirit with local artifacts, unique lighting, pillar glass vases, caramel tone furniture, African prints and textiles and intriguing designs that captivate your love for the natural wonder of this continent.
12. Chevel Blanc, Maldives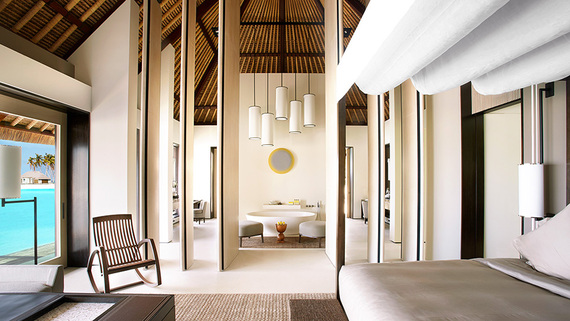 Why We Love It: The architectural details of this space make it a artistic setting. The ceiling design is kinetic, the tall wall panel doors create a sophisticated privacy, and the contemporary light is something of an art form. The simply crafted furniture, streamlined bedding and lighting and black and white detail all enhance the neutral palette to make this an unforgettable space.
13. Hotel Danieli, Venice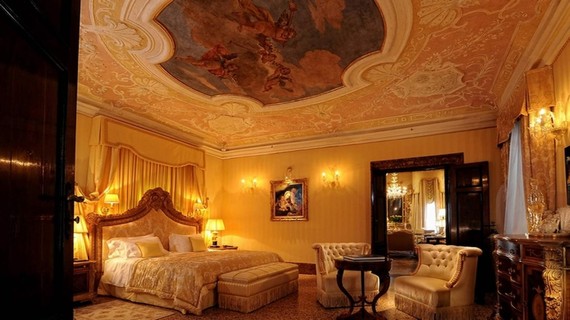 Why We Love It: An Italian essence is captured in this luxurious master suite full of rich details. Upholstered valance and window coverings, Italian wall chandelier and shade sconces, opulent upholstery and silk detail trimmings, tufted furniture and carved headboard, gilded framed painting and striking feature on the ceiling all make this place spectacular. For some this may be over the top but it shares some of the finest details in design and a grand look into Italian design for the Master Suite of your dreams.
Happy Master Bedrooms & Sweet Dreams Await!
#GetYourDesignOn