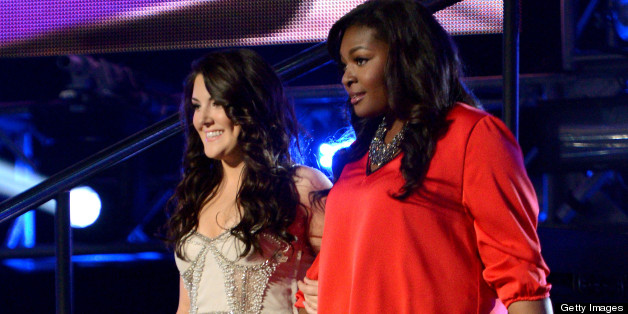 It's been a long road but the "American Idol" finale is finally here. With country singer Kree Harrison and the soulful Candice Glover as the only two remaining contestants, the competition is as close as it's ever been. Each girl performed three times: first they sang a song selected by "Idol" creator Simon Fuller, then they sang the original song that would become a single should they win, and finally, they singing their favorite song of the season. With minimal commentary from the judges, the night emphasized each girl's individual strengths, allowing both to truly shine. Still, there can only be one winner. So who will take home the title of "American Idol" tomorrow night? And who will place in a close second?
Kree started off the night with an elegant performance of "Angel," selected by Simon Fuller. Kree kept her rendition simple, letting her authentic country/bluesy twang do the work for her.
Simon chose "Chasing Pavements" for Candice. Singing with restraint while still managing to insert an insane number of runs with ease, the song perfectly suited her.
"I'm so proud to have been part of this season. This talent is so magnificent," Mariah said after the girls performed. Randy agreed that both girls delivered, but gave the edge to Candice for round one.
Next each girl got a chance to sing an original song, which will become their first single if they win tomorrow night. Kree's song, "All Cried Out," showcased a more soulful, emotional side of her. Candice's song, titled "I Am Beautiful," had a strong message of self-empowerment and she sang each word with conviction. Both girls received standing ovations from the judges. Nicki and Keith loved both performances, but Keith declared Kree the winner of the round and Nicki chose Candice.
Kree selected Dolly Parton's "Up to the Mountain" as her favorite song of the season. The uplifting performance brought the judges and audience alike to their feet, with Mariah calling it something special and Randy declaring it to be her best performance of the night. Nicki told her that all three of her performances had showcased her beautiful voice and her beautiful soul.
Candice ended the night with her favorite song of the season, "I Who Have Nothing". The powerhouse performance received a round of standing ovations and roaring applause. With Nicki calling her a superstar and Mariah telling her that her talent was undeniable, Candice was clearly in it to win.