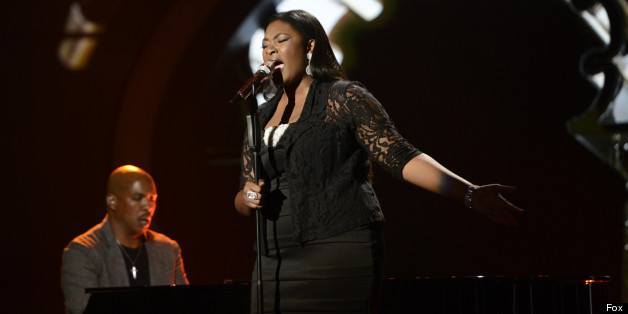 Nobody was eliminated last week, which meant all four girls got the chance to perform one more time. With another week gone by and all four contestants still in the running, the pressure was even higher to stand out.
With the help of Harry Connick Jr., this week's guest mentor, each girl learned two songs. First they performed a hit from 2013, and second was a "standard," which meant any classic song was fair game. The night was tough on the "Idol" hopefuls, with the pressure weighing on all of the contestants. So who managed to shine? And whose journey might be coming to an end?
Angie started off the night with her own take on Rihanna's hit, "Diamonds." Though she accompanied herself on the piano, a typical crowd-pleaser, the judges were underwhelmed by the performance. Keith and Randy didn't think she had done enough with the song and Nicki and Mariah agreed (Yes, it happened!) that Angie wasn't as connected as usual and was playing to the camera too much. For her standards number, Angie went with the classic "Someone to Watch Over Me". Singing with all the elegance the song calls for, the judges couldn't get over her beautiful voice. Nicki compared her to a Disney Princess and told her she could see a future for her on Broadway.
Amber chose "Just Give Me a Reason" by Pink for her 2013 hit, but the judges felt that her confidence was lacking. "The voice is there but this particular performance I didn't feel that it was connected," Nicki told her. Keith, however, recognized how long it takes to develop true confidence as a performer and commended her for her strong vocals. Amber turned her night around with her rendition of "My Funny Valentine" and had all of the judges on their feet -- and some in tears. Mariah thanked her for the beautiful performance and Randy called it unbelievable. "No matter what happens tomorrow you have a lifetime ahead of you to make beautiful moments in music," Nicki told her.
Candice brought the night to life with Bruno Mars' "When I Was Your Man." "That's how you sing a song!" Randy exclaimed, and Mariah applauded her on her ability to make any song her own. Nicki raved over the performance and told her her, "You feel and look to me like an artist." Candice continued to shine with her performance of Billie Holiday's "You've Changed." After receiving a standing ovation, Mariah announced that she wanted to download the song ASAP. Randy raved about her vocals and declared them "stellar."
Kree chose to go with "See You Again," by former "Idol" winner Carrie Underwood. After being criticized last week, Kree sang each word with conviction and won the judges over with her connection to the song. Keith called her voice faultless and Nicki told her that she felt that Kree truly believed what she was singing. For her final performance of the night, Kree chose to sing "Stormy Weather." The judges didn't love the song choice and thought that she lost herself a bit in the song. Randy urged her to be true to herself, hinting that Harry Connick Jr. had led her astray in his mentoring. This obviously led to a heated debate/cat fight between Harry and Randy.
Who do you think had the best night? Who's going home? Yes, somebody actually is going home tonight. Tell us in the comments below!
"American Idol" airs Wednesdays and Thursdays at 8 p.m. ET on Fox.
PHOTO GALLERY
American Idol Judges Through The Years