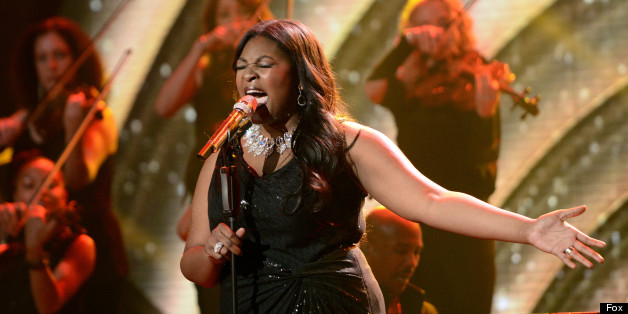 With three contestants left on "American Idol," the competition is neck and neck, and after last night's uniformly strong performances from each young woman, there's no telling who will make it to the finale. This week was the "Homecoming" episode, which allowed the contestants to visit their hometowns and reconnect with their roots before the performance show. The emotional episode gave the audience the chance to truly see Kree, Angie and Candice's journeys, both on and off the show. Each of them sang three times last night, first a song selected by Jimmy, next was the judges's pick, and last was the producers's choice. The night showed off the girls' versatility as performers, making for a tough decision between the final three. But who was the star of the night? And who might have sang their last song on the "Idol" stage?
Kree started off the night with Jimmy's choice of P!nk's "Perfect." Though the pop song didn't suit her typical style, Keith loved that no matter what she sings, she still has her own signature sound. Randy wasn't blown away by the song choice or performance and Mariah urged her not to hold back in her next performances.
Jimmy chose U2's "One" for Candice, a song Kree was completely unfamiliar with. No one ever would have known it was new to her, however, with all of the judges commending her for emotional connection to the song and Nicki declaring her to be a true diva.
Angie's first song of the night was Elton John's "Sorry Seems to be the Hardest Word." The judges all agreed that it was a beautiful and understated rendition, with Mariah calling it one Angie's best performances to date. Nicki thought she could have felt the emotion a bit more, but recognized that Angie was bringing everything she had to win it.
Before Candice sang the judges's pick of "Next to Me," the audience got the chance to watch a clip of Candice's trip to her hometown, St. Helena Island. The video showed Candice's inspirational journey and rejuvenated her for her powerful rendition of the Emeli Sande hit. Nicki was moved by the performance and the video segment, telling Candice through tears that her confidence and comfort in who she is will inspire so many women.
The audience got a taste of Angie's hometown of Beverly, Massachusetts and Angie got her first true taste of stardom. Her uplifting trip prepared her for the judges's upbeat choice of P!nk's "Try," and her commanding performance of the song had all of the judges raving about her comfort on stage, with Randy telling her that she sounded amazing and Nicki declaring that she truly believed every word.
Kree's emotional trip to her town of Woodville, Texas showed her visiting the home she grew up in with her late parents. Her moving story segued perfectly into her beautiful performance of "Here Comes Goodbye." "I'm so in awe of the purity of you when you sing," Mariah told her.
Angie's final performance of the night had her at the piano with Emeli Sande's "Maybe" and truly depicted her journey and growth as a contestant. "You've come full circle," Nicki told her.
Kree let out her inner rocker with the Band Perry's "Better Dig Two." The judges didn't love the song choice for her, but they agreed that, regardless, she's an amazing performer. "When you leave this show, I am buying your album," Nicki told her.
Candice ended the night belting out "Somewhere" from West Side Story, and her powerful vocals had Keith asking, "How do you that?" and Randy declaring it to be one of the best vocals in "Idol" history.
"American Idol" airs Wednesdays and Thursdays at 8 p.m. ET on Fox.
PHOTO GALLERY
"American Idol" Season 12