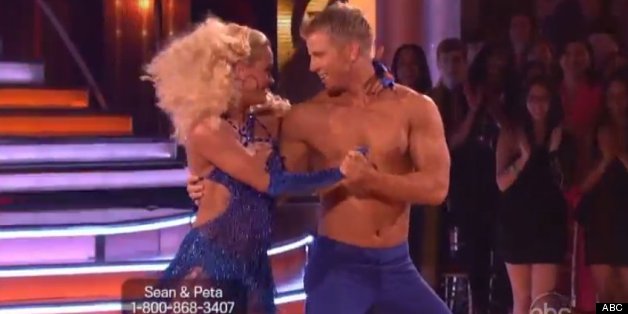 The competition on "Dancing with the Stars" is heating up now that it's down to just eight couples, and everyone is bringing their A game. With each contestant performing twice, both in individual routines and in group numbers, the pressure is on and the frontrunners of the season are becoming more and more defined. The legendary Stevie Wonder joined the show this week, performing some of his classic songs throughout the night. In honor of his appearance, all of the dances were set to Stevie's music, making for a night packed with upbeat routines. So who were the true stars of "Stevie Wonder Night"? And who couldn't quite keep up?
The Dances of the Night:
Zendaya and Val Chmerkovskiy: Zendaya continued her hot streak, starting off the night with a cha cha that had Carrie Ann calling her "perfection in motion." Bruno leapt from his chair calling her "gob-smacking gorgeous" and Len declared that the one word to sum up a great dancer was "Zendaya." Score: 29 (+22 for group number) Total Score: 51
Kellie Pickler and Derek Hough: Kellie and Derek performed a sharp quickstep that earned the coveted score of a perfect 10 from Len Goodman, and even had him calling it the best dance of the season yet. Carrie Ann told them it was practically perfect and Bruno thought it was superb. Score: 29 (+25 for group number) Total Score: 54
The Standouts:
Aly Raisman and Mark Ballas: Shaken up by the recent events in her hometown of Boston, Aly couldn't quite focus on this week's foxtrot. With the help of Mark, she managed to pull off the routine set to "Isn't She Lovely." Len called it a "real foxy foxtrot" and Carrie Ann loved the way Aly channeled her emotions. Score: 27 (+25 for group number) Total Score: 52
Ingo Rademacher and Kym Johnson: Birthday boy Ingo was hoping for a little extra magic in his tango and the powerful routine was just the ticket. "Bingo, Ingo!" Len exclaimed and Bruno told him, "That is the way to do it!" Score: 24 (+22 for group number) Total Score: 46
The Good:
Jacoby Jones and Karina Smirnoff: Jacoby and Karina danced an energetic quickstep to "For Once In My Life." Carrie Ann told him that every time he hits the stage, he does something special, but Len was not impressed by his footwork and technique. Score: 23 (+22 for group number) Total Score: 45
Sean Lowe and Peta Murgatroyd: Sean was determined to nail his shirtless samba, but was a little out of step in the routine. Carrie Ann loved his bounce and form, but thought he lacked musicality. Len and Bruno both agreed, but Bruno ended on a positive note, telling him, "You can always get a job as a stripper." Score: 21 (+25 for group number) Total Score: 46
The Mediocre:
Andy Dick and Sharna Burgess: Andy brought the personality in his upbeat samba set to Stevie Wonder's "Signed, Sealed, Delivered." The judges all acknowledged the entertainment value of the routine, but couldn't help but comment on the lack of technique. Still, Len felt that Andy had "climbed mountains." Score: 18 (+25 for group number) Total Score: 43
Victor Ortiz and Lindsay Arnold: Victor struggled to pick up the romantic rumba, set to Stevie Wonder's "I Just Called to Say I Love You." Len applauded his fighting spirit and his attitude and Carrie Ann commented on the beautiful sparkle in his eye when he dances with Lindsay. Still, he couldn't quite be saved from his poor technique, and Bruno compared his movements to a flight attendant. Score: 18 (+22 for group number) Total Score: 40
The Group Numbers:
Team Paso: Team Paso -- which was made up of Zendaya, Jacoby, Ingo and Victor -- struggled to keep their wild energy together. Len thought it was a spirited effort and Bruno described it like "watching an episode of Wrestle Mania." Carrie Ann, however, thought it was kind of a mess. Score: 22
Team Samba: Team Samba 00 which included Kellie, Andy, Aly and Sean -- danced a disco-inspired routine that had all of the judges cheering. Bruno felt like it was a reunion of "Boogie Nights" and Carrie Ann and Len loved the way they worked together as a group. Score: 25
Who has your vote after Monday's "DWTS"? Which team do you hope gets the encore? Who do you think will go home? Sound off in the comments!
"Dancing With The Stars" airs Mondays at 8 p.m. ET and Tuesdays at 9 p.m. ET on ABC.
PHOTO GALLERY
Dancing With the Stars Season 16 Cast Stills