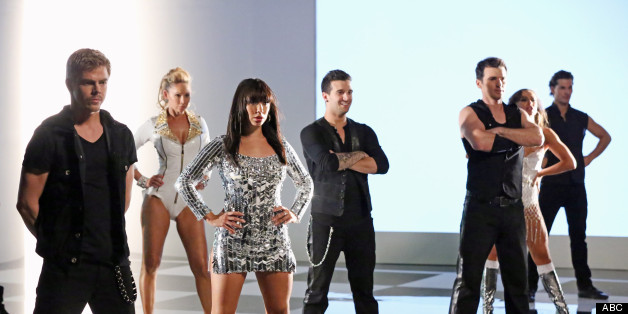 "Dancing with the Stars" is down to just six couples and the frontrunners of the season are becoming more and more defined. With powerful numbers from Zendaya, Aly, and Kellie, this season seems to belong to the girls, so the boys had some catching up to do.
Luckily for the boys, each pair danced twice, giving every couple the chance to redeem themselves. First, each contestant danced a traditional routine, but for the second performance of the night they were joined by a second professional dancer to dance a trio routine. So who shined on Trio Night? And whose routines were a bit lackluster?
The Couple of the Night:
Zendaya and Val Chmerkovskiy: Zendaya's first dance of the night was a graceful foxtrot, and the judges were captivated by her natural musicality and strength. Bruno called her a breath of fresh air and Len praised her continual growth throughout the competition.
Score: 28
Zendaya, Gleb, Val: For her trio routine, Zendaya and Val took on the salsa, accompanied by professional Gleb. With Zendaya front and center, the performance was a star-making number and earned the first perfect 30 of the season. "Sizzling, dazzling, and amazing!" Bruno declared.
Score: 30
Total Score: 58
The Standouts:
Aly Raisman and Mark Ballas: Aly had to become a seductive harlot for her Argentine tango with Mark, and Carrie Ann was blown away by her transformation throughout the competition. "I had no idea you could be so good at being bad!" Bruno exclaimed, and even Len called it terrific.
Score: 29
Aly, Mark, Henry: Aly ended the night with a jive accompanied by Mark and Henry. The judges all praised her for her growth as a perfomer, with Carrie Ann calling her truly confident in her dancing and Len calling it a terrific number.
Score: 27
Total: 56
Kellie Pickler and Derek Hough: Kellie struck an emotional chord in her Viennese waltz dedicated to her grandmother, and Carrie Ann truly felt Kellie's performance for the first time. "Today I definitely saw that you went beyond the steps," she said of her ability to connect with the audience.
Score: 27
Kellie, Derek, Tristan: Kellie channeled her inner demon for her paso doble with Derek and Tristan, and managed to deliver one of the most powerful performances yet. Carrie Ann leapt from her chair to embrace Kellie, telling her that the performance took her breath away and Bruno exclaimed over the drama of the routine. Traditional Len, however, felt that the dance was all flashing lights and loud music, awarding the couple the low score of a seven (compared to two tens from Carrie Ann and Bruno).
Score: 27
Total Score: 54
The Good:
Jacoby Jones and Karina Smirnoff: After Jacoby's mom got sassy with Len the last couple of weeks for critiquing her son, Jacoby was hoping to impress both the judges and his mother. Luckily, his graceful Viennese waltz was just the ticket, with Carrie Ann calling it stunning and Len directly telling Jacoby's mom that he loved the performance.
Score: 27
Jacoby, Karina, Cheryl: Joined by Karina and Cheryl, Jacoby dominated the dance floor with his powerful paso doble. Bruno called it untamed, and Len told him that the dance floor was transformed into a bullring.
Score: 25
Total Score: 52
Ingo Rademacher and Kym Johnson: After landing in the bottom two last week, Ingo was desperate to win the judges over with his foxtrot -- and he did just that! Carrie Ann compared his casual and easy dancing style to Gene Kelly and Bruno told him he did a great job.
Score: 24
Ingo, Kym, Lindsay: With Kym and Lindsay by his side, Ingo delivered a fun, upbeat jive. Carrie Ann thought that Ingo brought the heart and fun of the competition, but Bruno thought he needed to sharpen up his kicks a bit.
Score: 24
Total Score: 48
The Mediocre:
Sean Lowe and Peta Murgatroyd: Sean tried his luck at the tango, but the judges thought it was a step down from last week. "It was sharp and it was powerful, but you lost the fluidity and the quality of movement," Len told him.
Score: 21
Sean, Peta, Sharna: With the help of both Peta and Sharna, Sean tackled a jazz routine. Bruno loved his effort in the performance, but couldn't get over his jumbled feet. Carrie Ann agreed, telling Sean that he was out of sync one too many times.
Score: 21
Total Score: 42
"Dancing with the Stars" airs Mondays at 8 p.m. ET and Tuesdays at 9 p.m. ET on ABC.
Who do you think performed the best on Trio Night? Weigh in below!
PHOTO GALLERY
"Dancing With The Stars" Season 16 Cast