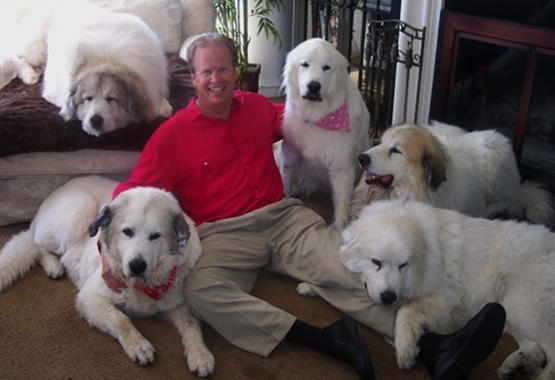 Congressional candidate Steve Collett at home with his much-loved dogs.
Last Friday I attended the funeral of Libertarian congressional candidate Steve Collett. I first met Steve last year while filming Chasing The Hill and just a few weeks ago he was over for dinner, discussing the upcoming Congressional race. Steve had already run for Congress twice and he told me that night that he would be running again. We had planned on getting together in the next few weeks to talk strategy and how our campaigns could work together. He actually took this photo that night: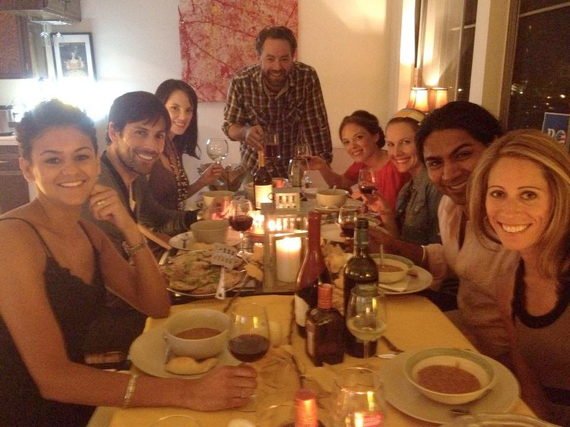 Producer Arvind David, sitting there on the right, posted the next day:
A really splendid dinner party and where else but LA would you get: an expert on health care, two congressional candidates, a breast model, a hand model, a UCLA fellow, a NGO events organizer, a pastry chef, a TV presenter and a bevy of actors at the same table?
In the last two weeks, this Congressional race has gotten to be one of the most interesting in the country. Author Marianne Williamson joined the race, also as an Independent. And then eight days later the Libertarian candidate died. If I wrote this as a script for my show no one would believe it -- it would just be too outrageous -- but here we are with the facts being stranger and more compelling than fiction.
When Marianne joined the race, I released this statement:
I was surprised and excited when I heard author Marianne Williamson had joined me in the race for California's 33rd congressional district. I like her statement that Rep. Henry Waxman isn't an opponent but rather just another candidate for the same job. I've enjoyed her books and look forward to sharing ideas to create more cooperation in Congress and a better America. This could be just what we need to shine a spotlight on this race and the issues at hand. The government shutdown proved that the status quo isn't working and that the country needs real change in Congress.
Marianne shared it on her site and comments from all over the world spoke about 'this is how candidates should behave.' I've never been a politician before and it wasn't a backroom strategy that informed my comments. It's simply how I think things should be done. We're just people going after the same job and there's no better time to start cooperating than right now.
When I first heard of Steve's death I didn't know if it was true and sent an email to 2012 Libertarian Vice-Presidential candidate Judge Jim Gray who I got to know when he ran for Senate a few years ago. Judge wrote:
Hi Brent,

Yes, most regretfully, we lost Steve.

What a great leader, and friend.

We are all still in shock.

Jim
Steve Collett brought people together and I'm glad I had the chance to know him, although I wish we would have had more time. At the funeral his daughter spoke of her father in terms of pure adoration and we were all moved by her words. Steve had attended a conference in Denver before he passed and sent her a text as he boarded the plane, which would ultimately be the last communication she ever got from him:
Working hard to change the world. I love you very much.
Life moves faster than we want and there doesn't seem to be enough time to make your plans fit into how it all turns out. We are in the Human Race -- a race against time, against our own fears, against how we think we should fit into the bigger picture. But life is for living and life is for doing. Life is for gutting it out and raging in the chaos -- a grand majestic mess to revel in until the lights come up.
Steve had spent the last four years of his life preparing for his next chapter of actively engaged public service. He was just ramping up. If there's a lesson, it's live your passions now.
We'll miss you, Steve. We miss you already.
Brent Roske, Marianne Williamson and Henry Waxman are candidates for California's 33rd Congressional District. Learn more at RoskeForCongress.com