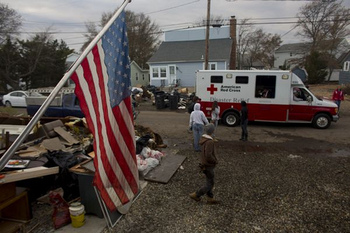 Photo by Les Stone, American Red Cross
When Hurricane Sandy was approaching the eastern seaboard of the United States, the American Red Cross was already making the preparations to respond to the communities that were in the path of the devastating storm.
The results were catastrophic, and the American Red Cross responded.
The Red Cross was there, and still is, offering support to the people in those neighborhoods who depend on their help. As a Red Cross volunteer, I saw the aid and comfort that the Red Cross brought into these areas, through the testimonies, the facts and figures, statistical analysis, the photos, and the heroic stories.
Since the storm hit, the Red Cross has served more than 9 million meals and snacks, handed out more than 6.7 million relief items, provided more than 103,000 health services and emotional support contacts for people who have been living in very tough conditions, connected with more than 93,000 families and individuals to determine recovery needs and provide access to resources, mobilized more than 15,800 trained workers (about 90 percent of them are volunteers from all over the country) to help people affected, a range of groups have provided more than 158,000 shelter stays, and the Red Cross has provided more than 81,000 of those stays.
The recovery continues.
More than 1,400 Red Cross workers are still on the ground supporting survivors through our relief work even as we begin our longer-term recovery efforts.
The Red Cross is working with government and other nonprofits as part of a comprehensive response to help Sandy survivors recover. People in New York and New Jersey whose houses were destroyed and who are living right now in hotels, so that we can connect them with resources to either repair their homes or move into longer-term rental housing.
Where do we go from here?
For the next several months, the main focus of our recovery efforts will be helping those who have trouble finding assistance on their own. This assistance will include connecting people with social service programs, helping them obtain longer term housing, helping them fill out paperwork for assistance or insurance claims, getting them counseling, identifying child care resources,, or providing a connection to legal assistance if they are dealing with a landlord or contractor. We also can help people find new programs for Sandy recovery.
We are still providing people with food, supplies, shelter and emotional support. We estimate our relief operations are going to cost an estimated $110 million by the end of December and we estimate that our long term recovery program will cost an additional $60 million.
To learn more about how you can support the Red Cross, please visit this website.
A gift of any size supports the lifesaving mission of the American Red Cross whether it's responding to a disaster, collecting lifesaving blood, teaching skills that can save a life, or assisting our military members and their families.
On behalf of the American Red Cross, we sincerely appreciate the generous support of people from around the country in support of our Sandy recovery.